There's a lot of tall talk in the mining arena. When 'value creation' enters the discussion fray… it often turns into waaaay tall talk. There's too much over-promising and under-delivering—rarely are we dealt a conservative read.
I take everything I hear with a grain of salt. But every once in a while, a crew comes along that delivers on its ambitious designs.
Since its debut on the TSX on May 29th, Nomad (NSR.T) management has done everything it said it would do, and in only a few months time.
From the get-go, the company hit the ground running, aggressively pursuing growth, adding to an already robust project portfolio of producing and advanced stage assets.
A recent example of this deal making prowess is the July 27th acquisition of a 1% net smelter return royalty (NSR) on the 8.11 million gold equivalent ounce Troilus Gold Project located along the Frotet-Evans Greenstone Belt in northern Québec.
We covered this heads-up acquisition via the following article:
Nomad Enters Into Agreement to Acquire Royalty on the Troilus Gold Project in Québec
Damn fine gunnery, this.
More recently, on August 24th, the company announced two key acquisitions, the larger of the two prompting the following headline:
Nomad Royalty Company to Acquire Coral Gold, Marking the Start of Its Sector Consolidation Strategy
We haven't seen much in the way of M & A activity in the royalty space in recent years. But this is a good one. And the asset at the center of this acquisition is one I've studied closely (Coral Gold is one of my Top Three Picks for 2020 over at HighballerStocks).
Here, Nomad has entered into a definitive agreement to acquire all of the outstanding common shares of Coral Gold in a deal valued at roughly US$45.8 million.
Acquisition highlights:
Coral holds an uncapped sliding scale NSR (1% to 2.25%) on over 2.7 million ounces at Nevada Gold Mines (NGM) Robertson Property located along the prolific Cortez Gold Trend of northern Nevada. Note: this resource is currently deemed 'historic'.
The Robertson Property is a joint venture between mining behemoths Barrick (61.5%) and Newmont-Goldcorp (38.5%).
Based on the current US$1,900-plus spot price, the applicable NSR royalty rate on Robertson's 2.7 million ounces of oxide material is a weighty 2.00%.
When spot gold takes out $2k, the royalty tops out at 2.25%.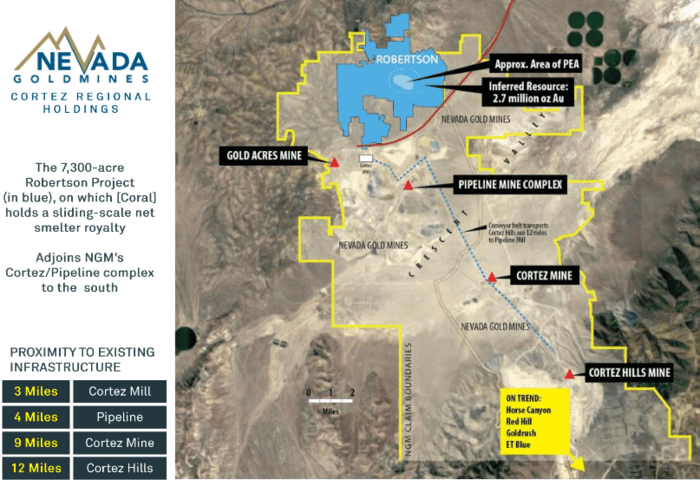 Note Robertson's proximity to Pipeline, Cortez Hills, and Goldrush—three of the largest Carlin-type gold deposits on the planet. They make up NGM's lowest-cost assets with over 26.8 million ounces of gold reserves & resources.
It's important to understand that Robertson's ounces are now considered part of the mineral resource base at the Cortes Mine Complex.
In a July 7th progress report, NGM delivered a summary of work completed at Robertson in Q1 of 2020.
This work included 2,026 meters of geotechnical and metallurgical drilling, plus 821 meters of resource definition drilling.
"NGM is also progressing the evaluation and other pre-development activities at Robertson including updating the geological models based on Q1 2020 drill data, continuing ongoing baseline study work, such as waste/ore characterization work and biological baseline work."
Importantly, NGM confirmed that a Robertson pre-feasibility study is in-progress.
In my mind, the real allure of this asset is in WHAT ELSE lies in its subsurface layers—the current 2.7 million ounce count may represent only the tip of the iceberg.
Finding a deep, rich "feeder" zone—the source of Robertson's near-surface gold—is high on NGM's priority list.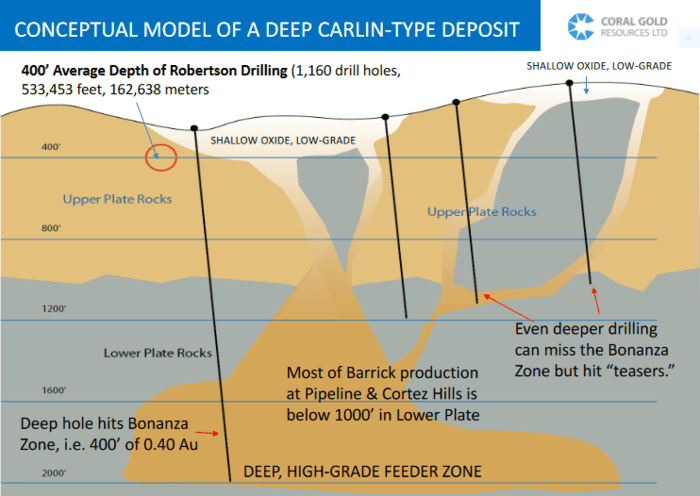 NGM's geologists have stated they're seeking a "Meikle-style" discovery at depth (the Meikle deposit was discovered in September 1989 when a deep drill hole tagged 164.5 meters of 11.62 g/t Au from 397.5 meters depth).
The more ounces discovered at Robertson, the grander this sliding scale NSR becomes.
In the following video, CEO Metcalfe expounds on a few key fundamentals underpinning the company, including Robertson's potential at depth…
Other highlights of the Coral Gold acquisition:
Coral has a strong balance sheet that currently has in excess of C$11.5 million in cash;
There's a mechanism in Coral's original agreement with Barrick offering downside protection through minimum non-refundable advance royalty payments totalling $500k per year for 10 years commencing in 2025 (in the event Robertson is not producing by then).
CEO Metcalfe on the Coral acquisition:
"When we created Nomad, we set the objective to become a catalyst for sector consolidation. Today's announcement marks the first step of our consolidation strategy and follows our desire to become the best global acquisition-driven precious metals royalty company in the sector. This acquisition will further diversify our global portfolio as we keep executing on our aggressive growth plan".
Joseph de la Plante, Nomad's Chief Investment Officer:
"This acquisition is very strategic for Nomad as it allows us to access a royalty on a top tier mining complex, operated by one of the largest gold operator in the world and located in Nevada, a leading mining jurisdiction. We are also very pleased to welcome new shareholders of Nomad as we continue our growth trajectory".
The 2nd acquisition announced on August 24th:
Nomad Enters Into Agreement to Acquire a Cash Flowing Royalty on the Moss Gold Mine in Arizona
Here, Nomad has entered into a definitive agreement to acquire all of the outstanding shares of Valkyrie Royalty Inc. in a deal valued at roughly US$7.6 million. Valkyrie is a private company that owns an NSR royalty on the Moss Gold Mine operated by Northern Vertex (NEE.V) in Arizona.
Commercial production was declared at Moss in September of 2018.
This acquisition represents immediate cash flow to Nomad.
Northern Vertex is targeting production of 55,000 to 65,000 gold equivalent ounces per year. The company has been hitting record monthly production rates, achieving milestone after milestone.
July 14, 2020 news: NORTHERN VERTEX REPORTS RECORD PRODUCTION OF 11,530 GOLD EQUIVALENT OUNCES AND REVENUE OF $18.2 MILLION IN FISCAL Q4

August 6, 2020 news: NORTHERN VERTEX REPORTS RECORD MONTHLY PRODUCTION OF 4,713 GOLD EQUIVALENT OUNCES
This recent success could render the above production guidance a tad conservative.
Northern Vertex is now in a position to expand their resource base, looking to increase Moss' mine life past 10 years. They're currently drilling the western and eastern extensions of the main deposit with an 18,000 meter campaign.
Discoveries along these extensions offer a fatter royalty for Nomad. Where current production from the main deposit delivers a 1% NSR royalty, resources delineated along these extensions will generate a hefty 3% NSR royalty.
Royalties like this don't come along often—the company likely had to act fast to land this one.
Nomad was able to structure these two deals without tapping its recently announced US$50M credit facility, using Nomad paper as currency.
That says a lot about what the vendors think of Nomad management, and the assets at the heart of these transactions.
Speaking of management, the Nomad team—the trio of Vincent Metcalfe, Joseph de la Plante, and Elif Lévesque—were at the helm of Osisko Gold Royalties (OR.T) from day one and were a large part of that company's evolution into what is now a $2.5B market cap entity.
This is a crew that has dealt with every conceivable type of asset in the royalty and streaming space. They know value when they see it. They know how to structure a deal. And as these recent acquisitions clearly indicate, they know how to execute.
Final thoughts
There's significant re-rating potential here as the company continues bulking up its cash flowing, and advanced stage project base. Pushing for scale, with a goal of attaining a $3 to $5B market cap in the medium to long term, the company should begin commanding the multiples that the very largest entities in the space enjoy.
If you go back to the 'To Do' list at the top of the page, a dividend announcement could be the next major piece of news to drop, unless another royalty acquisition beats it to the punch.
END
—Greg Nolan
P.S. This just in…
Full disclosure: Nomad is an Equity Guru marketing client.