If you've been in the public markets on the microcap side for any length of time, the bodies stack up on your portfolio after a while. You know the ones, the flops that flopped too quickly to get rid of and now clutter up your page with a value lower than the broker commission they would cost to get rid of?
Wayland Group people, you know what I'm talking about. Ascent folks, I see you. iAnthus crew – MMCap is making sure you're next.
One of mine that was pretty annoying was Brigadier Gold (BRG.V), which I'd bought into in the early days of Equity.Guru's existence as a 'soon to be South American weed play', sinking cash in with the assurance that they'd eventually be a client.
Then 2018 happened and the weed play fizzled.
Then 2019 happened and a new crew brought a switch to CBD products, which also fizzled.
Then 2020 happened and a new crew took over and, suddenly, one day, a magical morning that will live on in majesty… Brigadier Gold awoke from its slumber to find itself a real life princess!
From the $0.05 I'd been sitting on forever, BRG came back to life as a $0.28 gold play, that has since climbed above $0.40. It was like giving an attractive woman your phone number and, three years later, getting a call to come over.
BRG, I never doubted you for a second. Get that Barry White going because we about to get reacquainted.
Brigadier is alive and kicking because some very clever, very patient people, saw an opportunity at the Picachos gold-silver project in Mexico, and took out an option on it right before their neighbours, Vizsla Resources (VZLA.V), announced exploration results that blew the doors off.
Timing is everything. Location is everything. Brigadier has double-everything.
At the heart of Brigadier's land package is the old San Augustin mine, featuring over 160 mines and workings from back in the day. This means there are roads, and vein drill locations that are open.
The map:
Detail from the Caesar Report:
It's still early days at Picachos but the information that's currently available is quite interesting. To keep things simple, there are two distinct targets and exploration theories on the tenements: the main focus in the near future will be the high-grade silver-gold veins on the southern portion of the tenements while privately-owned Minera Camargo detected a copper porphyry potential on the northern stretch of the Picachos project. [..] The project has been optioned before by other mining companies, but no serious exploration activities have been undertaken so far, and Brigadier Gold will be the first company with a dedicated and systematic exploration approach.
Back in the day, when hard hitting miners would find gold on the surface and just go blazing into it with pick axes, folks made a living on the San Augustin, but the act of actually drilling into those veins was a step more than the old timers could be bothered with. They'd just dig until the shiny stopped shining and move on to the next set of rocks.
To go above the artisinal level of productivity, Brigadier will want to get out a quick NI-43101 resource estimate out by testing veins that have never been properly explored and getting a real, updated, resource-ready haul of drill data.
What data does exist is beyond interesting.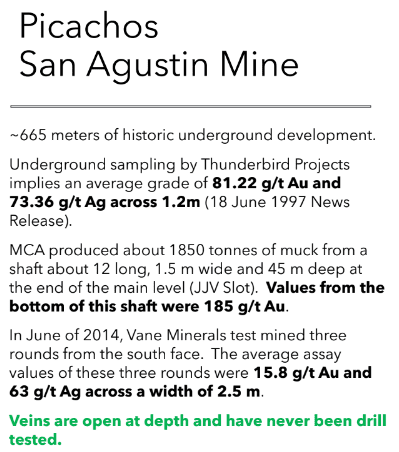 In order to take full ownership of the property, Brigadier needs to spend a bit under $4m in exploration over the next five years, which one would hope they'd do long before that, drop $275k in case (which is less than 10% of what they just raised), and issue 4 million shares to the current holder, Minera Camargo.
To be clear, for those with little mining experience out there, there are a LOT of far cheaper options out there. That the seller held out for decent (yet still fair) terms tells you there's something to it.
Of course, having an option on a property doesn't do much unless you're prepared to do the work to prove it has metal beneath it, and Brigadier has raised $3.85 million in quick time to do exactly that.
Again, there are other explorers raising a lot less than that – enough to get one or two drills turning – so $3.85 million shows Brigadier are serious about this.
That financing was done at $0.26, which the share price has roared past recently, with full warrants at $0.40, which the share price has also roared past recently –  which means more cash will likely start flowing in from those being executed. Back in June, in the midst of COVID madness and before gold went on a filthy run, the company raised $700k at $0.05, so the $0.10 warrants on that deal are way in the money too.
If all the warrants are executed, Brigadier brings in around $7 million. Not bad for a company valued at just $24 million today, with a neighbour in Vizsla sitting at a $140 million valuation, and another to the southwest, GR Silver Mining (GRSL.V), at a $100 million cap.
Ranjeet Sundher serves as President and CEO, and to say Sundher doesn't have a lot of obvious mining experience on his resume is to be honest about it. Thankfully, special advisor Garry Clark, is the Executive Director of the Ontario Prospectors Association and on the Ontario Minister of Mines Mining Act Advisory Committee. Clark is a nice off-set to Sundher's likely focus on the market side.
UPDATE: Company sent me some more on this: "I would add that the project vendor, Michelle Robinson (Minera Camargo) is intimate with the project and region, having assembled it some time ago – they have an exhaustive database of fieldwork assembled over a decade and will be running point on exploration and drill planning.  Her bio can be found on the website and corp presentation."
To that end, the mining end is being quickly and professionally dealt with. The fact that permits and agreements with the local community are already in place fast tracks development nicely.
It's nice to wake up one morning and find you've accidentally taken a position on a rocket. This rocket has a long way left to fly before I'm going to feel like abandoning ship.
— Chris Parry
FULL DISCLOSURE: Brigadier has opted to join the Equity.Guru marketing crew and is now a fully fledged client, and I've bought more.