I have promised to share more junior miner chart ideas which meet my market structure criteria, and Nubian Resources (NBR.V) sure meets all that on the technicals. First of all, I want to zoom out on the daily chart: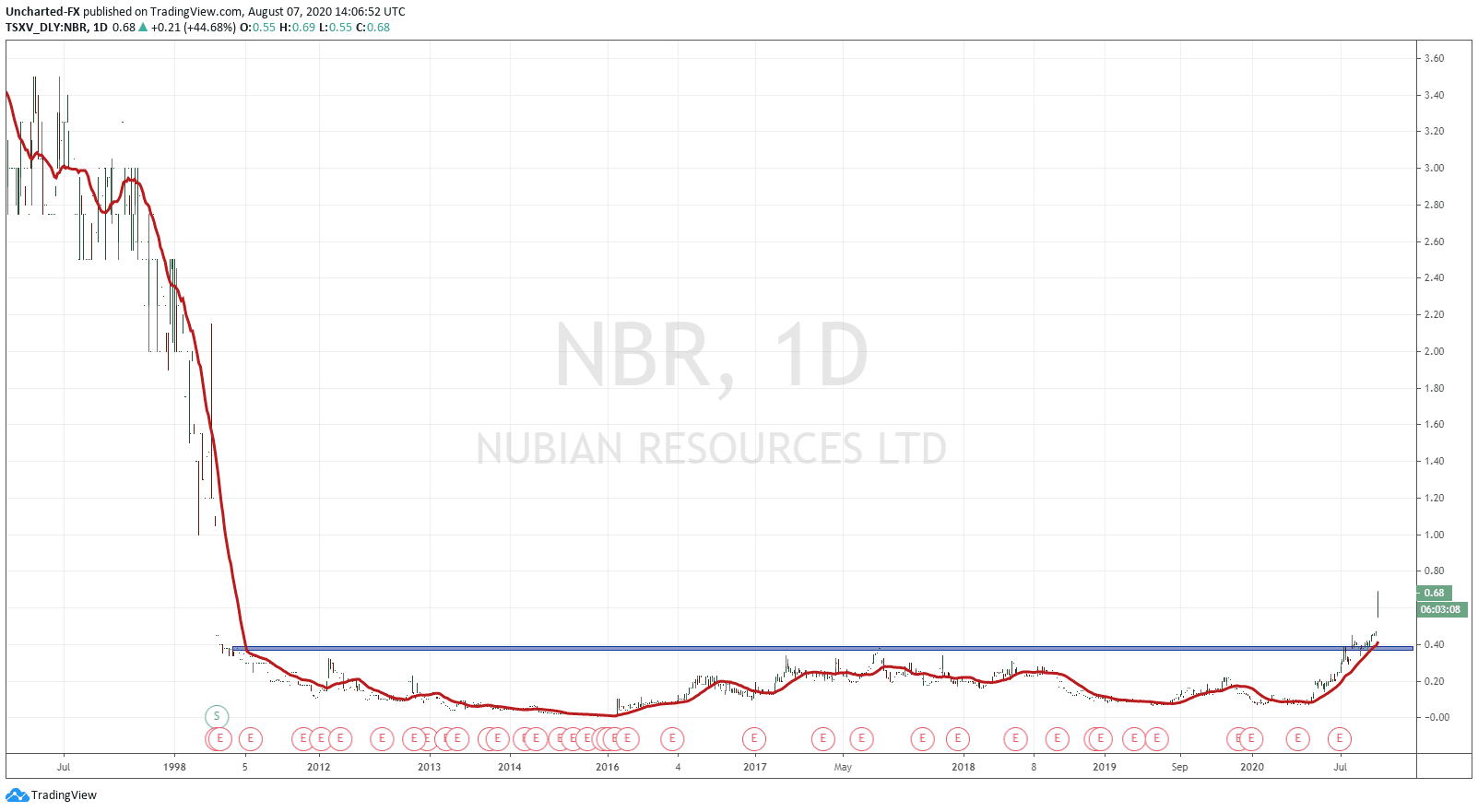 This type of chart structure will be very familiar to our readers. It is the same type of structure we have used to trade Gold, Silver, Pure Gold Mining, East Asia Minerals, Jaxon Mining, is currently being played out on GDX and GDXJ, and has been used to trade plenty of Forex and American Stocks that we share over on our Discord trading room chat. 
In layman terms, all markets move in three ways: an uptrend, a downtrend and a range. These repeat in cycles on all time frames and our job as swing traders and investors, is to play the longer term charts riding the current trend. This means we look for trend reversals and enter our positions when we have signs that a new trend is about to begin. After a prolonged downtrend, we get some sort of exhaustion pattern. This usually comes in the form of a range pattern, which means price bounces between a price floor and price ceiling forming a rectangle pattern. This is a significant exhaustion pattern because it means that no new lower lows are being formed. As mentioned earlier, we have used this pattern to trade the precious metals and junior miner stocks, which have bad ranges going back to 2012 in most cases. As the saying goes: "the longer the base, the higher the space". Translation: the more upside for the stock.
Getting back to the chart, you can see on the daily chart, Nubian Resources has been in a range since 2011. The top bands of the resistance were tested in 2017 and early 2018, but price could not break out above. This breakout finally happened this year. Let's zoom in shall we?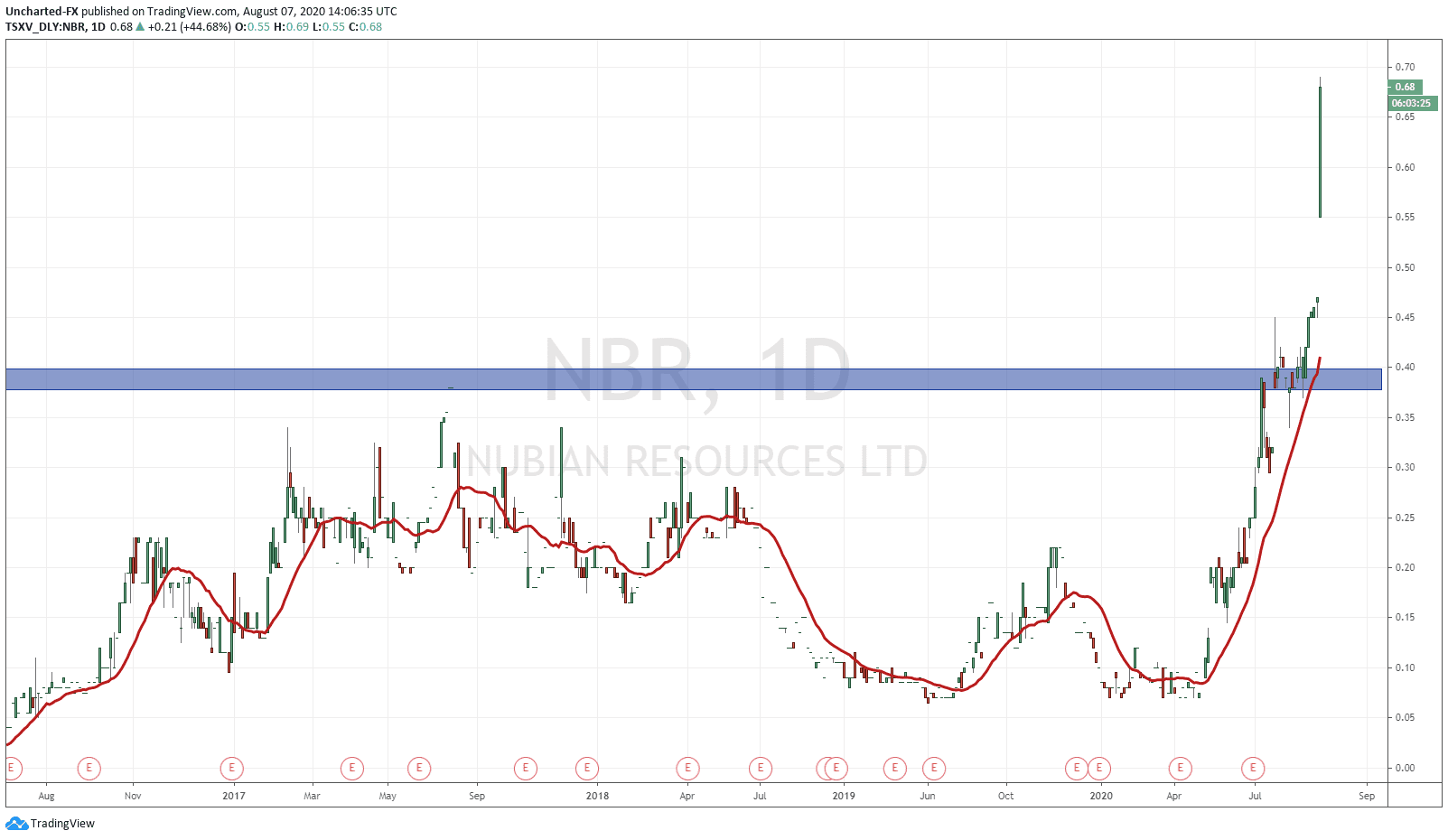 As you can see, price officially closed over resistance on July 16th 2020. Our readers know that this breakout has to be strong. We look for a large green candle body indicating proper momentum on the break. This happened on July 30th 2020. You can see that until that strong candle day, price remained ABOVE the breakout zone. This is normal price action. Once a breakout occurs, the resistance level now becomes new support. As long as price remains above the breakout zone, the uptrend remains intact!
Observing the zoomed out chart, we have two interesting levels to watch. First, the 0.37-0.40 zone remains our support and the trade is valid as long as we remain above. The second level would be the big 1.00 zone which is the next resistance zone of note. If Nubian hits 1.00, we would also fill in the gap which you can see on the left: it is all air until 1.00. Filling the gap is very bullish and would lead to more momentum higher once 1.00 is topped. 
At time of writing, Nubian is up over 36% today. Why? Well news came out today that Eric Sprott has invested $4.2 million in the company:

Nubian Resources Ltd. ("Nubian" or the "Company") (TSX VENTURE: NBR) is pleased to announce a non-brokered private placement offering of units of the Company (the "Units") at a price of $0.42 per Unit (the "Offering Price") for aggregate gross proceeds of up to $4,200,000 (the "Offering").  Eric Sprott intends to subscribe for the entirety of the Offering.

Each Unit will consist of one common share of the Company (a "Common Share") and one-half of one common share purchase warrant of the Company (each whole common share purchase warrant, a "Warrant"). Each Warrant will be exercisable to purchase a common share of the Company (a "Warrant Share") at an exercise price of $0.55 per Warrant Share for a period of 24 months following the closing of the Offering.

Martin Walter, President & CEO of Nubian stated, "Nubian management appreciates Eric Sprott's support, not only for our own Company but his unmatched commitment to support the mineral exploration industry.   We are moving forward at Nubian with a lot of energy now and this funding will enable us to bring our Peruvian-based Esquilache Silver Project and our Victoria and Tasmanian Gold projects to their next stage of development."

The Company intends to use the net proceeds from the Offering for working capital requirements and other general corporate purposes.  The Offering is anticipated to close on or about August 14, 2020 (the "Closing Date" or "Closing").  The Units and the underlying securities to be issued under the Offering will have a hold period of four months and one day from Closing.
Big news indeed!
Nubian Resources has also been featured in Greg Nolan's Sub-$20M ExploreCo shortlist Part Two, and has been extensively covered in his piece on Nubian Resources and its prospects which can be read here. Outstanding coverage on the fundamentals and the geology. I will share some of his analysis below.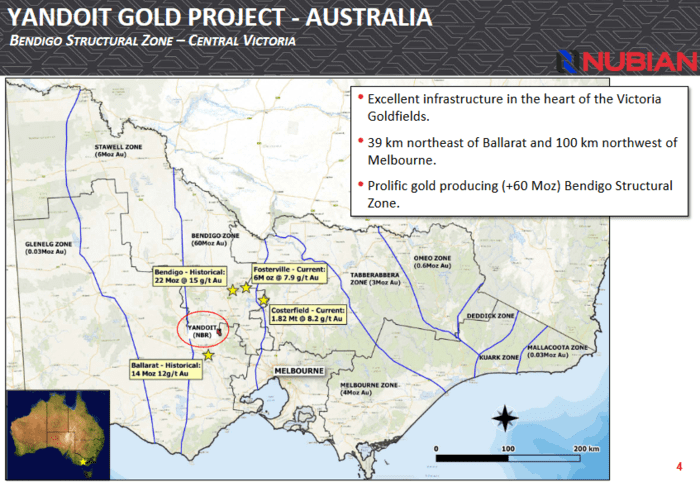 Nubian is positioned in the vicinity of Kirkland Lake's (KL.T) Fosterville Mine, an impressive high-grade operation.
In 2019, Fosterville produced 619,366 ounces of gold at an average grade of 39.6 g/t Au, with the Fosterville Mill achieving a record average recovery rate of 98.8%.
The region's Bendingo Structural Zone—accounting for > 60 million ounces of production—hosts a number of mines, past and present, with impressive grades and ounce-counts:
Bendingo – 22 million ounces at 15 g/t Au (historic production)
Ballarat – 14 million ounces at 12 g/t Au (historic production)
Fosterville – 6 million ounces at 7.9 g/t Au (current production)
The Yandoit Gold Project, a 38 square kilometer (3,800 ha) chunk of highly prospective terra firma, boasts a five-kilometer mineralized corridor, ground that has seen little in the way of modern exploration targeting techniques.
This region is known for its large, high-purity gold nuggets. Numerous multi-ounce specimens have been discovered in the region over the years.
A recent acquisition adds more excitement to the story.
Nubian entered into a binding letter of intent with Stavely Minerals (SVY.AX) to acquire an interest in three projects, one in southeast Australia and two in northeast Tasmania (all subject to final due diligence and the negotiation of definitive agreements).
The Yandoit transaction featured above captured 38 square kilometers (3,800 hectares) of prospective ground roughly 70 kilometers to the southwest of Kirkland Lake's Fosterville Gold Mine.
This new acquisition includes the Fosterville East Project—82 square kilometers (8,200 hectares) of prospective, largely unexplored terrain located 10 kilometers east of Kirkland's Fosterville mine.
Trade ideas and market discussion can be found on our Public Discord Channel: https://discord.gg/akcgCVP
Check out and subscribe to our Youtube channel where charts and market events are discussed on our Morning Market Moment show: https://www.youtube.com/channel/UCG7ZYDUeNANJiDxH88F9aQA