On August 5, 2020 Heritage Cannabis (CANN.C) announced that it has agreed to buy Opticann Inc – a "Colorado-based oral and topical cannabinoid company with the rights to exclusively sell CBD (cannabidiol) and CBG (cannabigerol) products made with the patented VESIsorb drug delivery system for optimized absorption and stability".
CBD has experienced an accelerated consumer adoption-cycle – moving from health fad, to accepted medicine, to mainstream usage in the flutter of a humming bird's wings.
They hype-cycle reached its nadir when Kim Kardashian West had a CBD-themed baby shower" and ABC co-host Michael Strahan asked, "Is it true that CBD is harvested through Willy Nelson's tears"?
According to a well-researched article by Jacqueline Havelka on Leafly.com, "CBG is a powerful vasodilator that has neuroprotective effects" while also showing "great promise as a cancer fighter…CBG is thought to be particularly effective in treating glaucoma because it reduces intraocular pressure."
Opticann has a supply and distribution agreement with Geocann LLC, a global cannabis organization with the exclusive worldwide rights to the patented VESIsorb delivery technology for cannabinoids, terpenes and flavonoid formulations.

Opticann has the right to brand and market a select portfolio of VESIsorb formulated oral and topical CBD and CBG products to major U.S. retailers including CVS, Walgreens, Rite-Aid and Walmart, among others.

VESIsorb dramatically improves the stability and absorption (bioavailability) of natural ingredients like cannabinoids, and is backed by a robust body of supporting scientific evidence spanning several decades.
In pharmacology, bioavailability is the fraction (%) of an administered drug that reaches the systemic circulation.
When a medication is administered intravenously (directly into the blood stream) its bioavailability is 100%.  When a medication is administered via other methods, its bioavailability is lower due to intestinal absorption and other metabolic inefficiencies.
The ability to increase bioavailability is a major obsession of the $1.3 trillion global pharmaceutical industry.
According to the peer-reviewed journal, Molecules, the VESIsorb technology delivered higher total absorption (a 440% increase in maximum plasma CBD concentration), and a 285% increase in total CBD exposure over eight hours.
Jump to the 32 second mark of the video below to learn more about VESIsorb:
Heritage isn't profitable yet, but it is trending in the right direction and the losses ($1.9 million) are only 3.5% of its $54 million market cap.
Q2, 2020 Financial Highlights:
Gross revenue was $1.4-million in the second quarter of 2020, compared with nil in the three-month period ended April 30, 2019.
Net loss was $1.9-million in the second quarter of 2020, compared with a net loss of $5.2-million or two cents per common share in the second quarter of 2019.
Cash and cash equivalents of $5.3-million and working capital of $13.1-million, compared with $11.5-million in cash and cash equivalents and working capital of $11.7-million at the end of fiscal year 2019.
Heritage owns two licensed Canadian producers, Voyage Cannabis and CannaCure, both of which also have industrial hemp licences.
Working under these licences, Heritage has two additional subsidiaries, a medical services division (which is focused on cannabis-based medical solutions) and Purefarma Solutions (which provides extraction services)
In May 2020 CANN announced that it will be launching its own series of formulated extraction products under the brand name Purefarma, "which will be sold through Voyage Cannabis, a licensed subsidiary of Heritage".
Six weeks ago, Heritage announced that its subsidiary Voyage Cannabis has been given a cannabis oil sales license by Health Canada.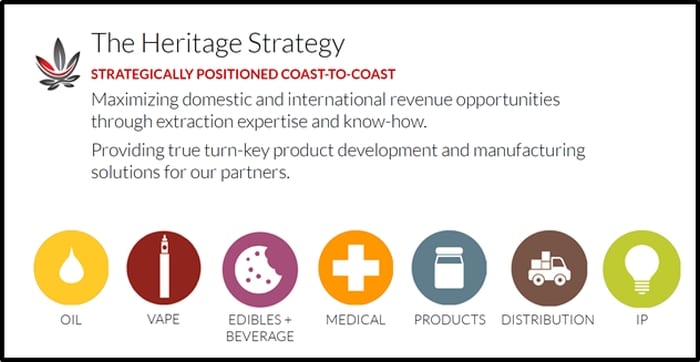 August 5, 2020 Agreement highlights: Opticann will receive up to $5 million of common shares and warrants of Heritage.  Additional earnouts with a potential value of up to $30 million contingent on sales and other milestones over the next five years.
Opticann was founded by several former executives of Medreleaf Corp., a Canadian medical cannabis company that was acquired by Aurora Cannabis (ACB.NYSE)  for $3.2-billion in 2018.
"The patented VESIsorb technology enables the creation of next-generation CBD and CBG products," stated Neil Closner, Opticann Chairman. "These products are manufactured within Geocann's advanced GMP compliant and highly scalable supply chain, and are ideal for building leading brands at large national U.S. retailers."
"The acquisition of Opticann is a strategically significant move," stated Clint Sharples, Heritage CEO. "We are excited to have Opticann join the Heritage family."
Sharples' plan is to leverage Opticann's international relationships to build "an international medical product sales footprint".
"The founders of Opticann have a successful track record of building brands for mass retailers and delivering value to the cannabis and hemp industries with a focus on differentiation based on superior innovation, unmatched quality, consumer education and strategic retail partnerships," stated said Jesse Lopez, founder and CEO of Geocann.
"Heritage has done a host of deals with partners, suppliers, vendors, and acquisitions, that have brought them licenses and steady product supply and got them on shelves fast," stated Equity Guru's Chris Parry on February 8, 2020, "Heritage's first revenues EVER came through in this past quarter at $3.56 million. We're used to small cannabis outfits coming out of the blocks with a digit less than that".
Growing cannabis revenues, shrinking losses, a healthy balance sheet – and now a pathway to selling oral and topical CBD and CBG products to major U.S. retailers.
– Lukas Kane
Full Disclosure: Heritage Cannabis is an Equity Guru marketing client.