On July 29, 2020 Golden Lake Exploration (GLM.C) reported that site preparations are completed for a minimum 5,000-foot, RC (reverse circulation) drill program on the company's keystone Jewel Ridge Carlin-type gold property.
Early this month, it was announced that Alford Drilling will complete the RC drill program.
On July 16, 2020 GLM reported positive gold and silver values from its reconnaissance prospecting and geological mapping.
Strong gold and silver values from selective samples returned up to 5.48 grams per tonne (g/t Au) and 324.0 grams per tonne silver (g/t Ag) from the A & E Target, and up to 14.20 g/t Au and 562.0 g/t Ag from the Croesus-Connelly targets."

One grab sample was also taken from the adit area at the South Eureka Tunnel target which returned 9.61 g/t Au and 78.9 g/t Ag. This is one of the key targets focused for drilling, directed at Carlin-type, oxide gold mineralization.
"Jewel Ridge continues to deliver strong results. With drilling commencing this month we look forward to building this exciting story." stated Mike England, CEO and President of Golden Lake at the time.
"Jewel Ridge is located at the south end of Nevada's prolific Battle Mountain—Eureka trend, strategically along strike and contiguous to the Barrick Gold's (former) two million ounce Archimedes/Ruby Hill mine to the north, and Timberline Resources' advanced-stage Lookout Mountain project to the south," reported Equity Guru's mining wizard Greg Nolan on July 4, 2020.
Carlin–type gold deposits are characterized by invisible (microscopic and/or dissolved) gold in pyrite and arsenopyrite. It can only be found through chemical analysis. Most of the mines in the Great Basin (including Nevada) are the Carlin type. These deposits have also been found in China, Iran, and Macedonia.
"Carlin-style gold deposits have remained an enigma for economic geologists, despite decades of mining and research," states the Society of Economic Geologists, "Questions concerning their origin remain, as do questions about why the vast majority of deposits are located in the Great Basin region of the western United States, mainly in Nevada.
"Management is everything in the junior exploration arena, particularly where Carlin-type deposits are concerned," stated Nolan.
"This top-shelf team of mining men (and women) is led by resource veteran Mike England.
Peter Mah, the current COO of McEwen Mining (MUX.TO), is a standout. During his tenure at Newmont, his early stage exploration leadership lead to the delineation of over 15M ounces of gold resources in Canada, Nevada, Ghana, and Peru (most notably the Leeville underground mine expansion in Nevada and the new Subika underground mine in Ghana).
Vic Bradley, Golden Lake's COB, was at the helm of Yamana (YRI.TO) when it was an exploration company donning mere penny status (I was an early investor in Yamana back in the day). Vic also served as Osisko Mining's chairman from November 2006 up to its $4.1 billion sale to Agnico Eagle (AEM.TO) and Yamana in June 2014. That transaction represented a tremendous wealth creation exit for early shareholders.
John Hiner, Director, has an exploration history of some 45 years, having served on a number of teams credited with eight discoveries of which five became mines that are still producing.
Robert Weicker, Chief Geologist, was on the ground at Hemlo from late exploration through to production. Bob has extensive exploration experience targeting VMS deposits along the Abitibi greenstone belt and has worked projects in every county in Nevada, in addition to Arizona, Utah, Idaho, Washington, New Mexico, and California.
The quality of the Jewel Ridge project also brought a key guy [Newmont's Dick Reid] a senior geologist with over 30 years in the mining business, out of retirement." – End of Nolan.
Historically, Nevada has been such a good mining jurisdiction that state politicians are starting to bitch that big mining companies should pay more tax.
"Of 30 operating gold mines in Nevada in 2019, 14 of them declared enough deductions to zero out their state mining tax bill," reported The Nevada Current on July 16, 2020, "The combined value of the gold produced at those 14 mines was $716.5 million dollars.
The list of mines zeroing out their tax bill through deductions included some larger operations. The Bald Mountain mine owned by Kinross Gold produced $249 million worth of gold. Kinross claimed $252 million in deductions, and paid mining taxes to neither the state nor White Pine County, where the mine is located.
Mining tax reform advocates in Nevada have been calling for legislators to reduce the number of the tax deductions available to mining companies.
Investors should pay attention to local and state mining taxation laws.  In every jurisdiction, it's a push-pull dynamic. The mining companies provide jobs, the governments allow them to operate at a profit.  After a while, one party feels aggrieved, and the taxation laws are reviewed.
Taxation laws is a down-the-road issue for GLM.
Right now, the tiny company is riding the first wave of a bull market in gold.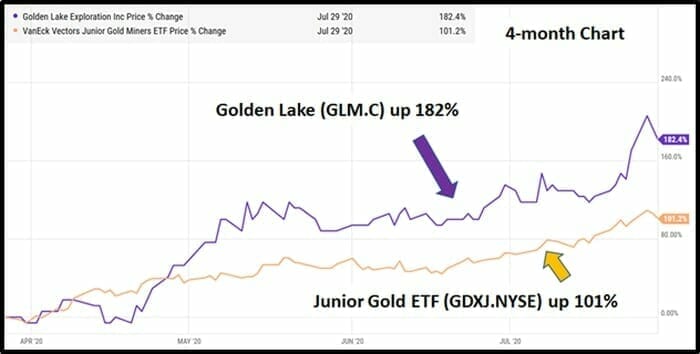 Site groundwork at Jewel Ridge involves bulldozer and backhoe excavations, location of drill hole collars, and securing water delivery sources. Alford Drilling has mobilized the drill from its last job and it is in transit to the site, located just west of the town of Eureka, Nevada.
The maiden drill program is expected to start later this week with targets located on patented mineral claims on the South Eureka and Hamburg zones, both targeting Carlin-type, oxide gold mineralization.
Golden Lake has just received analysis from its recent soil geochemical survey.  Results from 191 samples are being compiled and processed
"The commencement of our first drill program on the Jewel Ridge property marks an important milestone," stated Golden Lake CEO Mike England, "We are excited to advance this marquee gold and silver property in this strong precious metals market."
By mid-morning, the price of gold rose $20 to a historical high of USD $1,965.
Canadians who own bullion, can sell at CND $2,600/ounce.
Full Disclosure: Golden Lake is an Equity Guru marketing client.