As promised, part two of our sub-$20M ExploreCo shortlist.
The junior sector is on a serious tear.
Clearly, we are now in a market that rewards success with the drill bit.
One fine example:
Blackrock Gold (BRC.V), highlighted in these pages roughly 16 months ago—Gold opportunities in the mother of all mining jurisdictions: 21 Nevada ExplorerCo's for your consideration—climbed from its lowly sub-nickel pre-Andrew Pollard price levels to its recent close at $1.27, up 3100%.
Our most recent coverage of the company—Blackrock Gold (BRC.V) drilling for high-grade in the Queen of all silver camps—was just over two weeks back when the stock could have been purchased for < $0.40.
Blackrock is a dazzling example of how the right project, and the right management team, can reward shareholders in a way that might best be described as surreal.
$1,000 invested immediately prior to CEO Pollard taking control of Blackrock is now worth $31,000.
Congratulations are due to Pollard and his team for the heads-up move that generated the following headline on February 25th of this year:
BLACKROCK GOLD CONSOLIDATES WESTERN HALF OF HISTORIC NEVADA SILVER DISTRICT WITH LEASE OPTION TO PURCHASE TONOPAH WEST PROJECT
And then the barn-burner assays that flowed out of that acquisition earlier this week:
BLACKROCK DRILLS 3 METRES OF 2,198 G/T SILVER EQ. IN NEW VEIN AND EXTENDS VICTOR VEIN DOWN PLUNGE WITH 29 METRES GRADING 965 G/T SILVER EQ. ON THE TONOPAH WEST PROJECT
A pic is worth a thousand words…
How can you not be romantic about the hunt for buried treasure?
A few more examples of the spectacular price trajectory we've witnessed in recent weeks:
Teuton Resources (TUO.V), first featured in these pages 16 months back at $0.20, is better than a 10-bagger, currently trading at $2.44, up 1,100% (the stock has traded as high as $3.45 in recent sessions).
ELY Gold Royalties (ELY.V) first caught our attention roughly 16 months back when it was trading at $0.17. It's nearly a 10-bagger now with its recent close at $1.66, just a hair shy of a 1,000% gain (it's traded as high as $2.09 in recent sessions).
Great Bear Resources (GBR.V), first brought to your attention back in January of 2019 at $2.03, is closing in on 10-bagger territory, last traded at $17.60, up nearly 770%.

Skeena Resources (SKE.V) is a company we shortlisted just over one year ago at $0.44—it last traded at $2.93, up a solid 565%.
We could on, but you get the idea.
The sub-$20M ExploreCos – Part 2
Once again, this is not a comprehensive list. And some of these companies deserve more attention than I'm giving them.
Golden Ridge Resources (GLDN.V)
Corporate Presentation (left side of page)
19.74 million shares outstanding
$5.33M market cap based on it recent $0.27 close
I nearly didn't include GLDN in this round-up, but a share rollback and a significant new acquisition has given the company a fresh start (a five-old-for-one-new rollback will do that).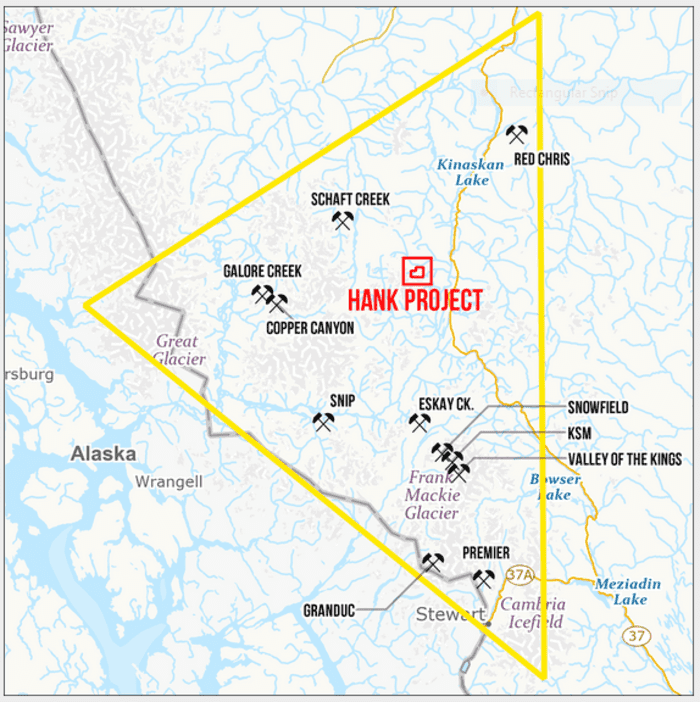 According to the company's website, the 1,700 hectare Au-Ag Hank Project remains its flagship asset, though a recent foray into Central Newfoundland could alter that status.
The company also has an option to earn an 80% interest in the 52,442 hectare Ball Creek Project from Evrim Resources (soon to be named Orogen Royalties Inc) which completely surrounds the Hank property.
The company is targeting two types mineralization at Hank:
High-grade epithermal style gold-silver veins haloed by bulk tonnage Au-Ag-Pb-Zn mineralization in altered host rocks.
Bulk tonnage alkalic porphyry copper-gold mineralization similar to the producing Red Chris mine.
GLDN's proximity to the Golden Triangle's Kyba Red Line is one good reason for keeping an eye on developments here:
"Geology: All mineralized zones on the Property are hosted within Stuhini Group volcanic and volcaniclastic strata, as well as alkaline stocks and dykes which intrude into the volcanic package and show a clear spatial association with the mineralized zones. Geological studies have suggested the intrusions were the likely source of hydrothermal fluids and gold-silver-lead-zinc mineralization on the Property. The Upper Alteration Zone is adjacent to an important unconformable contact between the Upper Triassic Stuhini Group and Lower Jurassic Hazelton Group. The unconformity, referred to as the "red line" was recently recognized by Joanne Nelson and Jeff Kyba of the BC Geological Survey (BCGS) as playing a major role in the emplacement of all significant mineral deposits within the Golden Triangle district including Brucejack, KSM, Schaft Creek, Galore Creek, Spectrum, Saddle (GT Gold) and Red Chris. The Stuhini-Hazelton transition cuts the southwest portion of the Property as indicated by the thick red line in the regional geology figure below. A feldspar megacrystic stock, known as the Bald Bluff Porphyry intrudes along its northern edge and was interpreted by Kaip (1997) as the source of the mineralizing fluids at Hank. 2017 drilling in the Lower Alteration Zone intersected intrusive rocks similar in texture and composition to the Bald Bluff Porphyry, which have a clear spatial association with high-grade gold-silver mineralization. 2018 work will be focused on mapping the intrusive rocks on the Property and refining the current drill targets."
The company is raising $2,150,000 via a non-brokered PP.
Exploration plans for the balance of 2020 are a bit sketchy. One would assume that with this recent raise, work will get done on both coasts—East and West.
Corporate Presentation (middle right of page)
19.87 million shares outstanding
$9.24M market cap based on its recent $0.465 close
Goldseek holds large, geologically prospective land positions in the storied Hemlo Gold Camp of Ontario (Barrick Gold), the Urban Barry Gold Camp of Quebec (Osisko Mining, Bonterra Resources), and the Fenelon Gold Camp, also of Quebec (Wallbridge Mining).
Horizon Project, Hemlo Gold Camp, Ontario
Mines in the Hemlo camp have produced more than 21 million ounces of gold in their three-decades-plus of continuous production.
Goldseek is looking to drill off three geophysical anomalies (VTEM and IP) in this first 1,500-meter phase.
Target A will consist of two 200 to 300-meter holes.
Target B will consist of two 150-meter holes.
Target C will consist of two ~300-meter holes.
Southern Arm Project, Abitibi Greenstone Belt, Quebec
Project highlights:
Bonanza Project, Urban Barry Gold Camp
The following is an excerpt from our recent write-up, Goldseek Resources (GSK.C) pushing three highly prospective Ontario-Quebec projects aggressively along the curve
Project highlights
Contiguous claims (12,000 acres) in the Urban Barry Camp where 7.1 million ounces have been discovered-to-date;
Shares a 28 kilometer border with Osisko Mining's (OSK.T) Great Bear target;
A total of 11 TDEM anomalies;
Strong gold till soil samples from both Melkior Resources (MKR.V) and Osisko extend onto the property;
A $4.7 billion development deal announced between the Eeyou Istchee James Bay Cree and the Quebec gov't where the first phase of development includes pushing power out to the Windfall Camp.
Osisko tagged some fairly significant till samples on the border of the Bonanza property.
Also, if you examine the above map, you'll note two gold-copper values—results from a boulder sampling campaign conducted in the early '90s.
These two boulder samples—K 93 62 (9.2 g/t Au +1.8% Cu) and K 92 53 (6.2 g/t Au + 0.85% Cu)—were discovered only 30 meters apart. Both show the same brecciated pyrrhotitic iron formation with recemented pyrite and chalcopyrite.
This is highly significant. The lithology of these boulders (in addition to the positive till samples tagged by Osiko along the property border) correspond to an iron formation—a structure that could host a significant deposit.
The question is, "Where is the source of these two pyrrhotitic iron formation boulders"?
Goldseek, suspecting the source of these boulders lie within their Bonanza claim block, recently conducted a till and boulder sampling campaign along 15 kilometers of conductive trend.
July 8th news: Goldseek Resources Completes Phase 1 Program at Bonanza (Urban Barry)
A total of 524 soil samples were taken over the course of this surface campaign. They also sampled 11 boulders and 10 outcrops. Assays are pending.
Here's the thing: The company has 19.87 million shares outstanding and management and insiders own 75%.
With an $11M market cap, a super-tight share structure and multiple irons in the fire, success with drill bit should generate plenty of upside price trajectory.
The company currently has $1.3M in the till.
Corporate Presentation (near top of page)
9.54 million shares outstanding
$4.29M market cap based on its recent $0.45 close
Golden Sky Minerals is the new handle for Luckystrike Resources.  A spinoff from Goldstrike Resources (GSR.V),  Gldn Sky is exploring the gold potential at its flagship Luckystrike property.
The company is also exploring its Hotspot project located along on the Yukon-Alaska border.
"The reason for the change of name, says John Newell, President and CEO of the Company, "is that there are too many Luckystrike properties within other companies and another company called Luckystrike Exploration, and it is confusing to investors. Our new name will set us apart."
After a ten-old-for-one-new share rollback, the company has reinvented its share structure.
The Lucky Strike property, located in the heart of the Yukon's White Gold District, hosts a 10 kilometer long trend of mineralization. Five gold-bearing zones have been identified to date on the property.
Lucky Strike is situated 25 kilometers north of Newmont-Goldcorp's (NGT.T) Coffee Gold deposit (Probable Reserve of 2.16 M oz Au) and 15 kilometers east of White Gold's (WGO.V) Golden Saddle deposit (Indicated resource of 1.04 M oz Au).
The Monte Carlo zone, the only target drilled thus far, yielded a highlight intercept of 5.36 g/t Au over 22 meters in a near-surface oxide zone, and 4.55 g/t Au over 7.6 meters in a deeper sulphide zone (see November 13, 2018 news release).
The Bull's Eye property, located 50 km south of the Coffee Gold deposit, is where a 2017 surface program identified an open-ended 200 x 250-meter geochemical anomaly with gold-in-soil values of up to 0.22 g/t Au. Rock grab samples assayed up to 0.25 g/t Au.
Bull's Eye sits adjacent to K2 Gold's (KTO.V) Wels Gold project where the K2 tagged 2.37 g/t Au over 28.5 meters and 0.76 g/t Au over 97.5 meters.
On July 6th, the company mobilized a field crew to Bull's Eye.
On July 20th, the company put boots to the ground at Hotspot.
This Phase 1 program will involve soil sampling to expand the Sure Bet zone, and preparation for a Phase 2 inaugural drill program to be conducted in September, 2020. The Hotspot property is located 25km southeast of the Taurus copper-molybdenum-gold (Cu-Mo-Au) porphyry deposit (located in Alaska) which has an inferred resource of 68.3 million tonnes grading 0.275% Cu, 0.032% Mo, and 0.166 g/t Au.

Situated along the Big Creek Fault, the Hotspot property hosts a 1.7-kilometer-long mineralized structure with gold-in-soil values up to 4.1 g/t Au and a pathfinder signature indicative of a low-sulphidation epithermal system. A short trenching program in 2018 returned values of 0.42 g/t Au over 44 meters.
94.56 million shares outstanding
$18.44M market cap based on its recent $0.195 close
Granada's flagship project is its Granada Gold project located in Rouyn-Noranda, Quebec.
Pit-constrained resources at the project currently stand at…
Granada created a flurry of activity earlier this year with a hit of 11.45 g/t Gold over 33 meters.
According to the January 9 press release:
"Unexpected near-surface, high-grade mineralization has been discovered within the recently explored two-kilometer LONG Bars Zone of the five and half kilometer Granada Shear zone which trends east-west on the property."
Critics who keep track of assay related headlines immediately jumped on the numbers accusing the company of grade smearing.
You be the judge… Exploration Insights' Drill Hole Interval Calculator
On June 2nd, Granada announced a 2020 exploration campaign at its flagship project:
Granada Gold Outlines 2020 High-Grade Exploration Program
Highlights:
Diamond drilling aims to focus on the high-grade Vein No. 1 structure. To date, the structure has been traced for 500 metres on surface;
Completion of bulk sample of high-grade Vein No. 1, targeting 30-50 tonnes mineralized material. The bulk sample will be processed at Temiskaming Testing Laboratory (TTL) in Cobalt, Ontario.
On July 16th, the company dropped the following headline:
Innovexplo Begins Revised 43-101 Resource Study at Granada
Frank Basa, Granada's CEO:
"Granada is currently drilling key holes to increase underground resources quality below existing pit constrained mineral resources. The company has decided that a revised 43-101 should be undertaken at this stage to better reflect the potential of the resource".

This is a good address.
22.07 million shares outstanding
$20.31M market cap based on its recent $0.92 close
Recently hailed as Canadian Orebodies, this company, as you may have divined in the new name, is prominently positioned in the storied Hemlo Gold Camp. Along with the new handle came a three-old-for-one-new share rollback.
Hemlo is advancing its 4,047 hectare Pic Project (Wire Lake Property) and its the 6,800 hectare North Limb property along the northern extension of the Hemlo greenstone belt.
Since we last checked in, the company acquired the West Hemlo and North Hemlo properties from O3 Mining (OIII.V)
"The West Hemlo property is located approximately five kilometers south of the Company's flagship Pic Project and is situated along the east-central part of the Archean Schreiber-Hemlo greenstone belt. The North Hemlo property is contiguous to the Company's North Limb Project and covers a portion of the northern splay of the greenstone belt. In aggregate, the Properties consist of 414 claims totaling 6,833 hectares, bringing the Company's total claim holdings in the Hemlo mining district to nearly 38,000 hectares."
I suspect this makes HMLO the largest claim holder in the Hemlo region.
On June 2nd, the company provided an update on this newly acquired ground in the Hemlo camp:
Hemlo Explorers Provides Update on Recent Property Acquisition
On June 22nd, the company put boots to the ground at Hemlo:
Hemlo Explorers Completes Mag Survey and Commences Field Season in Hemlo Camp
Pic, North Limb, and Hemlo West saw prospecting, mapping and data compilation early in the going. The company believes North Limb has a geological setting akin to the prolific Hemlo deposit that cut intercepts of up to 37.35 g/t Au over 1 metre.
Hemlo West is 15 kilometres west and on strike with the Williams Mine and 2.5 kilometres south of the Pic Project.
In late May, the Company commenced the start of a busy exploration campaign by completing a 460 line-kilometre high resolution magnetic airborne survey over a portion of the Pic Project, covering the Porphyry Lake and Contact Lake areas. This survey area is contiguous with the same high-resolution survey flown over Beggs Lake in 2018. These magnetic surveys help delineate stratigraphic boundaries and structural trends that are important to gold deposition at Beggs Lake, Wire Lake, Smoke Lake, Porphyry Lake, Contact Lake and Camp 27.

At the start of June, data compilation commenced to build 3D models for a better understanding of zone geometries and potential at North Limb, Wire Lake, Smoke Lake and Page Lake. This work is scheduled to be completed mid-summer and is anticipated to help generate targets for field follow-up and drill testing.

Additionally in June, a field program was started consisting of prospecting, mapping, and rock and soil sampling. The program will focus initially at the Beggs Lake Stock, a three-square-kilometre intrusive having multiple, mineralized fault-shear-fracture systems that trend northerly through the granodiorite–monzonite intrusive. Previous prospecting campaigns have discovered high-grade gold at the Lucky 13 trench, within the intrusive, having up to 100 g/t Au found in a grab sample of quartz veining along a fault-dyke contact. The 2018/2019 field programs found similar high-grade grab samples of quartz veining elsewhere around the edges of the Beggs intrusive with values of 109 g/t Au, 14.7 g/t Au, and 11.6 g/t Au at the ABC, Tibia and Goldshore occurrences respectively. This summer, Company geologists will follow-up on these discoveries to better understand geometry and the extents of mineralized structures. Follow-up ground geophysical IP surveys, overburden stripping, mapping and sampling over selected areas are anticipated to commence mid-summer. The goal of this field work, in combination with the compilation evaluations being undertaken, is to generate, refine and prioritize targets for a comprehensive drill program later this season.
On July 13th, the company reported ongoing data compilation work on the North Limb and Pic projects, including the Smoke Lake, Wire Lake, and Beggs Stock areas.
Hemlo Explorers Advances Field Work at North Limb Project
Brian Howlett, Hemlo Exp. CEO:
"We are excited to be identifying stripping and drilling targets from the results of these compilations and look forward to executing a comprehensive exploration program. We remain hopeful of the exploration permits being issued in the near future as restrictions from the Covid-19 crisis begin to get lifted."
125.83 million shares outstanding
$8.81M market cap based on its recent $0.07 close
Jaxon is focused on advancing its flagship 41,512 hectare Red Springs Project in the Hazleton region of northwest B.C.
"The Red Springs Project involves a system of three or more copper/gold porphyries. This system has two distinct mineralized zones: an extensive thrust fault-hosted high-grade gold-bearing tourmaline breccia mineralized zone with cobalt, copper, antimony and bismuth credits; and a second zone with high-grade antimony-silver mineralization. The tourmaline breccia gold-cobalt mineralization represents the first of its type discovered in British Columbia."
There are four distinct geological areas of interest, each hosting one or more copper porphyry systems:
On July 20, the company put boots to the ground:
Jaxon Commences 2020 Exploration Program at Hazelton
2020 phase one details:
4-6 km2 detailed ground magnetic survey at the Razorback porphyry and gold-bearing tourmaline breccia zone/pipe at Red Springs;
Preliminary ~1000-1200 soil sampling and mapping program consisting of a systematic 50 m x 50 m grid at Razorback porphyry covering approximately 2 km2 to be conducted by HEG & Associates;
Re-logging of 2017 drill cores from Max, which intercepted 6-11 metres high-grade silver polymetallic mineralization;
Surface prospecting including soil, rock sampling, and mapping at the Netalzul Mountain and Blunt Mountain AOIs.
A planned phase two ~2000 metre drilling campaign will target the guts of the main porphyry system at Red Springs.
John King Burns, Jaxon CEO:
"Additional drill tests may be conducted at Netalzul Mountain, Max or Blunt Mountain this year, if time and funds allow. Those decisions will be made mid-September and will be based on the results of the Phase One surveys, the availability of resources, and the weather forecast for late September and October of 2020. The work products of the 2020 work season will set Jaxon up to drill confirm the scope of one or more of its four porphyry targets. During the 2020 and 2021 field seasons, Jaxon is positioned to track down one or more copper porphyry elephants wearing silver and gold earrings."
36.16 million shares outstanding
$14.46M market cap based on its recent $0.40 close
Metallis' 10.6K hectare Kirkham Property has a number of distinct targets along multiple geological settings— porphyry, epithermal, VMS, shear vein gold. With its location in the heart of the prolific Golden Triangle of northern B.C., there exists the potential for a world-class discovery.
Once again, we have a project with significant alteration that lies in proximity to the lauded Kyba Red Line.
"The Kirkham property lies within the Stikine Terrane, near the boundary between the Intermontane and Coast Tectonic Belts of the Canadian Cordillera. Locally, the Kirkham property lies on the western margin of the Eskay Rift with trans-tensional structures host to several metallic ore deposits in the district. It is underlain by volcanic and sedimentary rocks of the Upper Triassic Stuhini Group and the Lower to Middle Jurassic Hazelton Group. According to Kyba and Nelson (2016), the contact between these two rock formations is a key geological marker for copper-gold mineralization in the Golden Triangle. Also referred to as the "Red Line", this marker has been traced over a strike length of 10km (north-south) on the Kirkham Property."
Assay related news from the company's Cliff zone—released in mid-January and mid-February of this year—extended the Cliff porphyry copper-gold system northward for a strike length of 3 kilometers along the 7.5km Hawilson Monzonite Porphyry Complex. This is a big system. But these results failed to impress the market.
On July 15th, the company tabled plans for its 2020 field season:
Metallis Announces 2020 Phase 1 Exploration Program Focussed on Identifying Drill Targets
2020 objectives:
Geological mapping will be focused on delineating the Triassic-Jurassic unconformity, Adam fault, as well the morphology and alteration-footprint of the Cliff and Cole porphyry copper-gold systems. This work will enable the geological team to pinpoint the most prospective zones.
A total of ~21.9 line-km of high-resolution Induced Polarization ("IP") Survey is proposed over the Cliff, Cole, King East and Thunder North (K-9″) targets. The IP Survey has proven to be an effective tool in detecting the source of anomalies beyond 400m depth. The IP chargeability and resistivity response will highlight the zones with high concentrations of sulphides which accompany the mineralization in the Cliff, Cole and King East porphyry targets and potential disseminated Ni-Cu sulphides in the Thunder North (K-9) target. (Click here to view map of Cliff and Click here to view map of Cole and King East)
Re-logging of all the existing drill holes at the Cliff and Cole porphyry systems will focus on mapping the structures and controls of the gold-rich mineralization. The distribution and intensity of the alteration, veins and sulphides will help in vectoring towards the deep, high-grade core zones in the porphyry systems.
Selective SWIR analysis, simultaneous with the drill core re-logging, is planned to identify the alteration patterns, temperature stabilities in the shallow gold-rich mineralization and hot core zones of the porphyry systems which typically carry substantial volumes of high grade copper-gold mineralization.
This field campaign will help prioritize drill targets for a phase 2 drilling program scheduled to begin in mid-August.
"Both the Cliff and Cole share many similarities with other porphyry deposits in the Golden Triangle such as the Red Chris, Saddle-North and Kerr deposits where the volume and copper-gold grades increase with depth."
One to watch as Metallis pushes these highly prospective zones further along the curve.
19.37 million shares outstanding
$19.37M market cap based on its recent $1.00 close
Melkior's focus is on the well-established mining camps of Ontario and Quebec.
The company's flagship property is the Carscallen Gold Project, host to seven gold zones where 98% of the holes drilled to date have hit their mark.
Ownership: 100% Melkior;
Location: 25 kilometers west of Timmins, Ontario;
Surface area: 295 claim units, covering 47km2;
Over 36,000 meters of drilling;
Samples up to 843.72 g/t gold.
The headline numbers out of a 2019 drilling campaign lit up the potential of this asset:
Melkior Intersects 23.5 g/t Au over 8.0 Meters on the Carscallen Project
Ownership: 100 % Melkior;
Location: Hemlo, Ontario;
Surface area: 372 contiguous claim units (14,709 acres);
Gold Surface Grab Results of 1,168g/t, 19.2g/t and 3 g/t (2018 program);
Up to 52 ppb gold-in-soil anomaly.
White Lake, located in the north-eastern portion of the Hemlo Greenstone belt, has only seen sporadic interest over the past four decades (since the Hemlo staking rush).
Ownership: 100% Melkior;
Location: 150 Kilometers NE of Val d'Or, Quebec;
Surface area: 200km2;
15 kilometers along a magnetic trend SE of Osisko's Black Dog Deposit;
121 ppb gold-in-soil within robust multi-element anomalies over co-incident EM and magnetic trends (data stacking at its finest).
"The Maseres Project is considered to be "underlain by Archean-age volcanosedimentary gneisses which represent the metamorphosed southern extension of the Urban-Barry Greenstone Belt of the Abitibi Subprovince." A folded continuation of the geologic units that trend through Souart, Urban and Barry Townships. The Urban–Barry Greenstone Belt contains the Barry, Gladiator and Windfall deposits and is the current focus of several multi-million dollar exploration campaigns."
On May 7th, the company dropped the following Carscallen headline:
Melkior Intersects 25.7 g/t Gold (0.91 oz/ton) over 6.0 Meters, Including 102 g/t (3.6 oz/ton) Gold over 1.5 Meters. 8.7% Copper and 33.9 g/t Silver over 0.5 Meters at Carscallen
On May 20th, management halted trading in the company's shares to trumpet the following headline:
Melkior Announces Strategic Partnership with Kirkland Lake Gold
Jonathon Deluce, Melkior CEO:
"We are extremely proud to announce this landmark equity investment and potential joint-venture agreement with one of the world's most respected gold mining companies. We believe this may provide our shareholders with the upside of discovery with limited share dilution to advance the Property. Kirkland Lake Gold CEO Tony Makuch was President and CEO of Lake Shore Gold, from 2008 until its acquisition by Tahoe Resources in 2016. The operation was later acquired again by Pan American Silver, which shares a 9km border with our Carscallen gold project."
In late May, the company tabled the following Carscallen assays believing it has tagged a new VMS setting:
Melkior Discovers New VMS Setting and Intersects 5.6 g/t Gold and 6.4 g/t Silver over 9.5 Meters, Including 0.5 Meters of 67.9 g/t Gold, 79.8 g/t Silver, 0.62% Copper and 0.27% Zinc on the Carscallen Property
"Hole CAR-20-06 demonstrated consistent anomalous mineralization over 447 meters, and that consistency combined with strong down-hole conductive readings supports us potentially being on the fringe of a VMS system."
On July 7th, Melkior put boots to the ground in Val d'Or, a phase one program that will consist of a property wide soil sampling campaign:
Melkior Commences Summer Program on its Val d'Or Property
Multiple irons in the fire and the backing of one of the better Senior Miner's in the sector… this is one to watch.
Run by the same team at the helm of Goldseek (GSK.C), a company profiled in part one of this round-up, Melkior also boasts a super-tight share structure.
Corporate Presentation (under Investors link)
86.45 million shares outstanding
$6.92M market cap based on its recent $0.08 close
Having cashed up to the tune of $340k in early June, the company is setting its sights on its Dona Lake Project along the Pickle Lake Greenstone Belt, a property optioned from Newmont-Goldcorp. The region is host to several historic mines including the Dona Lake mine, the Central Patricia mine, and the Pickle Crow mine.
The company is also targeting its Ogden Gold Property this field season, a project with 8 kilometers of strike along the prolific Porcupine-Destor Fault. Metals Creek has earned a 50% interest in Ogden from Newmont-Goldcorp.
Gold production in the region exceeded 22 million ounces from a number of mines including Goldcorp's Dome Mine, which produced in excess of 17 million ounces.
On June 19th, the company put boots to the ground at Dona Lake:
Metals Creek Initiates Prospecting and Geological Mapping Program on The Dona Lake Gold Project
This prospecting and geological mapping program will set the stage for a diamond drilling campaign designed to test the mineralization potential below the 455 level, and along strike within both the Main Zone and B-Zone.
On July 8th, the company dropped the following headline:
Metals Creek Commences Diamond Drilling on The Dona Lake Gold Project
Exploration permits are in hand and a 1,200-meter drilling campaign is in full swing.
According to this early July release…
Currently there are four known gold bearing oxide iron formations that host gold mineralization on the Dona Lake Gold Project. During compilation work by company personnel, it was determined that the deepest hole found to date was drilled approximately 100m below the mine workings of the Main Zone (455m). This hole (455-2) returned a down hole intercept of 4.36 g/t Gold over 21.08 meters indicating the continuation of mineralization at depth below the bottom level (455 Level) of the Dona Lake Mine Main Zone.

A second zone (B Zone), footwall to the Main Zone, was partially drilled off but only saw limited development and test mining and is open at depth with limited drilling along strike. B Zone is defined as a steeply plunging zone with selective historic intersections including 14.17 g/t Au over 15.31 m, 9.9 g/t Au over 10.6 m, 7.85 g/t Au over 5.85m and 12.44 g/t Au over 4.6m.

The above mentioned drill intercepts are historical in nature and have not been verified by the company. Reported intercepts are not true widths. At this time there is insufficient data to calculate a true orientation.

In addition to the above mentioned drill program, a prospecting program is ongoing to follow up on targets generated by the recently flown airborne geophysical survey, including the newly discovered oxide iron formations (See MEK news release December 2, 2019) with similar style mineralization to that of the gold bearing iron formations that host the Dona Lake gold mineralization. A comprehensive soil survey is also in the planning stage for peripheral targets.
On July 23rd, the company set its sights on a geochemical campaign at Ogden, set to begin in September:
Metals Creek Plans SGH Soil Sampling Program on the Ogden Gold Project, Timmins Ontario
Past exploration at Odgen tagged intercepts of 210.19 g/t Au over 12.53 meters (including 2,732.64 g/t Au over 0.93 meters) and 49.96 g/t Au over 9 meters (including 434.77 g/t Au over 1 meter).
Corporate Presentation (under Investors link)
158.07 million shares outstanding
$16.13 market cap based on its recent $0.095 close
Nexus has just completed a phase one (expanded) drilling campaign at its McKenzie Gold Project in the Red Lake Mining Camp.
This 2000 meter diamond drilling campaign tested several targets occurring within an east-west trending corridor along this 1,400-hectare chunk of geologically prospective terra firma. The red outline marks the area drilled during this first phase campaign.
Historically, the area delivered the following values via the drill bit:
7.49 grams-per-tonne ("g/t") gold over 8.2 meters;
15.54 g/t gold over 0.8 meters;
4.47 g/t gold over 1.4 meters;
2.15 g/t Au over 5.5 meters.
Assays could drop as early as mid-August.
Just yesterday (July 23rd), the company updated progress on multiple fronts:
Nexus Gold Provides Corporate Update
Equity Guru's Lukas Kane summarized said progress in his latest offering—Nexus Gold (NXS.V) in up-trend as USD weakens
Corporate Presentation (currently being updated)
30.29 million shares outstanding
$11.51M market cap based on its recent $0.38 close
Nubian is a recent entry in the ExploreCo arena, and a welcome one. Their area of interest is a clear stand-out in the gold mining world.
Nubian is positioned in the vicinity of Kirkland Lake's (KL.T) Fosterville Mine, an impressive high-grade operation.
In 2019, Fosterville produced 619,366 ounces of gold at an average grade of 39.6 g/t Au, with the Fosterville Mill achieving a record average recovery rate of 98.8%.
The region's Bendingo Structural Zone—accounting for > 60 million ounces of production—hosts a number of mines, past and present, with impressive grades and ounce-counts:
Bendingo – 22 million ounces at 15 g/t Au (historic production)
Ballarat – 14 million ounces at 12 g/t Au (historic production)
Fosterville – 6 million ounces at 7.9 g/t Au (current production)
I covered Nubian's prospects in some detail very recently in a piece titled Nubian Resources (NBR.V) sets its sights on high-grade Australian gold
The following is an excerpt from that article:
Nubian Resources entered the Victoria goldfield fray, dropping the following headline on May 28th of this year:
Nubian Signs Binding Letter of Intent to Acquire Advanced Gold Project in Victoria, Australia
The Yandoit Gold Project, a 38 square kilometer (3,800 ha) chunk of highly prospective terra firma, boasts a five-kilometer mineralized corridor, ground that has seen little in the way of modern exploration targeting techniques.
Gold mineralization at Yandoit typically occurs as coarse gold in sediment-hosted stacked quartz reefs, and within rich alluvial surface deposits.
There is minor production on this property—it comes with the deal.
"The current Project operator, BSB Mining, has geologically mapped the 5-kilometer long corridor, installed crushing and gold extraction equipment on site, has been intermittently producing gold from alluvial sediments. In 2019, BSB Mining installed a head-frame and a mine shaft down to the 27-meter level and three drives towards to Goldsmith's reef. This development work targeted gold mineralization associated with sediment-hosted quartz reefs that are typical of high-grade gold targets in the Victoria Goldfields."
The Nugget Effect
This region is known for its large, high-purity gold nuggets. Numerous multi-ounce specimens have been discovered in the region over the years.
"In 2008, several 20 oz+ specimens were discovered near the Golconda workings and extracted approximately 1,000 oz of alluvial gold and in July 1895, at Nuggetty Gully, Yandoit, near Daylesford, a former miner (Mr. George Brown) made the lucky discovery of a nugget estimated to contain 238 oz of gold."
Recently, prospectors found a 20-gram nugget in the vicinity of the current area of operations.
Though nuggety material can generate uncertainty in determining what ultimately lies in the subsurface layers, in a production scenario, nuggets, particularly the big beefy specimens, are a nice bonus, for reasons that shouldn't require an explanation. They are also easily extracted via a simple gravity circuit. With a light crush, they are easily liberated from the surrounding rock.
Another acquisition down under
It would appear Nubian management has an even greater appetite for Australian real estate.
Management dropped the following headline on July 15th…
Nubian to Acquire Stavely's Fosterville East & Tasmanian Gold Projects
Here, Nubian entered into a binding letter of intent with Stavely Minerals (SVY.AX) to acquire an interest in three projects, one in southeast Australia and two in northeast Tasmania (all subject to final due diligence and the negotiation of definitive agreements).
The Yandoit transaction featured above captured 38 square kilometers (3,800 hectares) of prospective ground roughly 70 kilometers to the southwest of Kirkland Lake's Fosterville Gold Mine.
This new acquisition includes the Fosterville East Project—82 square kilometers (8,200 hectares) of prospective, largely unexplored terrain located 10 kilometers east of Kirkland's Fosterville mine.
The Fosterville East Project is located within the Bendigo Structural Zone where at least one major interpreted structure—the Mount Pleasant Fault—runs through the tenement.
The Mount Pleasant Fault appears to be sub-parallel to the main north-northwest structures that control gold mineralization at the Fosterville Gold Mine.
"Like several major Victorian goldfields, the Fosterville Mine lies in the hanging wall of the west-dipping Redesdale Fault, Bendigo lies in the hanging wall of the Whitelaw Fault, and Ballarat in the hanging wall of the Williamson Creek Fault. Gold mineralization is associated with smaller faults that are interpreted to splay off these major structures. Most of the Fosterville East license lies within a few kilometers of the hanging wall of the major north-northeast trending Heathcote Fault Zone, with the target Mount Pleasant Creek Fault interpreted as a north-northwest splay off of the west-dipping Heathcote Fault."
This acquisition deal also includes the Lefroy and Mathinna projects located in northeast Tasmania.
I'm curious to see how these projects are treated over the short to medium term. It's a lot on the plate for any junior – a lot of geologically prospective terrain to map and prioritize.  The new bull cycle we've just entered into will reward drill bit success, especially in this part of the world.
54.91 million shares outstanding
$20.32M market cap based on its recent $0.37 close
NV Gold has put on an impressive show in recent weeks (share-price-wise).
NV Gold utilizes the prospector generator business model to create shareholder value with its extensive project portfolio.
In-house technical knowledge and a decades-in-the-making geological database of research and exploration will serve as a foundation to create opportunities for lease or joint venture.
The last time we checked in here, the company's Baker Spring Project held flagship status.
Baker Spring covers an area of strong silicification and is located twelve miles north of Newmont-Goldcorp's (NGT.T) Long Canyon mine, a sediment-hosted (Carlin-type) gold system containing a reserve of 1.2 million ounces at 2.31 g/t gold. It lies along the eastern range of the Pequop Mountains, the same setting as Long Canyon.
For the balance of 2020, the company's focus will be on a new B.C. acquisition—the Exodus Gold Project—where an an aggressive exploration campaign is planned for October.
The Slumber Gold Project, where drilling and modeling identified a potential mineralized system both at depth and near-surface, will see a follow-up program consisting of geophysical (CSAMT) work, and summer/fall probe with the drill bit.
The Sandy Gold Project will also be evaluated for a potential geophysical (CSAMT)/drill program later this summer.
On July 21st, the company kicked things off with the following headline:
NV Gold Commences Exploration at the High-Grade Exodus Gold Project after Receiving TSX Venture Acceptance
About Exodus:
Structural interpretation of regional geology and geophysics has identified a significant north-south trending structure break transecting centrally through the property. This is inclusive of an interpreted deep-seated dilatational jog entirely confined within the claim block.
Gold occurs in zones of stockwork quartz veinlets and in quartz veins up to 1.5 meters wide. Various types of surface rock chip samples have yielded assays ranging from anomalous up to 23.2 g/t Au.
The prospective mineralized corridor is interpreted to be approximately 5 km wide and extend approximately 15 km along strike. This corridor is highlighted by a regional trend of low magnetism in which new gold showings have been discovered.
Peter Ball, NV Gold's CEO.
"The Company has commenced a property-wide geophysical survey to assist in identifying additional hidden geological structures and potential drill targets and has engaged a technical team to accelerate exploration activities on the ground. We will be aggressively pursuing our summer/fall exploration program with the aim of identifying multiple high-grade targets to be tested by a focused diamond drill program in the fall of this year. In addition, the Company is advancing exploration efforts on its projects in Nevada, with further news anticipated in early August."
53.49 million shares outstanding
$13.1M market cap based on its recent $0.245 close
The last time we checked in with the company, they were busy at their recently acquired Dalton and Dome West projects located in the heart of the Timmins camp.
The Birch Lake property, located in the Red Lake Mining District, is another strategic project in the company's portfolio. Placer Dome drilled 80 holes into Birch Lake back in the 1990s. The best result from that historic campaign was classic Red Lake: 34.59 g/t Au over 9.85 meters.
The Grenfell property, located 10 kilometers NW of Kirkland Lake's (KL.T) Macassa Mine, has returned some impressive values since we last checked in. The following is a headline from early March, 2020:
Preliminary Drill Results At Pelangio's Grenfell Property Near Kirkland Lake Returns High-Grade Intercept of 314 G/T Over 1.74 Meters (Uncut)
After stoking the company coffers to the tune of $1.45M in late May, Pelangio tabled a corp. update, and plans for the balance of the 2020 field season:
Pelangio Exploration Canadian Projects Corporate Update and Plans for the 2020 Exploration Season
Highlights:
Acquired strategic land package of 1040 hectares west of the Birch Lake Property and north of First Mining Gold's (FF.T) Springpole Deposit. Note, mineralization on adjacent and or nearby properties is not necessarily indicative of mineralization on the Company's property – Red Lake Mining District;
Completed initial 693 meter drilling program at the Grenfell Property with high-grade intercepts of 314 g/t over 1.74 m gold (uncut) and 2.50 g/t gold over 26 m.- Kirkland Lake Mining District;
Outlined a number of high priority targets by completing mobile metal ion, induced polarization, and magnetometer surveys on the Dalton property in order to initiate drilling – Porcupine Mining District;
Completed an initial 543 meter drill hole which returned 3.21 g/t gold over 1.25 meters including a higher-grade intercept of 4.754 g/t gold over 0.75 meters on the Dome West property – Porcupine Mining District.
On July 14th, the company dropped the following headline:
Pelangio Exploration Commences Drilling at Dalton Property, Timmins Ontario
Priority Targets:
The main focus of the phase 2 program, is to evaluate two coincident soil geochemical and induced polarization ("IP") anomalies in heavily overburden covered areas of the property. Government mapping and very limited exposure demonstrates that the proposed target areas are hosted within the prospective Tisdale Volcanic package which hosts numerous gold mines in Timmins.

The first priority target area is a very broad IP anomaly that is approximately 300 meters in width. The anomaly is associated with a strong gold soil anomaly in the center of the target and a broad but weaker silver soil anomaly across the entire IP anomaly. A fence of three holes will be drilled across the anomaly to test both strong chargeability and resistivity responses.

The second priority target is a moderate IP chargeability anomaly with the strongest gold soil anomaly response on the property. A single hole is planned to evaluate this target.
Ontario Projects Presentation (bottom right)
80.56 million shares outstanding
$4.03M market cap based on its recent $0.05 close
This one hasn't risen with the general junior sector tide, though there has been an uptick in volume in recent sessions.
PGX's Matachewan Project covers a good chunk of the prolific Cadillac-Larder Lake Break.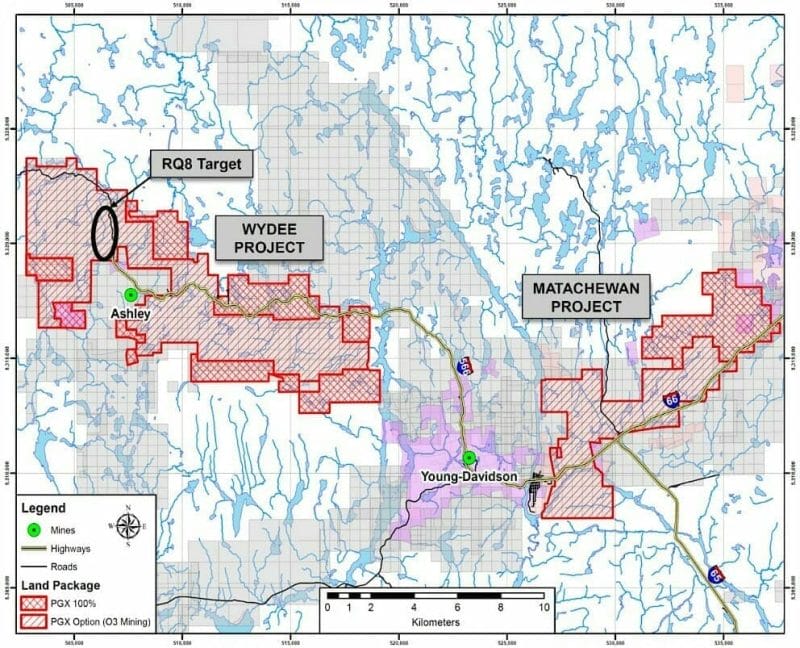 Matachewan has known gold showings, gold intersections in several drill holes, a large geochemical anomaly, and a fifteen-kilometer section of the Cadillac-Larder Lake Break covered under highly prospective sedimentary rocks.
A phase one, seven-hole drill program conducted on the property last fall returned encouraging values.
Prosper Gold Phase 1 Drilling Confirms Mineralized Zone: Plans Deeper Drilling at Middleton Target
On Feb. 11, the company announced the mobilization of a diamond drill rig to its Wydee Project.
Prosper Gold Mobilizes Drill to the Wydee Project – Matachewan Ontario
"The RQ8 target, an aeromagnetic low zone over syenite surrounded by mafic and intermediate volcanic rocks, was tested in 2017 with seven holes. Quartz veins up to 3m were intersected with the most notable result 7.74 g/t Au from 247-249m in S042. The intersection is a 2m quartz vein in an 8m section of anomalous gold in syenite quartz porphyry."
We haven't heard a peep out of the company since.
With shares changing hands at around a nickel, and a market cap of roughly $4M, this might be worth dipping into, but only for those with an appetite for elevated risk.
198.4 million shares outstanding
$11.9M market cap based on its recent $0.06 close
Romios holds a strategic position in a group of claims bordering Galore Creek —a JV between mining behemoths Newmont-Goldcorp (NGT.T) and TECK (TECK.A.T).
Romios' 78.5k hectare land package covers over 50 kilometers of prospective Gldn-Tri terrain.
The company's more advanced projects include Newmont Lake and Trek, with exploration targets under development at Royce, Porc, and JW.
Newmont Lake's Northwest zone has an Inferred resource of 1,406,000 tonnes containing 200,000 ounces of gold at 4.43 g/t, 6,790,000 lbs of copper at 0.22%, and 291,000 ounces of silver at 6.4 g/t.
Though the majority of the company's 2019 exploration funds were directed at their Lundmark-Akow Lake claims in NW Ontario, they did put boots on the (Gldn-Tri) ground last summer.
Romios' Exploration Results Further Extend Copper-Gold Zones at JW and Trek Projects in BC's Golden Triangle
The company's Golden Triangle, Ontario, Quebec, and Nevada assets are summarized here:
Romios hasn't exactly been cranking out the headlines in 2020—only two headlines were generated thus far this year (perhaps that's about to change).
April 27, 2020: ROMIOS Stakes 81 Claims On-Strike From The Arseno Lake Zinc-Lead-Silver-Gold Deposit in NW Ontario

June 22, 2020: ROMIOS Acquires 55 Claims with Numerous Gold and Copper Showings on the North Caribou River Fault in NW Ontario
76.46 million shares outstanding
$13.76M market cap based on its recent $0.18 close
Silver Range is yet another ExplorerCo deploying the prospect generator business model.
The company has a large number of projects in Nevada, Nunavut, and Canada's North West Territories.
The company features four main projects on its home page. They are all worth exploring.
One project—the 39,250 hectare Tree River property—is located in the Kitikmeot region of Nunavut, at the north end of the Anialik Greenstone Belt.
Tree River is underlain by mafic volcanic rocks overlain by clastic shallow marine sediments, subsequently metamorphosed to greenschist facies.
This is what's known as a conglomerate setting. The analog is the prolific Witwatersrand of South Africa.
"A monomictic, clast-supported quartz pebble conglomerate (QPC) from 15 to 20 metres thick, lies approximately 80 m stratigraphically up-section from the volcanic / sedimentary contact. The QPC has been mapped and intermittently sampled for over 7 km but its full extent is unknown."
As per the company's i-deck (slide 7):
North America's only Pilbara-style Wits 2.0 target;
Archean conglomerate-hosted gold;
Historic surface samples to 142 g/t Au;
Regional scale trend covered by 392 km2 prospecting permits;
Tree River certainly has my attention.
A May 28th update from the company had this to say about this (potential) Wits 2.0 target:
"In late April, Silver Range conducted a brief sampling program at the Tree River Project. At Tree River, Archean conglomerate hosts gold together with sulphides and carbonaceous material in a setting analogous to that found in the Witwatersrand of South Africa and the Pilbara district in Australia. Sampling by Silver Range at the Main Zone, originally explored by BHP Billiton and Strongbow Exploration returned grab samples up to 114 g/t Au and a chip sample returned 0.20 m @ 540 g/t Au. This zone is exposed intermittently over a strike length of 650 m, is strongly silicified and contains visible gold at the highest-grade exposure. The West Zone is 3.6 km along strike and returned grab samples up to 14.05 g/t Au. The April 2020 sampling consisted of collecting one metre by one metre sawn panel samples in excess of 40 kilograms to obtain a more representative indication of the bulk concentration of gold in bedrock. Samples were collected at the Main and West Zones. Results are pending."
Regarding the company's Nevada project portfolio, the May 28th update had this to say:
"Silver Range has resumed operations in Nevada. Geophysical surveys and trenching are planned at the Loner Property where surface mineralization exposed in old workings returned 1.83 m @ 25.7 g/t Au from the brow of an adit and grab samples up to 16.60 g/t Au. At the East Gold Point Property, geochemical and geophysical surveys together with mapping and sampling are planned to investigate the inferred eastern extension of mineralization mined beneath the town of Gold Point. Reconnaissance work will also be conducted on several new targets."
The most recent headline out of the company dropped on July 9th:
Silver Range Resources Ltd. Reconfigures Yuge Property Option to Advance Exploration on the Property
Scanning the company's i-deck, I find it interesting that Strategic Metals (SMD.V), a top-shelf Yukon ExploreCo, holds 18.8% of SNG's outstanding shares. We're big fans of Strategic Metals over at Guru Central.
And company management has serious skin-in-the-game holding 20.7% of the outstanding common.
The Wits 2.0 potential of this play makes it an intriguing prospect IMVHO.
Corporate Presentation (center of page)
128.06 million shares outstanding
$21.13M market cap based on its recent $0.165 close
Golden Triangle focused, Strikepoint has two main projects in its portfolio. The last time I checked in, Willoughby took center stage.
Willoughby shares similar geology to Ascot's (AOT.T) nearby Red Mountain and Premier Gold projects.
The company's Porter project has a historical Indicated resource of 394,700 tonnes grading 868 g/t silver, 3.37% lead, and 1.41% zinc for 11M oz's of AgEq.
Though these non-43-101 numbers cannot be relied upon for their accuracy, note the suggested silver grade.
On June 29th, the company tabled plans for their 2020 field season:
StrikePoint Gold Inc. Announces 2020 Phase I Surface Exploration Program at the High-Grade Willoughby Gold and Porter Silver Properties
At the Willoughby Property, surface work will focus on refining existing drill targets and identifying new priority areas along and across strike from the known prospects, prioritizing structural and lithological traps that may focus high-grade gold mineralization. Work will include detailed mapping and channel sampling in key areas, performed by our experienced team of geologists and technicians.

At the Porter Silver Property, follow-up on surface samples of high-grade silver collected during the previous field campaign, notably at the Big Nunataq prospect. Work at Porter will also include structural mapping and sampling to follow up on a newly identified silver-bearing vein located near the historic Porter-Idaho and Silverado Mines.
On July 8th, the company dropped the following headline:
Strikepoint Gold Announces $1.955M Strategic Investment by Eric Sprott, Increasing His Holdings to 19.9%
Mr. Sprott likes his high-grade silver, and the Porter project appears to have plenty of it.
Corporate Presentation (bottom left of page)
18.23 million shares outstanding
$4.01M market cap based on its recent $0.22 close
Tocvan's flagship Pilar Gold Project is located along the historic Sonora gold district within the Sierra Madre Occidental geological province.
The project is road accessible and is located roughly 140 kilometers south-east of the city of Hermosillo.
We covered the Tocvan story in some detail back in mid-May of this year—Tocvan (TOC.V) pushing its Pilar Gold-Silver Project aggressively along the curve
On June 24, the company dropped the following headline…
Tocvan Announces Results from Property Scale Soil Survey, Includes Highest Soil Results to Date with 8 g/t Gold & 317 g/t Silver New East Zone Discovery, at the Pilar Gold-Silver Project in Sonora, Mexico
These headline numbers—8 g/t Au & 317 g/t Ag—represent the highest values returned to date from the Pilar project.
The company also tagged a new gold and silver zone at Pilar—the East Zone.
The following map shows gold-silver values from the soil sampling campaign conducted last spring. Also included are gold-silver assays from grab samples collected last November— these values offer a "holistic view" of what's going on along surface.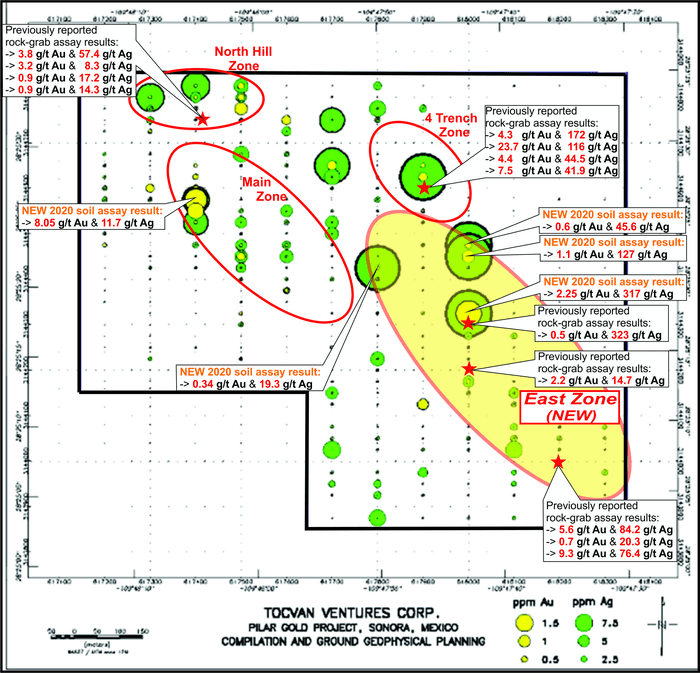 The next steps for Pilar:
"Moving forward, scheduled work to be done, and included with these and previous results, are structural analyses with associated survey tools by structural geologists, and XRF survey of samples across the property and of historic drill hole samples held in storage. XRF identifies elements and their amounts which in turn help to identify pathfinder elements. All these surveys and analyses will be taken collectively in order to locate the structures and hence mineralization to provide targets for the drill program; currently anticipated in late summer/early fall of this year."
39.23 million shares outstanding
$14.32M market cap based on its recent $0.365 close
Viva's 3,545 hectare Tonopah Gold Project, located along the prolific Walker Lane Trend, is the company's flagship asset.
Tonopah's current resource, updated in April of this year, currently stands at:
326,000 ounces at a grade of 0.79 g/t Au in the Measured and Indicated category
181,000 oz's at a grade of 0.67 g/t Au in the Inferred category
A PEA delivered back in May, demonstrates the following values (based on $1,400 gold):
The Base Case generates a pre-tax Internal Rate of Return ("IRR") of 25% (after tax 22%) and a pre-tax net present value ("NPV") at a 5% discount rate of $43.6 million (after tax $36.3 million) with a 2.9 year payback of invested capital using a $1,400 gold price.
Based on price sensitivity analysis at approximately the current price of $1,700 ounce of gold, the project returns an IRR of 47% and a pre-tax NPV 5% of $96.0 million (after tax $72.2 million) with a payback period of 2.0 years.
Base Case mine life of 6 years with total production of 226,000 ounces, averaging 38,000 ounces annually with the second and third years producing approximately 48,000 ounces annually.
With paved road access, nearby power, water, and mining-support infrastructure, capital costs for the project are projected to be low with an estimated initial capital cost of $58 million and sustaining capital cost of $16 million net of capitalized equipment leases, capital additions, reclamation costs and recapture of working capital.
Estimated cash cost of production is $754/ounces with an all-in-sustaining cost of $1,075 per ounce inclusive of sustaining capital and additional overhead support.
Engineering design analysis indicates the potential to substantially increase pit size and contained ounces with increased gold price.
On July 2, the company updated its plans to drill:
Viva Gold Receives Approval for 19-Hole Drill Program at Its Tonopah Gold Project in Nevada
James Hesketh, Viva CEO:
"The goal of the Work Plan is to further increase the size and confidence level of the known gold resources at Tonopah and to obtain metallurgical and environmental samples to further de-risk and advance the project towards feasibility study. This program will also target known open extensions to the northwest, where we believe that a high potential for additional discovery could exist. We anticipate commencing drilling operations at Tonopah on July 6, 2020."
62.8 million shares outstanding
$10.68M market cap based on its recent $0.17 close
X-Terra is currently working its wholly-owned 93 square kilometer Troilus East property along the Frotet-Evans Greenstone Belt in northern Québec.
A June 12 headline outlined plans for this project:
X-Terra Resources Begins 2020 Exploration Program on Troilus East
We covered X-Terra in some detail back in late June of this year via X-Terra (XTT.V) puts boots on the ground nextdoor to 6.4 million AuEq ounce resource in Quebec, plans next stage of exploration at district-scale porphyry target in NB
Troilus East shares a common border with Troilus Gold (TLG.T).
The Troilus Gold-Copper project boasts a current resource of 6.4 million gold equivalent ounces (AuEq)—4.71 million ounces of Indicated AuEq and 1.76 million ounces of Inferred AuEq.
The Frotet Evans Greenstone Belt has seen limited exploration, far less than the better known Abitibi Greenstone Belt.
X-Terra's claims along this under-explored belt of metamorphosed volcanic-sedimentary rocks stretch more than 22 kilometers.
The company's 280 square kilometer Grog and Northwest projects are located along the McKenzie Gulch Fault in Northeastern New Brunswick.
The target at Grog is a large intrusion-related epithermal system.
An 11-hole drill program conducted earlier this year yielded a new discovery in hole GRG-20-012: 0.41 g/t Au over 36 meters (including 0.46 g/t Au over 31 meters and 7.59 g/t Au over 0.6 meters) at a vertical depth of 81 meters.
On July 15th, the company provided an update for its Grog and Northwest properties:

Equity Guru's Lukas Kane covered that piece of news in, X-Terra (XTT.V) advances New Brunswick gold properties
Quoting Kane: "Specific objectives are to 1. Discern the deposit signature, 2. Extend the surface footprint of the Grog showing and 3. Confirm parallel structures to Grog."
That's it for this sub-$20M ExploreCo round-up.
END
—Greg Nolan
Full disclosure: Of the two dozen companies featured above, Goldseek, Nexus, Nubian, Tocvan, and X-Terra are Equity Guru marketing clients. We own Blackrock and Goldseek shares.