Netflix Q2 earnings are released post market today, and it is one of those companies with an obvious coronavirus play. With people sheltering at home and movie theatres and other entertainment venues closed, a lot of time has been spent in front of the TV binge-watching. We have seen their Q1 earnings get a pandemic boost when they were released in April. The forecast was Netflix would add 7 million new subscribers, the actual number came out at 15.8 million new subscribers, beating expectations solidly. Analysts expect Q2 to still receive the pandemic boost, with 7.5 million new subscribers expected, while some such as Wedbush Securities expect 15 million. 
Analysts on average estimate that Netflix will report $6.08 billion in second quarter revenue, a nearly 24% increase year over year. They forecast earnings per share of $1.84, up from 60 cents a year earlier.
Netflix is facing more competition now from platforms such as Disney Pus, Amazon Prime, HBO Max and NBC's Peacock. It is now turning into a content war. This will be important going forward due to the fact that filming has seen a months-long pause due to the pandemic. With people consuming content and binging much more frequently, newer content will need to be added frequently to maintain subscriber retention. Of course Netflix can cycle through older films, but it really is about new Netflix series and films. Netflix will likely allocate much more spending on new content for the year ahead. In the earnings call, people will be keen to see if this will be the most they spend on new content.
I have said this in the past, but I believe the secret weapon that Netflix has is Japanese Anime. Very popular as nerd and 'weeb' culture only gets stronger and more mainstream thanks to video games and cosplay. Netflix is making deals to showcase Japanese filmed and funded anime series, but is also spending on Netflix series and limited Japanese anime. With Japanese anime studios open and back in business cranking out Summer anime series on a weekly basis, this can be an outlet for new content. The joke is Netflix is now an anime service platform with TV and movies on the side.
In terms of the chart, Netflix has been a real winner. One of the best performers for the year with a rise to $575.37…and with a current 60% return year to date. We have begun to pullback from the highs with an overall market weakness.
The big question now is this: are good earnings already priced in? In the efficient market theory, all data is already priced into markets before it is released. Netflix is one of those obvious coronavirus plays such as Zoom, Costco, Wal-Mart etc. It is an easy way to play a good earnings call. This is why many traders and investors would have bought shares weeks or months BEFORE Q2 earnings. Do not be surprised to see the stock dip tomorrow with earnings already being priced in. If we blow past the estimates, that would be another story and take the market by surprise. In that case, we would see price retesting the all time highs at 575.37.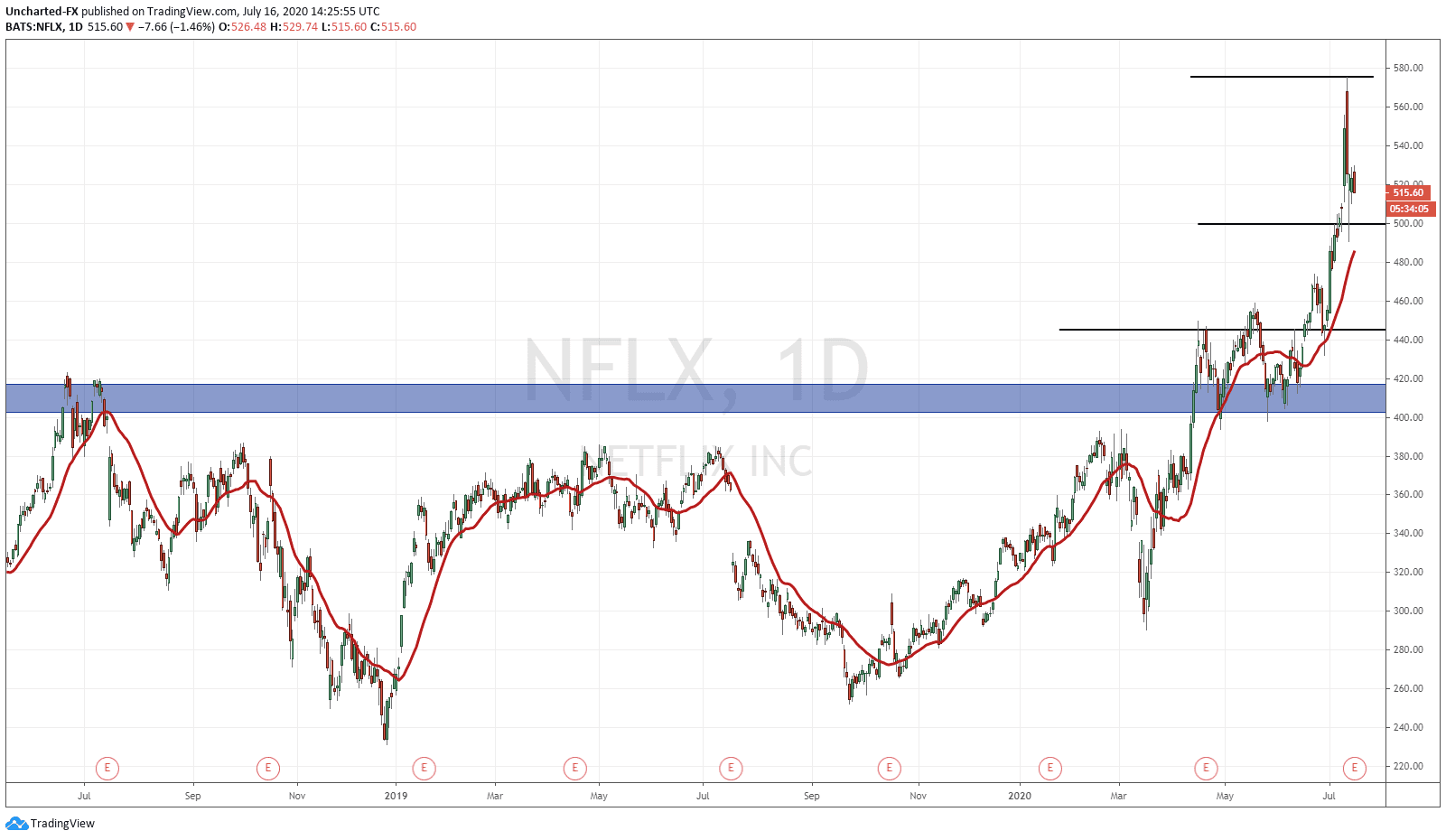 Scrolling out on the daily chart, we can see the breakout above the 420 zone was key. Those highs have been maintained since 2018 and were taken out in April 2020 AFTER Q1 earnings. From then, 400 has acted as major support, holding on three retests before climbing higher. 400 is an obvious key support, but there are  other support levels I would keep my eyes on if the stock falls. I would keep my eyes on the 454 zone for buyers to step in if post-earnings the stock retraces. Price closing above 500 is also something to watch as 500 is a psychological important number which can act as support. In fact, we have seen price dip down to 500 on Tuesday July 14th, only to reverse and close above 500.
The next earnings play I am keen to observe will be Tesla's next week. The stock has surged. Has it been traders and investors pricing in surprising and stellar earnings? Or is it truly the Robinhood retail crowd? If it is the latter, and earnings disappoint…we could see some unbelievable price action.