Heritage Cannabis Holdings (CANN.C) has been busy over the past few months preparing their new cannabis 2.0 products ready for launch in time for quarantine season.
You wouldn't know it from your facebook and twitter feeds, but the coronavirus season is effectively over and most of us have a pleasant three or four month furlough from our prolonged quarantine sentence. But there's a strong probability that when the summer comes to an end, and we're in that strange cusp between summer sun and winter wind we'll be asked to cloister ourselves in the confines of our apartments and houses to flatten the curve once again.
But this time we'll be armed with experience and foreknowledge of what we need to do to curtail the worst effects of isolation and anxiety while in quarantine. No runs on toilet paper and more money spent on personal exercise equipment to keep ourselves from going stir-crazy. Better food and maybe a better digital camera to connect with friends from a distance.
And weed.
Not necessarily flower, either. Most apartments aren't keen on smokers, so having cannabis 2.0 options on hand, including both THC and CBD formulations, is going to be key to help you wind down from a long day of updating facebook and binge-watching Netflix.
"High-quality, reasonably priced products are in demand by consumers and we are eager to bring our products to the Canadian adult use market to fulfill this need. Heritage brands have an award-winning history recognized for the highest quality and we are pleased to continue adding in-demand formulations to our growing suite of cannabis products launching this year," said Chris Pearson, vice-president of sales and marketing of Heritage.
If you spend some time cycling through cannabis companies, looking at charts and scanning revenues like we do at equity guru, it's easy to come to the conclusion that the sector is dead. The government regulations have effectively sunk its battleship, and coupled with the still tender wounds incurred from last year's epic bubble burst and the general slow rollout for cannabis 2.0, it isn't far off.
But if there's something that's going to revive it, and give Heritage the bump it needs to wake up its flagging fortunes, it's COVID-19 wave-two. Cannabis was designated essential in most provinces (and rescinded in only one) and if that designation gets retained for COVID 2.0, then we'll see companies with wide-ranging products in both diversity and geographic range, making the biggest splashes.
Heritage is launching their Purefarma Hemplixer full spectrum CBD tinctures in B.C, Alberta, and Manitoba this summer. It'll be available in two concentrations: HLX15 and HLX30, and retail at around $30 and $50 respectively for 30-ml bottles. They're also going to be releasing their Pure Vida full spectrum CBD tincture and 4:1 full spectrum CBD dominant vape cartridge lines, both of which will be priced in the high $30 range for a 30 ml bottle, and a 500-mg vape cartridge.
Purefarma will also be launching their Sun, Moon and Earth vape cartridges. Pura Vida's offerings include full spectrum sativa, indica, and hybrid honey oil vape cartridges. So when it's time to close the door on the world for a few months to flatten the curve and avoid a reoccurrence of the Spanish Flu's numbers during its second wave, we'll be able to manage our anxiety and pain in a responsible fashion.
That's good for us. But it should be especially good for Heritage, which will have products on shelves to help them benefit from the increased demand.
Consider their financial specifics for Q2, 2020:

Gross revenue was $1.4-million in the second quarter of 2020, compared with nil in the three-month period ended April 30, 2019.
Net loss was $1.9-million in the second quarter of 2020, compared with a net loss of $5.2-million or two cents per common share in the second quarter of 2019.
Cash and cash equivalents of $5.3-million and working capital of $13.1-million, compared with $11.5-million in cash and cash equivalents and working capital of $11.7-million at the end of fiscal year 2019.
That was before their launch of cannabis 2.0 products.
If there's a downside to this play, it's Heritage's limited reach: three provinces isn't much.
There's no mention of expanding into the bigger Canadian markets—Ontario and Quebec—and even though each of the three are respectable sized markets for cannabis, they come with their own inherent problems.
Each of the three come top-loaded with dispensaries selling pre-established products with a sizeable headstart on Heritage's cannabis 2.0 offerings. Given the non-promotional and packaging rules grandfathered in from cigarettes and attached to all cannabis products, finding a way to get the word out, and differentiating them from anything else on the market, is going to prove to be Heritage's biggest hurdle to date.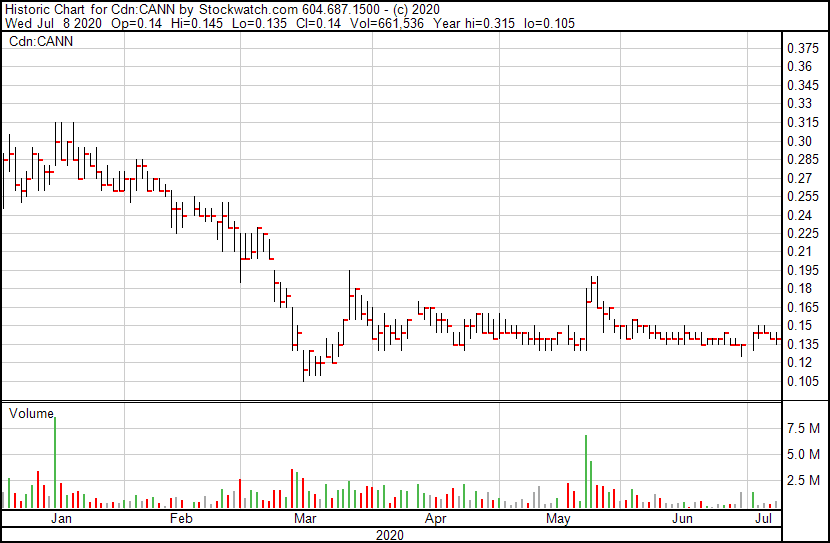 Still, there's a strong possibility that preparation, coupled with strong word of mouth from positive experiences, will make for a much different trajectory for Heritage by the time we're all coming out of quarantine next year.
—Joseph Morton
Full disclosure: Heritage Cannabis is an equity.guru marketing client.