Future Farm Technologies (FFT.C) completed their merger with natural health and wellness product manufacturer, High Purity Natural Products, today.
The newly merged company will continue with the implementation of Future Farm's strategy to become a leading supplier of health and wellness products, which includes hemp-derived CBD and other cannabinoid compounds.
"Working closely with Future Farm before the merger showed us the strong synergy of our teams and our shared vision for this exciting industry. The support we have had from Future Farm has helped us more rapidly implement new product lines and expand operations, including our popular new third party logistics services. Now that we have completed the merger, we expect those and other efforts to grow even more rapidly and successfully," said Mike Matton, president of High Purity.
A few days before the merger closed, Future Farm received their initial order of 25,000 units of hand sanitizer from a new customer. Future Farm immediately introduced this to High Purity as an example of how well the companies can work together, according to Tom Barrette, president of Future Farm.
Future Farm has been providing strategic and financial resources to support High Purity's rapid growth for awhile prior to the merger. The business includes established manufacturing operations in the health and wellness sector, and its recent expansion into the manufacturing of hand sanitizer, including new product lines enjoying high demand because of the pandemic.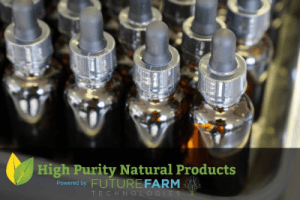 "We are pleased that the great people at High Purity and Future Farm are now together as one outstanding team. The merger with High Purity will accelerate our growth to a cash flow positive, scalable business with multiple revenue streams," said Bill Gildea, Future Farm's chief executive officer.
Future Farm has acquired 100 per cent of the outstanding membership units of High Purity. High Purity is now a wholly owned subsidiary of Future Farm.
—Joseph Morton