Isracann (IPOT.C) recently acquired a 50% interest in a JV called Cannation, for a phased partnership of two near-term farm operations located in the Hefer Valley region of Israel.
"IPOT is Israel's first pure-play cannabis firm to list in Canada," wrote Equity Guru's Chris Parry last year when IPOT first got on our radar, "It is focused on becoming a premier, low-cost cannabis producer."
Isracann is constructing a 230,000 square-foot facility in southern Israel. It's received facility design and land use approvals from the Israeli government.
Phase l will include two 57,500 square-foot hybrid greenhouses and a packing facility with a 6,500 square-foot post-harvesting area.
Chris Parry's Isracann Upside:
LOW PRODUCTION COST: Isracann estimates per gram costs as likely to be around $0.40 per gram."
THE DOMESTIC PLAY: An estimated 27% of Israelis use cannabis. Nobody producing cannabis is going to ship the stuff currently because the local market is, amazingly, so under-served by legal product.
PATHWAY TO EUROPE: Isracann plans to make their facilities IMC-GAP/GSP certified, which means their products will be export-ready. Israel's proximity to Europe, and its established trading partnerships and shipping routes could be an important component of Isracann's future revenue streams.
MORE SUN = MORE HARVESTS: "Cannabis likes warm weather. While cannabis will grow in temperatures sub-20 degrees Celsius, sugars will not move around the plant as well, and taste and yield will suffer. Cannabis doesn't just want sun, it likes humidity, so a hybrid grow allows you to keep things just right."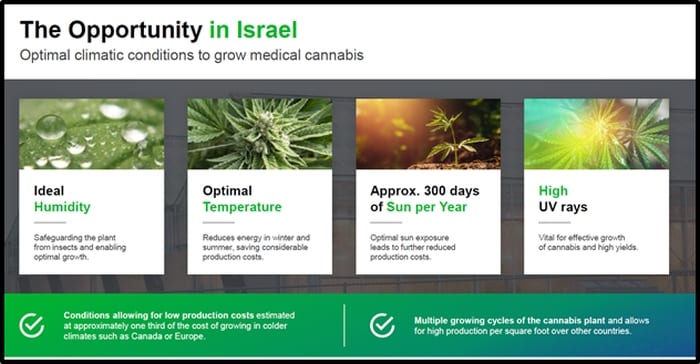 Cannation has an offtake agreement with Focus Medical Herbs, a licensed medical cannabis producer in Israel.
Focus Medical Herbs now has a definitive supply agreement with Cannation for 2,600 kg of medical cannabis per year, for a total of up to 7,800 kg over three years.
Focus Medical uses IM Cannabis Corp. (IMCC.C) to distribute its cannabis under the IMC brand.
"We have achieved a partnership agreement with a farm operation that is constructed," stated Isracann CEO, Darryl Jones, "it has already closed a major offtake agreement for the next three years. This accelerates our timeline to production and revenue."
The Cannation farm properties are Israel Medical Cannabis (IMC) compliant and designed to EU-GMP certification standards.
Only medical cannabis from EU-GMP certified facilities can be sold in the European Union. Europe's population is 20 times the size of Canada.
Israel has an underserved domestic market, renowned for agricultural research and medical innovation.
"Researchers at Ichilov Hospital in Tel Aviv, Israel, are examining the effects of cannabidiol (CBD) on patients with COVID-19 in a new study," reports The Grow Op on April 21, 2020."
Dr. Barak Cohen, a senior anesthesiologist and head of corona management at Ichilov, told Jewish Press, that "this is a novel approach to treating some of the symptoms, using a component of the cannabis plant that is considered safe and non-addictive."
But given the warm climate and proximity to Europe, it's obvious the European market offers a bigger opportunity for revenue growth.
Earlier this year IPOT announced that is had engaged a Canadian company, Quality & Compliance Services (QCS) of Canada to provide consulting oversight and to ensure GMP regulatory compliance.
Isracann is collaborating with QCS to conduct a 'facility design review" to make sure there is a seamless alignment between Israel's IMC-GDP regulations, and post-harvest EU-GMP compliance for direct importation.
"We determined to onboard QCS to ensure we have a clear focus on global issues that could impact future growth," stated Isracann's VP of Operations, Matt Chatterton. "QCS annually completes over 300 projects. We have a clear focus on maintaining cost efficiencies as we grow our business operations and are grateful to have expert guidance as we move ahead with assurance in this complex area."
Cannation plans to selling its first crop by the end of Q2, 2020. Full scale production targets are a projected yield of 12,600 kg of dried cannabis flow per year with facilities housing over 160,000 sq. ft. of greenhouse canopy.
The Cannation farms are located on a 2 million sq. ft. parcel of private land.
Ninety-three percent of the land in Israel is jointly owned by the State (69%), the Development Authority (12%), and the Jewish National Fund (12%).
Only 7% of the of the land in Israel is privately owned.
"Private lands are rarely available in Israel," confirms IPOT, "and are free from the requirement of land commission regulatory approval, thereby minimizing licensing delays".
– Lukas Kane
Full Disclosure: Isracann is an Equity Guru marketing client