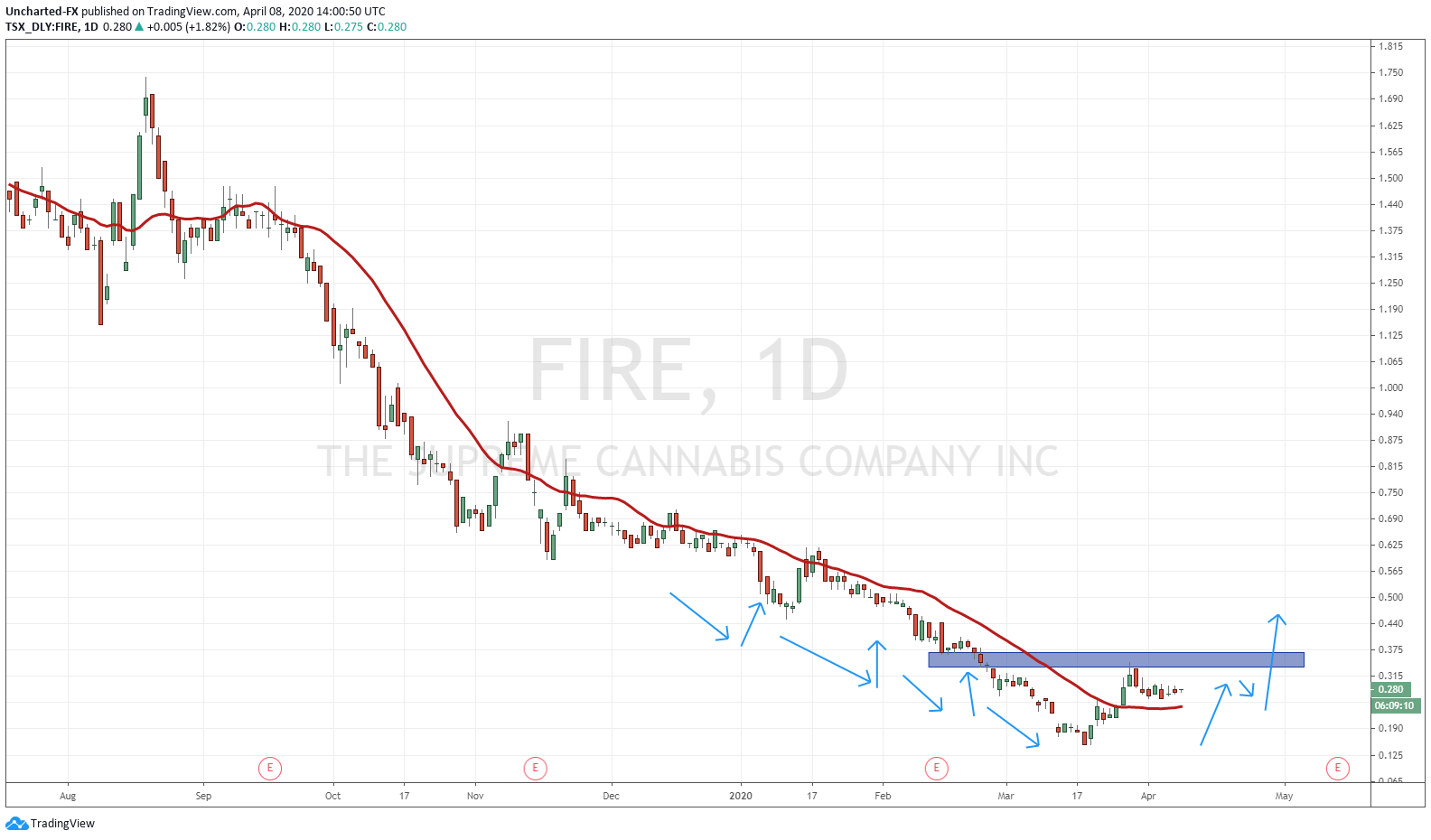 Trade ideas and market discussion can be found on our Public Discord Channel: https://discord.gg/akcgCVP
As equity markets continue their roller coaster ride (what a ride yesterday-up 1000 points only to sell it off), there are still some equity plays that I am keeping an eye out on, as they adhere to market structure. In simple terms they move in three cycles: an uptrend, a range, and a downtrend. There are definitely some charts that have been in a prolonged downtrend, and are now giving us signals of a new uptrend.
The cannabis industry definitely had a mania a few years back. I remember. All the cannabis stocks (or cannabis linked stocks) that I held quadrupled. Recently, the cannabis industry has had a slump to put it kindly. But there are still some opportunities out there.
I have been keeping an eye out on the chart for Supreme Cannabis (FIRE) for the members of the Equity Guru discord channel as requested. In my opinion, we now have a case for a possible reversal indicating a new uptrend.
First of all let's take a step back to the weekly: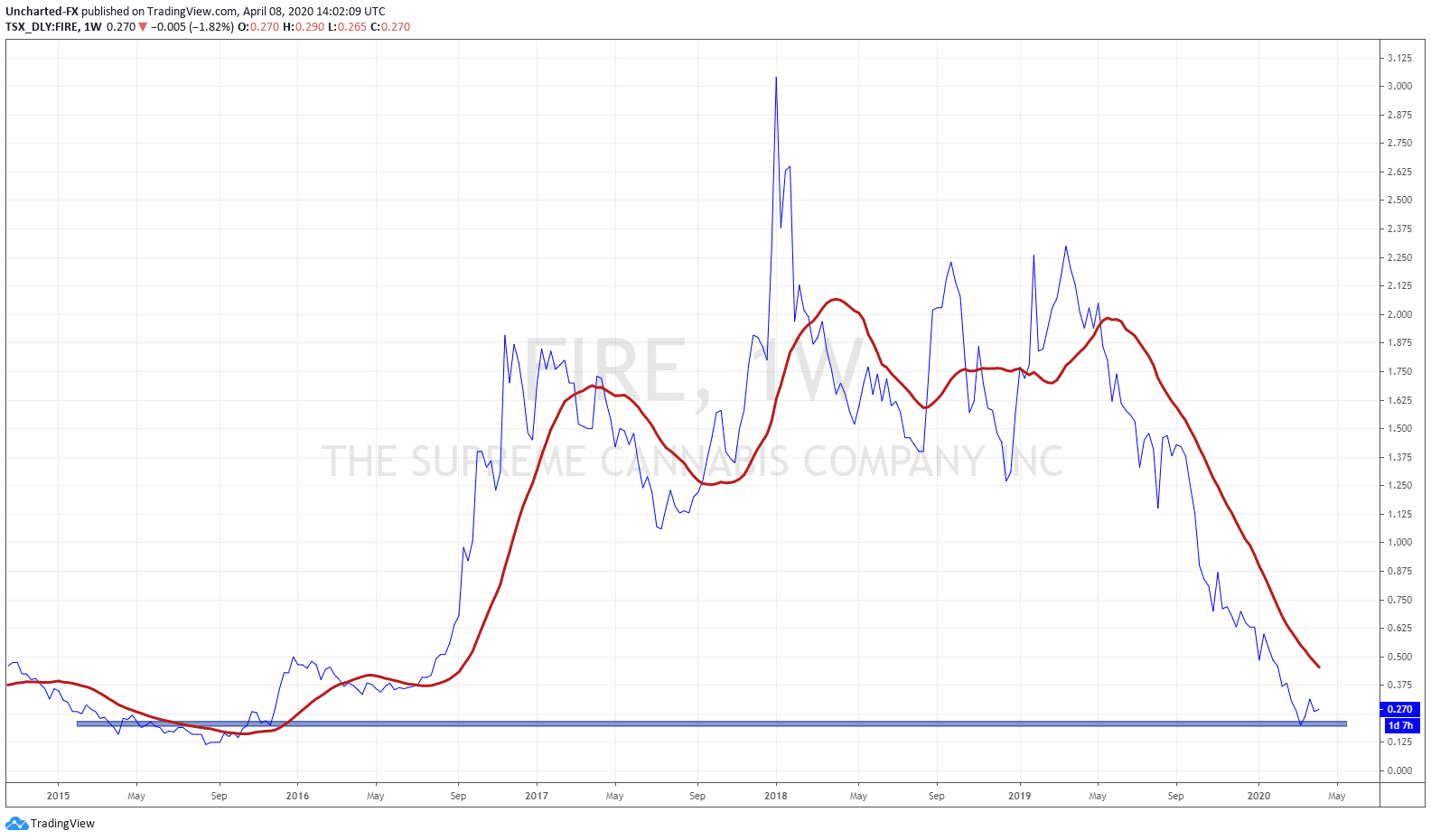 Price will continue its trend until it hits a big flip zone ( an area that has been BOTH support and resistance). These areas are like magnets, attracting price where we can then see a possible reversal. As we step back, you can see on the weekly chart we did hit a major flip zone at the 0.185 zone. This is our first criteria.
From here, let us go back to the daily chart pictured at the very top of this post. What I am seeing is the possibility of a shift in trend. The down trend was composed of multiple lower high swings. The blue arrows to the left illustrate what I mean by that. When price is in a down trend, the lower highs (the areas where price moves up, or pulls back in a downtrend) are key because as long as price remains below the lower high, we are in a down trend. 
When price hit the 0.185 flip zone, we bounced, and have continued higher up to the 0.31 zone before settling here at 0.27. What I am looking for is the first higher low swing in a new uptrend. The blue lines to the right illustrate what I mean by this. This zone from 0.31-0.35 will be key to break. When we break above this, not only do we confirm a higher low swing, but we also break the previous lower high swing thereby officially nullifying the down trend. The chart could create what is referred to as a cup and handle pattern.
Yes, price could not break above this zone and continue lower, or we can break and then fake out. However, according to market structure, we have had multiple lower high swings which indicate the trend has a higher probability of reversing on trend exhaustion. It is prudent however to ensure we get the break and close above 0.31-0.35 to confirm the new up trend.
On the fundamental side:
"Supreme Cannabis operates across 450,000+ square feet of Health Canada licensed, world-class facilities delivering premium cannabis products across Canada. Our integrated chain delivers cultivation, processing, manufacturing, packaging and logistics serving our customers and partners from coast to coast."
Their portfolio can be seen here.
I am more interested in the cash position of companies…especially in this current environment. It simply boils down to the fact whether a company will have money to continue business or expansion which would provide a catalyst for the stock price, or whether share dilution would have to occur. In this case, Supreme cannabis is sitting with $48,705,000 CAD as seen on their latest interim financial statements. 
Just recently Supreme did its first shipment from Canada to Israel and announced some other news in regards to Israel:
Supreme Cannabis completes landmark international medical cannabis export from Canada to Israel

Supreme Cannabis' international medical brand, Truverra, to be sold through BOL Pharma's network of pharmacies across Israel