On February 13, 2020 Vext Science (VEXT.C) announced that Vapen-Kentucky has received its Certificate of Occupancy for a Hemp Processing Center located in Fulton, Kentucky.
I know what you're thinking.
"Kentucky?"
"Hemp?"
"Occupancy permit?"
"Who gives a fo'?"
Here's something to chew on.
In VEXT's latest financials we learned that  "Gross Revenues increased 36% to USD $18.8 million for the nine months ended September 30, 2019 from USD $13.8 million for the nine months ended September 30, 2018."
USD $18 million converts to $23 million Canadian dollars.
Vext Science current market cap?
$15 million.
If you're sifting through the cannabis rubble, looking for real companies (with products, revenues, not drowning in debt), VEXT should be on your radar.
Vapen-Kentucky is a 50/50 JV between VEXT and Emerald Pointe Hemp.
Vapen-Kentucky has begun processing hemp biomass supplied by Emerald Pointe at the new Fulton facility. The Hemp Processing Center will produce high-quality, THC free CBD oil and isolate, which will be sold under the Vapen brand and supplied through VEXT's wholesale distribution network.
Fulton Kentucky (pop. 2,800) was once known as the "Banana Capital of the World", because it had one of American's only industrial ice-making facility.  For this reason 70% of imported bananas to the U.S. were shipped through Felton.
​​​​​​A Japanese graphite electrode manufacturer just made a $25 million investment into Fulton County.
"We are excited to receive the green light for our operations in Kentucky," stated Thai Nguyen, Chairman and CEO of VEXT. "The VEXT science team is a winning combination that gives us a competitive advantage in this market."
Earlier this week Vext announced the appointment of Ms. Denise Lok as CFO.  Previously, Ms. Lok was an auditor with PricewaterhouseCoopers.
"As a company listed in Canada and based in the U.S., we require a senior financial executive," confirmed Nguyen, "Denise's familiarity of VEXT through her role in our initial listing on the CSE, her experience as an auditor, and her knowledge of the Canadian public company regulatory requirements make her a valuable addition to our leadership team."
"Our core-competencies and key differentiators lie in our strong operational procedures, particularly in the extraction processes and science-based approach to manufacturing," stated Vext Science. We deliver "crucial expertise in equipment and cannabinoid extraction techniques."
"With a humble grow, an extraction lab, and a pair of Arizona dispensary outlets, and a solid group of products in multiple SKUs that emanate from the above," stated Equity Guru's Chris Parry last summer, "Vapen [now Vext Science] has managed to do what few before them have.  You've got to appreciate the folks who can just mint money every month while so many others eat dirt."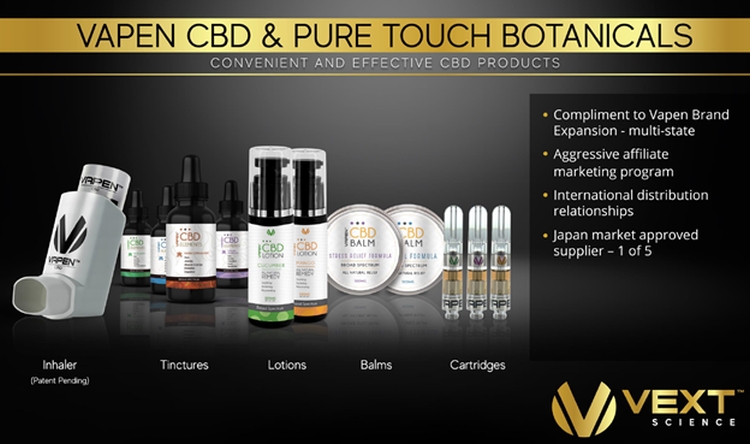 Growth Strategy for Q4 2019 and 2020:
Cannabis multi-state revenue and profit share joint venture partnerships. VEXT provides THC licensed partners with core expertise in SOPs, equipment, extraction and manufacturing of our THC product line, as well as a diverse product offering under the Vapen brand as it has done successfully in Arizona. 6 States: AZ, NV, CA, OK, MA, OH.
Hemp farm and seed multi-state revenue and joint venture partnerships. VEXT provides biomass partners with core expertise in SOPs, equipment and extraction techniques for CBD, CBG, and other hemp derived cannabinoids. 3 States: KY, AR, HI, and Jamaica.
"Don't get caught parking your money with the big guys," warned Parry in July 2019, "As they struggle to contain their internal financial bleeding. Find the value. Find the real managers."
As the "big guys" in the cannabis sector went into free-fall, many of the solid little guys got dragged down with them.
"We are now forecasting the Vapen-Kentucky operation to deliver revenue contribution in 2020," stated Nguyen, "supporting our strategy to grow revenue and profitability through targeted partnerships with licensed growers and dispensaries in new markets."
– Lukas Kane
Full Disclosure: Vext Science is an Equity Guru marketing client.