On December 23, 2019 World Class Extractions (PUMP.C) reported its operating and financial results for Q2, 2019 ended October 31, 2019.
Earlier this month, Equity Guru principal Chris Parry toured the WCE extractor factory in BC's lower mainland.
"Rosy Mondin, CEO of WCE, is an industry expert in hot demand, from legislators looking for information on how to update cannabis laws, to activists eager for her legal assessment of the current landscape, to cannabis companies in their early days of the extraction journey, looking for expert advice," wrote Parry.
"Mondin's team is  building out BOSS extraction units for sale, and BEAST extraction units for her own company's use," explains Parry, "What once was a business model aiming at putting one of their machines in every LP is now a company aiming to take all the cheap weed those companies would like extracted, and doing it themselves, in a return for a piece of the action."
Why make money once on an equipment sale when you can make money always being a service provider using equipment that can handle unprecedented scale?

The Boss is a turnkey (at least in extraction terms) solution for companies that want to work faster, cheaper, cleaner, and with less human bodies making it all happen.

The Beast is the next level version of that, designed to handle truckloads of feedstock instead of bags full of feedstock. – Chris Parry.
On "CEO Clips" Mondin gives clear over-view of the PUMP.C biz model.
According the 41-page financial document filed on Sedar, the "consolidated financial statements" include the accounts of its wholly-owned subsidiaries.  All significant intercompany balances, transactions and any unrealized gains and losses arising from intercompany transactions, have been eliminated.
The company's subsidiaries are as follows: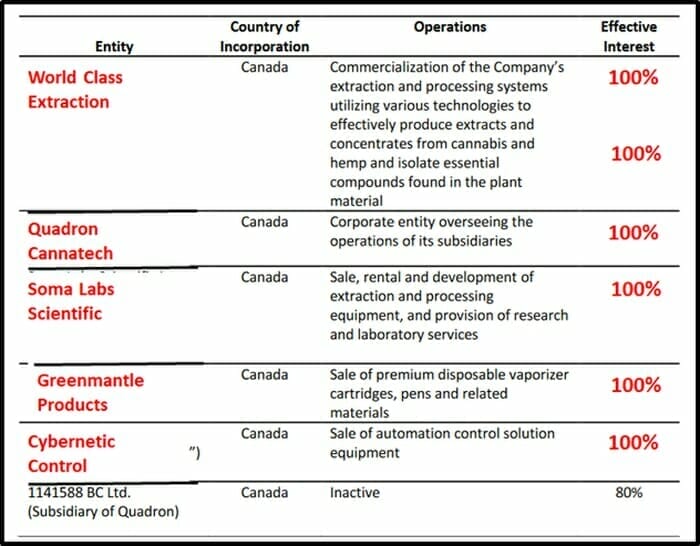 Q2 Highlights:
WCE is negotiating the final terms of a revenue-share arrangement with FV Pharma for a large capacity cannabis and hemp extraction and processing facility at FV Pharma's licensed facility in Cobourg, Ontario.
FV Pharma is a license holder under the Cannabis Act, to extract various cannabinoids and other valuable elements from cannabis and hemp plants.
WCE and FV Pharma will each have a 50% interest in the revenues. The facility will be deployed in multiple phases to satisfy the increasing market demand as the legal recreational market for cannabis extracts and extract-based products increases.
The facility will have 4 BOSS CO2 Extraction Systems capable of extracting 800 pounds of biomass per day and one 1 BEAST Ethanol Extraction System capable of extracting up to 2,000 pounds of biomass per day, along with all the ancillary equipment required for the preparation of the biomass, as well as "filtration, refining and removing undesirable elements from the oil".
WCE also entered into binding letter of intent with Canntab Therapeutics to set-up, manage and operate a cannabis and hemp extraction and processing facility, which includes the deployment of 2 BOSS CO2 Extraction and Processing Systems at Canntab's licensed facility in Markham, Ontario.
Canntab is a late-stage Standard Processing applicant under the Cannabis Act.  Deployment of WCE's equipment is subject to Canntab's receipt of a Standard Processing License from Health Canada.
Audited Financials as of October 31, 2019:
Cash of $10.2 million
liabilities of $1,413,774 million
Working capital of $14.8 million
Revenue of $12,037 for that quarter
Gross margin for that quarter was 12%
Zero loans, convertible debt or long-term debt
The net loss and comprehensive loss for that quarter was $3.6 million.
The declared loss for the quarter includes amortization expense of $751,475; consulting fees of $298,598; development and research expenses of $564,179; professional fees of $216,642; marketing and research expenses of $174,043; remuneration and benefits of $561,920; share-based payments of $496,505; and travel expenses of $119,386.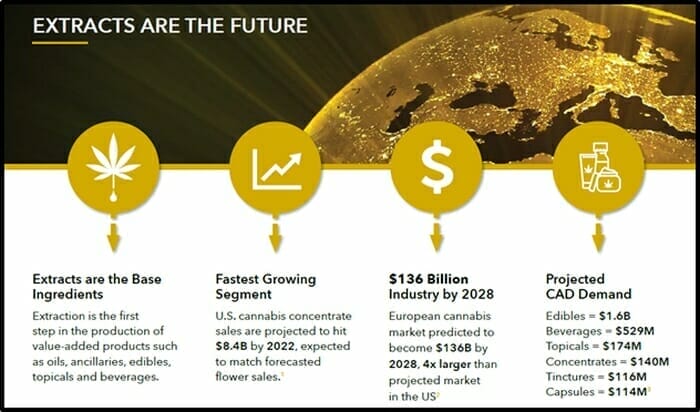 Subsequent to October 31, 2019 WCE entered into a binding letter agreement with Nutralife Holdings to establish a J.V. to develop, manage and operate a hemp extraction and processing facility in Imperial County, California.
The J.V will extract the hemp oil from hemp.  WCE will be paid a processing fee equal to 1/3 of the fair market value of the extracted product. Deployment of the Nutralife facility is expected to begin in Spring 2020.
In summary, WCE is pre-revenue. Its business model aims to monetise the high margin cannabis extraction, while avoiding low margin, high risk activities like farming.
Revenue growth and profitability are still unknowns, but the deals in the pipe-line suggest that the business model is sound.
World Class Extraction is trading at .05 with a market cap of $33 million.
Full Disclosure:  World Class Extraction is an Equity Guru marketing client.