This week, Canadian Prime Minister Justin Trudeau was caught on video (and audio) lightly mocking U.S. President Donald Trump at a NATO summit.
NATO "promotes democratic values" and enables its 29 member countries to co-operate on national security.  If diplomatic efforts fail, it has the authority to undertake military crisis-management.
All NATO countries are supposed to spend 2% of their GDP on military spending.
"He's two-faced," said Trump when he heard about Trudeau's disrespectful comments, "He should be paying [NATO] more than he's paying," Trump continued. "I called him out on that and I'm sure he wasn't happy."
Trump is correct: Canada spends only 1.4% of its GDP on defense spending.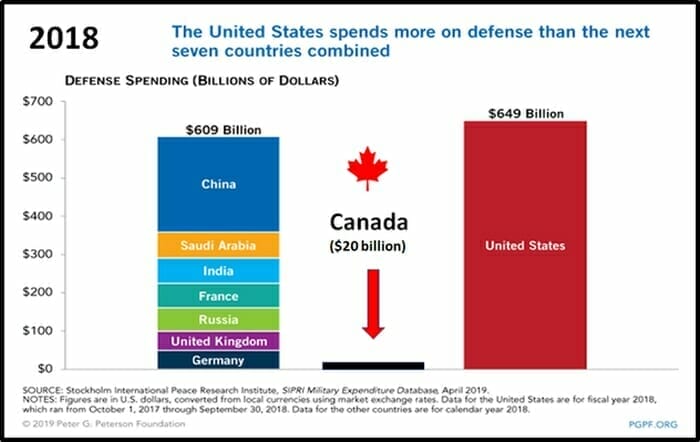 Spending a high percentage of your GDP on the military is one way to protect national sovereignty.
Another (cheaper) way is to stop compulsively making enemies.
Military spending is a significant demand driver of Rare Earth Elements (REEs).
Companies such as Raytheon, Lockheed Martin and BAE Systems manufacture missiles that use rare earths metals in their guidance systems.
REEs are essential in military equipment such as jet engines, antimissile defence systems, satellites and lasers.
"Rare earth elements are crucial for high-tech manufacturing," confirms The Verge, "These elements are produced mostly in China, and used in the US for everything from electric cars to missiles".
REEs aren't actually that rare.  What's rare is to find them in sufficient concentration and continuity to build an economic mine.
A tiny Canadian company called Defense Metals (DEFN.V) may have done just that.
DEFN's Wicheeda Project is located in the Prince George region of British Columbia.  The company has just completed a 2,000-meter drill program "designed to test the northern, southern and western extent of the Wicheeda deposit."
"Assays are being served up in tight batches, feeding the market in what has so far been an impressive display of grades and widths," confirmed Equity Guru's Greg Nolan, "The target at Wicheeda is Rare Earth Elements (REEs) – Light Rare Earth Elements (LREEs) to be specific."
Defense Metals has been hitting some good holes.
On December 4, 2019, DEFN announced assay results for drill holes WI19-28 and WI19-29 at Wicheeda.
Drill hole WI19-28 returned 2.46% Light Rare Earth Oxide (LREO; being cerium, lanthanum, neodymium, praseodymium, and samarium oxides (Ce2O3+La2O3+Nd2O3+ Pr2O3+Sm2O3) over a drill core interval of 69.5 metres
Drill hole WI19-29 returned 3.01% Light Rare Earth Oxide over a drill core interval of 89 metres.
"With the release of drill hole WI19-29 we continue to demonstrate the significant upside potential of the Wicheeda North zone," stated Craig Taylor, Defense Metals CEO and President, "3D geologic modelling predicted the presence of additional REE mineralized dolomite-carbonatite here, which was borne-out by the results released today".
According to Taylor, The Wicheeda North zone "remains under-evaluated", and he believes that "additional drill testing will be the way forward" to the possible expansion of the Wicheeda Deposit during 2020.
"We continue to be encouraged by significant advances made during 2019 on both the metallurgical and resource drilling fronts," added Taylor.
The 2019 Wicheeda REE Deposit resource definition drill program comprised 13 diamond drill holes totalling 2,005 metres that were completed from three separate drill pads, designed to test the northern, southern and western extent of the Wicheeda deposit where it remains open, and to further delineate the relatively higher-grade, near surface dolomite carbonatite unit.
The founder of DEFN gives an overview of the British Columbia project here:
This story isn't just about military hardware.  Clean energy also chews up a lot of Light REEs. A typical wind turbine, for instance, requires 1.5 tons of neodymium magnets.
"China controls roughly 85% of the world's REE supply," states Equity Guru's Greg Nolan, "And in case you haven't noticed, Trump and Xi Jinping are embroiled in a trade war that could interrupt the flow of critical commodities like REEs."
"Should Trump end up vexing China sufficiently with an ill-timed tantrum, it's conceivable Xi Jinping could slap a ban on REE exports.
Chinese state media has acknowledged as much in recent months referring to its domination of the REE supply chain as "an ace in Beijing's hand."
Defense Metals will publish assay results for the remaining 2 drill holes in the next few weeks.
DEFN has only 30 million shares (40 million fully diluted), it's trading at .10 with a market cap of $3.3 million.
Trump left the NATO summit in a huff, skipping the closing news conference.
– Lukas Kane
Full Disclosure: Defense Metals is an Equity Guru marketing client.