Patriot One (PAT.T) – an A.I-driven concealed weapons-detection company – is looking and sounding less like a technology incubator – and more like a sales company.
Check out the product demonstration videos on the re-vamped website.
You've probably heard, the U.S. has an issue with guns.
The situation is so dire that an Amnesty International Report called "gun violence in the United States a human rights crisis" (40,000 Americans shot dead every year).
On October 28, 2019 PAT announced a new officer safety initiative at the International Association of Chiefs of Police (IACP) Conference in Chicago, Illinois.
At this conference PAT will unveil its new PATSCAN VRS-M (Mobile) concept, using a University of North Dakota (UND) Police Department vehicle.
PATSCAN VRS-M three-alert solutions:
1. Threat detection alerts for police officers and their dispatchers to prevent ambush attacks in and around the police vehicles.
2. Traffic collisions alerts triggered by lane drift of passing vehicles while officers conduct traffic stops.
3. Automated video-recognition BOLO/LPR system will search license plates, then alert the officer when an identification has been made.
"As a former police officer who has had fellow colleagues injured on the job, this is a very important initiative," stated Phil Lancaster, Pat One's SVP of Biz Development.  "Our video analytics team has expanded the PATSCAN VRS software beyond the detection of rifles, gun, knives, and fights."
"We're now able to detect approaching threats and other common hazards facing police officers every day," confirmed Dr. James Stewart, SVP Video Analytics for Patriot One and an active 15-year auxiliary police officer.
PAT has also partnered with a company called Smarter Security.
"This collaboration offers a powerful, AI-driven solution for active threat detection and automatic lockdown that works in any space, reduces false alarms, and continues to learn and adapt to situations in real time."
"FBI statistics released in April designated 27 shootings in 2018 as active shooter incidents, and 2019 has seen at least 21 mass shootings prior to October," stated Smarter Security.
"Responses to these threats have included armed security guards, armed teachers, padlocked entrances, metal detectors, bag x-ray systems, and mass notification alert systems. However, the ability to detect and delay active assailants' progress into a building before they fire a shot or inflict harm remains elusive."
The integration of Smarter Security Fastlane Turnstiles and Door Detectives with PAT'S tech, leverages AI-powered technology to solve this problem.
Smarter Security/PAT partnership highlights:
When a weapon is detected on a pedestrian, the system immediately locks down specific Fastlane turnstile lanes and access-controlled doors
Customers determine if they want specific lanes or all lanes to lock until the situation is remediated.
Once remediated, the Fastlane turnstiles and doors unlock and resume normal flow of traffic.
"The mission of both companies is to provide innovative, top-of-the-line security solutions to help protect people and their communities," stated Martin Cronin, CEO and President of Patriot One.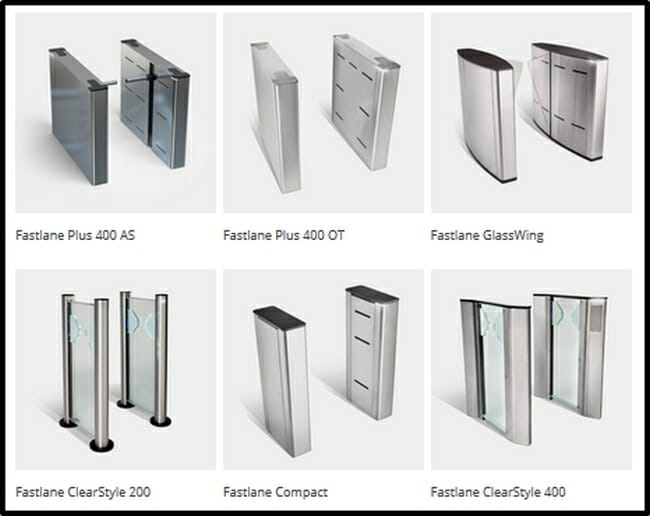 The average Canadian like me knows more about President Donald Trump than we do our own Prime Minister, Justin Trudeau.
Canadians are freakishly obsessed with U.S. problems, like gun violence.
For this reason, we tend to think of PAT's technology as a solution custom-made for America.  Which it is.  But there are other subplots developing in the background.
Last year, there were 337 Improvised Explosive Devices (IED) blasts in India, 221 IED blasts in Iraq, 161 IED blasts in Pakistan and 132 IED blasts in Afghanistan.
There are four components to a typical IED.  In Afghanistan they use the acronym: PIES: Power, Initiator, Explosive and Switch.
That third one is the key.
Explosives.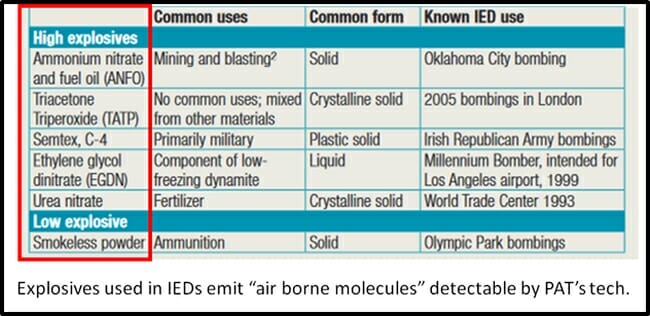 Early this year, PAT announced a Joint Venture (JV) to commercialize a technology for the "detection of explosives and other threats" such as chemical and biological agents as well as illicit narcotics.
The JV (Sotech Secure) – is a partnership between Patriot One and Nano-Bio Detection Systems – a Wyoming company that has developed airborne molecule-detection technology with the University of Texas.
PAT has expanded its technological suite to include, machine learning and A.I. software across an integrated platform using sensors, video analytics  and magnetic threat detection as well as the chemical detection for explosives.
PAT stock hit an all-time high of $2.74 on March 12, 2019.
It sunk to a 2019 low of $1.32 on October 10, 2019.
In the last three weeks, PAT stock has gone up 38% to $1.78.
It has a current market cap of $276 million.
As PAT's technology capabilities grow, it's clear that the commercial opportunities for this company expand beyond U.S. borders.
– Lukas Kane
Full Disclosure:  Patriot One is an Equity Guru marketing client.