Perusing Pivot Pharmaceuticals' (PVOT.C) website you might think you've stumbled onto Pfizer's (PFE.NYSE) "Proprietary IP" link.
"RTIC infused substrates"?
"Supercritical extraction"?
"Phospholipid bilayers"?
Anyone?
In fact, if you strip away the tech-talk – Pivot's business model is not that hard to wrap your head around.
Pivot is a "science-based medical wellness company" that has developed "pharmaceutical grade CBD, phytocannabinoid and nutraceutical products."
That means the future of this company depends on the skill of its scientists, and its ability to create branded products that will penetrate the cluttered but insanely lucrative global wellness market.
"We are a biopharmaceutical company engaged in the development and commercialization of patented, differentiated and premium quality cannabinoid-based nutraceuticals and pharmaceuticals." – PVOT.C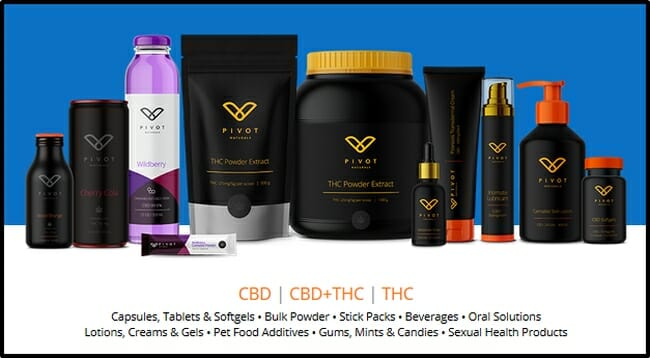 "Technology & Branding" rolls off the tongue easily enough, but it's no mean trick to combine the two.  The deceased CEO of Apple (AAPL.NASDAQ) is a rare example someone who did both things well.
On August 19, 2019 Pivot appointed a new CEO Toni Rinow – an MBA who has a track record of "accelerating revenue streams through acquisitions, corporate development, sales and marketing."
Like Steve Jobs, she is also very strong on the technical side, with a doctorate in physical chemistry from the Université de Montréal (Ph.D), and a chemical engineering degree from the European Higher Institute of Chemistry in Strasbourg, France.
CBD demand – and wellness products in general – are led by the medical needs of aging baby boomers – and that is the mother of all of demographic waves.
Between 2016 and 2021, worldwide life expectancy is expected to rise from 73 years to 74.1 years. By 2021, the number of people older than 65 years will jump to 656 million (about 11% of the total population).
These creaky fuckers are still playing rugby at 70 and they've got money to burn.
On October 8, 2019 Pivot announced that it has entered into a contract with F&B Cosmetics to manufacture Pivot's differentiated portfolio of CBD based wellness products in the United States.
Pivot's ultimate goal is to be a market leader in the emerging phytocannabinoids medical wellness market offering comprehensive science-based solutions of preventive and self-care treatment to our customers.
  F&B Cosmetics is a full service FDA registered, cGMP compliant contract manufacturer of premium products from its 125,000 square feet state of the art facility. Based in Tennessee. F&B is servicing some of the largest cosmetic companies in the world.
Pivot's CBD, CBD+THC & THC line includes:
Capsules
Tablets & Softgels
Bulk Powder
Stick Packs
Beverages
Oral Solutions
Lotions
Creams & Gels
Pet Food Additives
Gums
Mints & Candies
Sexual Health Products
F&B Cosmetics has the ability to automatically fill, cap and label products. Its facility can run multiple shifts with no down time. It is FDA registered and GMP compliant.
As Equity Guru's Chris Parry highlighted in "Navigating the cannapocalypse through value picks," the cannabis space has been in world of hurt in 2019.
"There are $4.5 billion in short bets in weed right now," stated Parry, "which is a lot considering the widely used estimate on the size of the cannabis industry has been $5 billion in Canada."
"Worth pondering on the micro side because, damn, that's cheap: Pivot Pharmaceuticals (PVOT.C), no revs yet, $4m loss last quarter, raised $15m in Q1, market cap of just $21m."
As well as getting caught in the macro weed down-draft, Pivot has been forced to publicly defend itself in a dispute about a finder's fee, recounted in a Stockwatch article.
"Pivot strongly denies all allegations contained in the article," stated Pivot, "We urge the regulators to sanction unregistered non-exempt persons that are engaging in activities…that are in violation of applicable securities laws".
"Pivot is well positioned to become a cannabis leader with the industry's largest portfolio of patented consumer cannabis products," stated new Pivot CEO Rinow at the time of her appointment, "We intend to create a portfolio of world class phytocannabanoid products in the US, Europe and Canada."
Pivot's IP portfolio includes BiPhasix, a dermal delivery system for macromolecules that has shown to be safe in pharmaceutical testing in human subjects.
It is believed that BiPhasix promotes rapid cutaneous transit time. The hypothetical diagram below shows penetration of the BiPhasix vesicles into the skin.

No rational investor is expecting Pivot to challenge Pfizer for market share.
But if the EIU's global annual health spending of $8.7 trillion dollars is accurate, and if Pivot captured 1/100th of 1% of that market, its revenue would be 270 x bigger than its current market cap.
Yah, there's some big "ifs" there.
For Pivot to successfully commercialise its products, the science and the branding need to sync up.
The appointment of the new CEO, Dr. Rinow makes that possibility more likely.
Full Disclosure: Pivot is an Equity Guru marketing client.