SOL Global Investments (SOL.C) released their financial data today, and they calculated a loss of $43.5 million for the quarter, but what company hasn't?
All cannabis companies in the sector are losing money right now so this isn't really anything unusual. The loss was because of a reduction in the value of the company's investments, which ended up costing them $33.5 million, and non-cash expenses of $6.8 million. What's noteworthy is this is a company in transition amid a period of market instability.
"It was a tough quarter for the cannabis sector and that's the primary reason for our unrealized loss. The positive is that's exactly what it was, unrealized. Brady continues to execute with tremendous success on CannCure and its transformation to Bluma Wellness while strategically building out his operational team and the Bluma board," said Andy DeFrancesco, chairman and chief investment officer SOL Global.
First, let's discuss the proposed changes in this transition.
Bluma Wellness is the new proposed name for the company, which SOL is intending to be on the docket for discussion at their shareholders meeting in October, along with the company's shift from an international cannabis investment company to a U.S. multi-state operator (MSO).
Here's what the company is going to look like when they're finished their transformation.
HeavenlyRx is going to be Bluma's entry into the hemp-based CBD market for products like oils, tinctures and balms. They will own and operate their own retail stores, health and wellness studios.
That was a $591 million market in 2018, and is expected to be worth $22 billion by 2022, according to the Brightfield Group.
Their second subsidiary is CannCure, which gives SOL avenues into the Michigan cannabis market through its two licenses and four provisioning centres, and nine more under development. It also owns 100% of Northern Emeralds, which touts itself as "the preeminent cannabis cultivator based in Humboldt County, California," and Three Habitat Holdings, which owns One Plant dispensaries in California.
These make up the core of SOL's MSO status claim, and will include three of the top 10 state cannabis markets in their revenue stream, with complete vertical integration across all three states, and 46 retail operations by the end of 2020.
So the loss they've suffered this quarter is really short term pains. Building out is expensive and that means losses for the first few years. You have to spend money to make money. What Sol's done and done well is pick the right time to enter new markets.
"We have planned this transition and the market entrance of our MSO to coincide with the rapid growth of the legal U.S. cannabis marketplace amid a presumptive tail wind from federal policy reform initiatives related to cannabis, a process I've been deeply involved with. We believe that the timing of our MSO's entrance to the market will position us well to capture that growth," said Brady Cobb, CEO of Sol Global.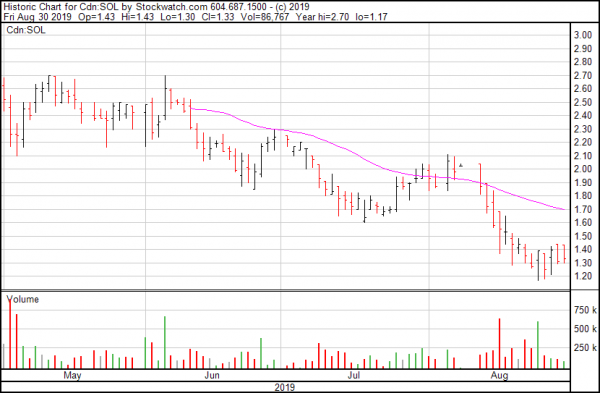 The chart looks scary, but it's really typical of the way the cannabis markets are trending right now. The best companies continue to build despite the slope, and when the market corrects, they're in the right position to capitalize on the trend.
—Joseph Morton
Full disclosure: SOL Global Investments is an equity.guru marketing client.