On Aug. 6, 2019 Aurora Cannabis (ACB.T) released "selected financial metrics" for Q4 2019 – which ended June 30, 2019.
This gives investors a sneak peek, prior to official audited earnings, at some of the numbers.
ACB's Q4, 2019 Financial Projections:
Net revenues of $100-$107 million
Including net cannabis revenue $90-$95 million
Production available for sale 25,000-30,000 kilograms
Last quarter Aurora reported $65.1 million net revenue, so the Q4 number is up sharply (50%). Aurora anticipates "total net revenues for the fiscal year ended June 30, 2019 to be between $249 million-$256 million."
The market applauded. In the first 40 minutes of trading, the stock rose from $8.75 to $9.51. By mid-morning, the daily chart looked like this.
ACB investors waiting with bated breath for the Q4 projected profit/loss were left in the dark.
Aurora's accountants are "in the process of performing year-end audit procedures." Apparently, five weeks (starting from June 30) is not enough time to estimate profitability.
Aurora has a market cap of $9 billion.
Until recently, large cannabis companies didn't have to worry about profitability. Just being big, having lots of cash, and increasing revenues was enough.
Those days are gone.
For example, Canopy Growth's (WEED.T) Q4, 2019 revealed a net loss of CAD$323 million. That's a $41 loss per second. $2,500 per minute. $150,000 per hour. $3.6 million a day.
On the Q4 2019 earnings call, Bruce Linton claimed that Canopy could have stayed a small profitable company, "but after the $4 billion injection from Constellation Brands, you need to use that capital to build scale, and we did."
Shareholders were not consoled. Neither was Constellation's CEO Bill Newlands, who stated the next day that "we were not pleased with Canopy's recent reported year-end results." Newlands also sits on the Canopy board.
A few days later, WEED announced that its long-time co-CEO Linton will "step down" from all positions and responsibility at the company.
"Creating Canopy Growth began with an abandoned chocolate factory and a vision," stated Linton. "The Board decided today, and I agreed, my turn is over."
"Folks be running about with their hair on fire right now, pointing to a sky that for sure is falling because a few of their favourite weed stocks have come off absurd highs and what if it never comes back?!" wrote Equity Guru's Chris Parry on July 29, 2019.
"Sure, the big licensed cannabis producers are down, and hard. And, yes, the US Multi State Operators are down, and hard. And, sure, if your grandma had left you $5m and you'd spread it across every weed stock in February, you'd have about $1.8m left today and granny would be clawing her way out of the coffin to cuff you upside the head."
And then, something nutty happened.
On August 1, 2019 after-market, Aphria (APHA.T) announced a quarterly profit.
"The biggest shock isn't that someone has managed it," wrote Parry, "The biggest shock is that it was Aphria, who were not long ago going through something similar to what CannTrust is going through now: a public relations nightmare, and a CEO headed overboard."
Aphria sold 5.5 metric tons of pot, with a cash cost per gram of $1.35. Of its $128.5 million in revenue, CAD$18.5 million was from sales to the adult recreational market in Canada.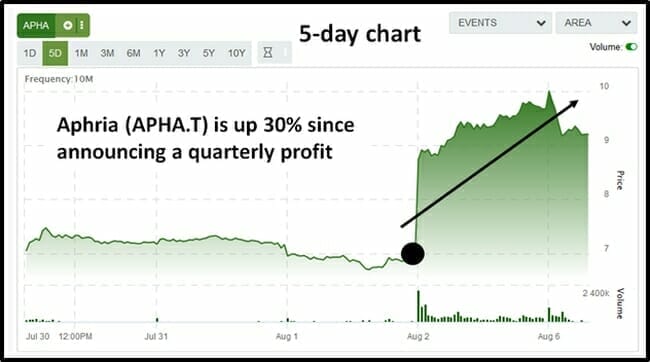 In the August 6, 2019 news release, Aurora states that its "core philosophy of 'purpose-built facilities' has focused on high-quality cultivation of medical-grade cannabis globally."
"On July 18, 2019 Aurora Cannabis has been named as the sole winner in the Italian medical cannabis tender process," wrote Equity Guru's Ethan Reyes.
"We set out to be best-in-class cultivators, and through carefully evaluated acquisitions, that vision continues to drive exceptional results today," stated Terry Booth, CEO of Aurora. "Our success to date comes from a focus on quality, regulatory compliance and appropriate Board of Directors oversight."
This last comment is Booth saying: "See?  No scandals!"  Fair enough. Because this year, there have been scandals aplenty.
https://equity.guru/2019/08/05/wayland-group-wayl-c-crumbles-rto-illiquid-crypto-company-ceo-ben-ward-dumped/
In Q3 2019, ACB reported "goodwill" of $3.18 billion. Aurora's "goodwill" is an admission that it has been overpaying for assets. A year ago, the goodwill was calculated at $750 million. It's now about one-third of the market cap.
The Bank of America (BOC) has warned its clients that ACB could run out of cash by Q1 2020. In March 2018, ACB closed its sixth convertible debenture. Unless ACB stock rises 65% in the next six months, it will have to pay back $230 million in cash on March 9, 2019.  BOC recently downgraded Aurora.
Aurora explicitly warns that its "estimates are preliminary and Aurora's actual results of operations and other data could differ materially from these estimates."
Projected net revenues of $100-$107 million is nothing to sneeze at.
But in this post-euphoria cannabis investment landscape, the "selected financial metrics" omitted the most important number.
Profits.
Or lack of them.
The recent fates of Canopy and Aphria indicate that profits – not revenues – will be ACB's key share-price driver.
Aurora has stated that "full results will be published prior to September 15, 2019."
–Lukas Kane
Full Disclosure:  Equity Guru has no financial relationship with any of the companies mentioned in this article.