Canopy Growth's (CGC.NYSE) Q4, 2019 results reported a net loss of $323 million Canadian dollars.
That's $41 loss per second.
$2,500 per minute.
$150,000 per hour.
$3.6 million dollars a day.
By any reasonable measure, that's heavy bleeding.
Yes – cannabis is a frontier market.
It's so new, it's still bathed in amniotic fluid.
Eighteen months ago Canopy had 600,000 square feet of licensed growing space and a gross margin of 52%.
Then Canopy secured a partnership with Constellation Brands (Corona beer) – who paid $4 billion for a 38% stake in Canopy.
"We could have stayed there (at 600,000 sq. ft) and we would have been a nice tidy little company, probably quite profitable," Bruce Linton, Canopy CEO said on the company's Q4, 2019 earnings call. "But after the $4 billion injection from Constellation Brands, you need to use that capital to build scale, and we did."
It's true, baby elephants suckle from their mother for eight years.
That's how they get to be adult elephants.
Amazon (AMZN.NASDAQ) was founded in 1994, but didn't turn a profit until 2001.
AMZN hemorrhaged "a staggering amount of money" positioning itself for a dominant market share.  It is finally profitable – booking sales of $232 billion in 2018 – about 25% of its market cap.
If you're a Canopy shareholder, looking for solace amidst the latest financials, you can chant the Amazon narrative (we're big, we're bad) and pray that it applies to your investment.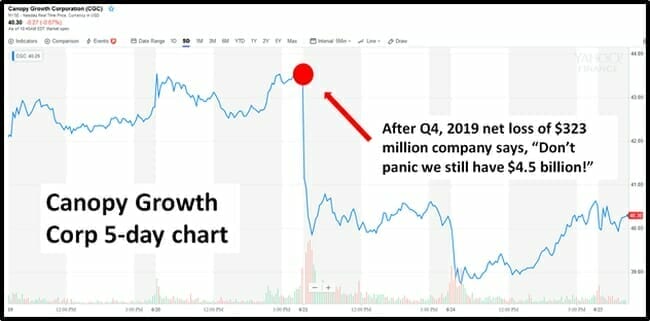 It's not intuitively (or mathematically) obvious that the Amazon narrative is applicable here.
The moat around a cannabis grower/brander/seller is shallower and narrower than around an e-commerce conglomerate.
Last week I decided to purchase a sub-meter.  My electrician recommended the Leviton 100 Amp Mini Meter.
I googled it.
8 minutes later, I purchased the item from Amazon for $1,140.
Amazon has value because every time I try to buy something on line, I end up on its website spending money.
To get a proxy value of Canopy's "e-commerce real estate", we googled, "I want to get high ."
"I have absolutely no idea when my boyfriend is stoned," states Some Gal from the Google results, "He's a master of disguise, wonderfully eloquent and quick-witted and I want to have sex with him all the time."
Good to know – but this is not driving revenues to Canopy.
To be fair, Canopy does have revenues.
In Q4, 2019 – CGC raked in $94.1 million – 13% higher than the previous quarter – beating the consensus analyst revenue estimate of $93 million.
A market cap of $14 billion, with 2019 revenues of $226 million, gives a Price-to-Sales ratio of about 62.
Ten years ago, Amazon had a Price-to-Sales ratio of 1.8.  It's now 4.
Canopy's Price-to-Sales ratio of 62 is not normal or healthy.
One of Canopy's attributes is the CEO Bruce Linton.
He comes across as an adult.
That may seem like damning with faint praise – but it's not a given.
He also comes across as a decent human being.
Again, not a given.
In the transcript of the Q4, 2019 earnings conference call, you can observe Linton stick handle questions from analysts.
"I know the export markets are offering you about 2x better price than the recreational market," stated S. Rowe from Scotia Bank, "So why are you not just focusing on getting products through that channel to realize those prices?
"It was a bit of a juggling act," replied Linton, "I would say that the regulators probably were little bit more supportive recently of approving things from Canada over our ability to grow and target that amount."
Canopy shareholders are lucky to have a CEO who is informed, available, wears a suit, and acts his age.
"Linton doesn't sleep very well, but he doesn't use medical marijuana to help," states Bloomberg, "He says he doesn't smoke pot recreationally, either. He doesn't vape. He doesn't eat pot brownies."
"After all, Linton has a reputation to protect," adds Bloomberg, "He's running a company with a market value of about $15 billion. He regularly crosses national borders, and he doesn't want to embarrass himself or the industry or the countries where he's allowed to do business."
"Investors were enticed to buy these [cannabis] stocks because of profits," Stuart Rolfe, of Veritas Investment Research told Bloomberg, "They assumed that once recreational cannabis was legalized, the doors would be blown off. And that just hasn't happened."
"Now the goalposts are getting pushed further and further out, and that makes people rethink things," added Rolfe, who rates Canopy as "SELL," with an intrinsic value of $32 per share.
On May 1, 2019 Canopy was trading at $70.
Before the Q4, 2019 earnings release, it was trading at $57.
Canopy is now trading at $53.
In the time it has taken you to read this article, Canopy has sold 400 grams of cannabis and lost another $1,500.
Yes, that matters.
Full Disclosure: Equity Guru has no financial relationship with Canopy, nor do we own or short the stock.