According NEJM Journal Watch – a physician-focused website – "20% of deaths among U.S. adults aged 25 to 34 years are related to opioid use."
US millennials are dying so fast that life expectancy has declined for two years in a row, the first time that's happened in 50 years.
12% of Millennials reported using opioids to "kill pain" or "get high".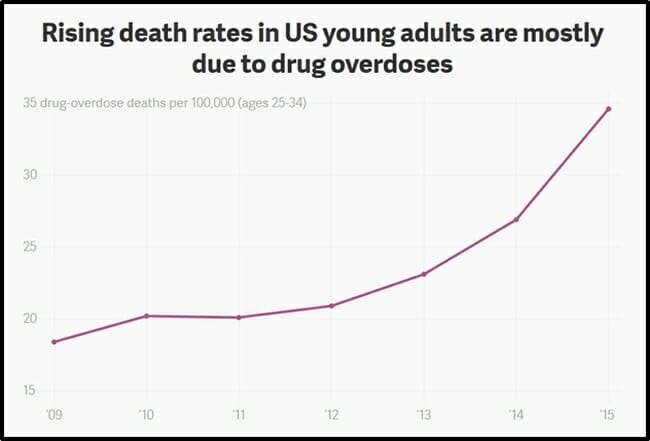 According to CNBC, "Robinhood is a popular millennial free trading platform in the process of a late-stage funding round that would value the company at more than $7 billion."
The above drug-use data suggests that 720,000 of Robinhood's 6 million users may be high on opioids.
Robinhood earns interest on uninvested cash in customer accounts, while passing through regulatory fees to its users.
"Invest in stocks, ETFs, options, and cryptocurrencies, all commission-free, right from your phone or desktop!" boasts Robinhood.
Robinhood only supports stocks that are listed on U.S. exchanges – meaning that Canadian-listed cannabis stocks are ineligible.
Of the 5,500 stocks traded on Robinhood – Aurora Cannabis (ACB.NYSE) – with a market cap of $11 billion – is the #1 traded stock.
"Aurora is attracting the attention of lots of millennial investors," confirmed analyst Keith Speights.
A June, 2016 $50,000 investment in Aurora, would be worth $1.1 million today.
The Aurora financials published on May 14, 2019 contain some bullish numbers:
Q3, 2019 vs. Q2, 2019:
Consumer cannabis revenues up 37%
Medical marijuana sales up 8%
International medical cannabis revenues up 40%
Cash costs declined 26% to $1.42 CAD per gram
Production volume increased 99% to 15,590 kgs
In Q3, 2019 Aurora Cannabis reported a loss of $158-million on revenue of $65 million.  Losing $2 on every $1 of sales may not sound great – but it's a marked improvement on Q2, 2019 – when Aurora lost of $238 million on revenue of $54 million.
As of April, 2019, about 88 million Aurora shares were held by short-sellers – which means 9% of the company's outstanding shares are held by investors who are hoping that Aurora implodes.
According to Robinhood, 420,000 young app users hold shares of Aurora. Cronos took the 5th position. GE, Ford, and Apple round out the other top five Robinhood holdings.
"I'm not exactly excited about it being the top traded company on Robinhood," stated Throwthler1 on an investment bull-board, "but there's no doubt ACB is going to be the biggest and best in the world. They will receive a multi billion-dollar investment/partnership from the pharmaceutical industry."
"This maybe the best signal you can get to short something, friends," replied ExtendedDeadline on the same bull-board in reference to ACB's #1 Robinhood status.
"Pathological trading among investors is a real phenomenon," stated the U.S. Library of Medicine, "it also represents an important public health problem that deserves the attention of the scientific community.
One quarter of Millennials spend more than five hours a day using their phone, 90% of that time on apps.
"Robinhood has done a great job building a trusted relationship with its millennial demographic," stated Zacks.com, who spoke of Robinhood's "design of a clutter-free screen and minimal information".
"I'm thinking about purchasing 50 shares of Aurora," stated Shit Post on a Robin Hood message board forum, "The cannabis industry in Canada keeps getting bigger and bigger and I really don't see a reason why or how the industry could drop."
We can think of a few reasons:  too much hype, too much bleeding, too many regulatory issues.
At any rate, "Shit Post" – be forewarned: cellphones, investing and opioids are a bad combo.