A buxom ex-girlfriend once claimed that she didn't reach puberty until the age of 17 – and then grew her breasts to full maturity "over a long weekend".
After an extended phase of strategic planning, 1933 Industries (TGIF.C) is also maturing at a rate that appears to defy the laws of nature.
The expansion velocity has a lot to do with white-labeling, which is less sexy than branding but potentially more profitable – due to single bulk orders that come without the expense and operational drag of marketing and distribution.
White label products are sold by retailers with their own branding and logo but the products themselves are manufactured by a 3rd party.  In this scenario, the manufacturer uses the branding requested by the buyer, instead of its own.
"We have a national CBD brand which is in 46 states and growing," stated 1933 Industries CEO Brayden Sutton on an excellent CEO Clips video, "Our key products are white-label THC products as well as hemp-derived CBD cosmetics."
The 1933 Industries business model "incorporates cultivation, extraction, processing, manufacturing, branding, distribution, and ancillary services," stated entrepreneur Paul Rosen who recently invested $4.5 million in 1933, "There are only a handful of companies that have been able to accomplish this in a short period of time."
Complete 1933 Industries Fiscal 2018 Highlights
Revenues of $12.6 million for the year
Gross margins of 49%
Total assets increased to $41 million
Product offering expanded to over 120 SKU's
Retail footprint of 600 stores
1933 Industries has three subsidiaries, Infused MFG, Spire and Alternative Medicine Association.
AMA is one of Nevada's largest wholesalers of cannabis products, including branded flower, wholesale distillate and a broad range of concentrates with distribution channels in place throughout Nevada.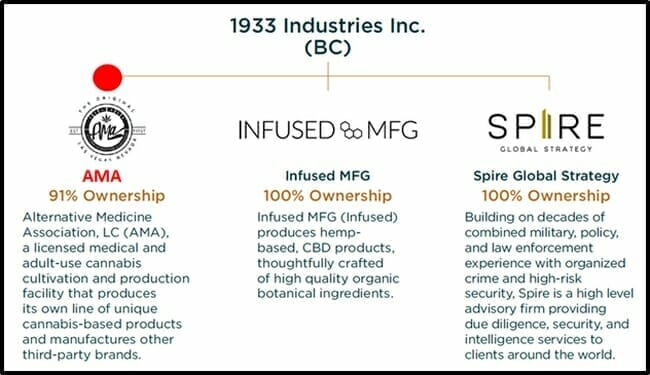 To accommodate 1933's white-labeling product demand, the footprint of AMA's 12,160 sq. ft. building is– increasing 600% to about 67,000 sq. ft.
On May 15, 2019, 1933 Industries announced that AMA completed a sale and lease back for the Las Vegas facility – generating about $14 million Canadian dollars to the 1933 coffers with no "Interest, finders-fees or stock dilution."
"We funded the purchase of the land and construction of the facility without incurring any debt," stated Sutton, "So the full sale proceeds are available for working capital and to fund acquisitions."
"Being able to do our own CBD isolation allows us to do a lot more white label contracts," added Sutton.
AMA also recently signed a two-year agreement with OG DNA Genetics to cultivate, manufacture, distribute and sell OG's branded cannabis in 1933's Nevada stores.
DNA's genetics have won more than 200 awards in all categories at prestigious cannabis events around the world.
"I don't think there is a more revered brand in genetics," stated Sutton, "The only other licensing deal they've done is with Canopy (WEED.T)."
Infused MFG, a subsidiary of 1933, recently signed a two-year licensing agreement with House of Hawk, the company owned and operated by pro-skateboarding legend, Tony Hawk.
"Tony Hawk is an internationally renowned athlete who has built a branding empire over the past 30 years, and a partnership with House of Hawk will add brand recognition to Infused's products," wrote Equity Guru's Joseph Morton.
"Working with Tony Hawk's Birdhouse Skateboards is big," confirmed Sutton, "It's the first time a company like ours has broken into the action sports industry."
Hawk – the world's most famous skateboarder- recently celebrated his 50th birthday by creating a "50 Tricks at 50" video.
"For some of the tricks, it was my way of finding closure with them," explained Hawk, "I wasn't trying to make it some monumental thing that 'I'm finished,' because I'm not. But there were some tricks that were hard back then, and even harder now."
"People used to ask me, 'You're still skateboarding? Grow up. Get a job.' I learned to ignore those comments," stated Hawk who has three kids and is worth about $145 million.
Here are some of Hawk's "Beautiful Mutant" boards.
1933 intends to "utilize all isolates" for its own proprietary consumer brands, while increasing margins and creating a recurring revenue stream from sale to other manufacturers.
CBD isolate is currently worth about $7.50 per gram, making the targeted production worth a potential $33 million a month in retail sales.  Actual sales, cost-of-goods and profit margins still to be determined.
"Our new facility will allow us to go from 12,000 square feet to almost 70,000 square feet," stated Sutton, "Now we are doing a lot of white label business but on a much larger scale."
A bright, brilliant, buxom company.
Full Disclosure: 1933 Industries is an Equity Guru marketing client, and we own the stock.