In order to offer readers insights into some of the more prospective ExplorerCos around, we've sorted them according to region, specifically, those with the best addresses on the continent.

The jurisdictions at the top of our list include:
BC's prolific Golden Triangle…
BC's prolific Golden Triangle: a selection of ExplorerCo's for your consideration (Part I)

BC's prolific Golden Triangle: a selection of ExplorerCo's for your consideration (Part 2)
Nevada – declared THE best mining address on the planet by the prestigious Fraser Institute…
Gold opportunities in the mother of all mining jurisdictions: 21 Nevada ExplorerCo's for your consideration
The Yukon, a destination that has attracted a goodly number of aggressive mining men and women in recent years…
A potential breakout in gold and 11 dirt cheap ExplorerCo's in the Yukon
And one of our favorites, the Abitibi Greenstone belt of Ontario and Quebec…
Gold opportunities in the Abitibi Greenstone Belt: 13 dirt-cheap ExplorerCo's for your consideration
We'll be taking a look at recent news and market action that have exerted pressure – upwards or otherwise – on our Abitibi ExplorerCo's in recent sessions for the remainder of this piece.
A brief Abitibi run-through
Only the gold fields of South Africa have outproduced this prolific greenstone belt where more than 200 million ounces of gold have been brought to surface since the first deposits were discovered in the early 1900s.
The Abitibi has also surrendered some 654 million oz's of silver, 16 billion lbs of copper and 34 billion lbs of zinc.
The Abitibi region was once a hostile place.
Roughly 2.6 billion years ago, erupting volcanoes dominated the landscape spewing huge volumes of mafic and felsic lava – flows which laid the foundation for an assemblage of volcanic, sedimentary and intrusive rocks.
It's estimated there were seven periods of volcanic activity in the Abitibi. Its rocks were then ravaged by compression via tectonics where one plate was forced under another.
Heat, pressure and time did a number on Abitibi's rocks. The impact was low-grade metamorphism. The result: massively rich mineral deposits.

Structural breaks, including the Porcupine-Destor and Cadillac-Larder Lake faults, are home to some of the richer deposits along this storied greenstone belt.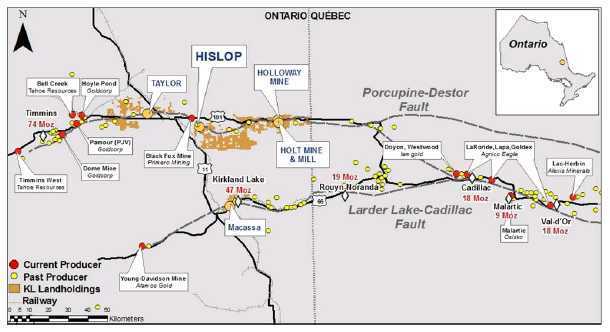 Deposit types along the Abitibi include shear-hosted quartz-carbonate vein deposits, porphyries, iron-formation hosted deposits, volcanic-hosted massive sulfide (VMS) deposits and orogenic type deposits.
The camps
The gold camps formed along Abitibi's two major shear zones (the Destor-Porcupine and the Larder Lake-Cadillac Fault zones) include:
I know what you're thinking… Red Lake is not technically in the Abitibi. We're throwing it into the mix because it can't be ignored if we're talking Ontario exploration plays.
The ExplorerCos
With few exceptions, the junior exploration arena remains mired in deep value territory, but some of the companies featured in our early Abitibi coverage have tacked on respectable share price gains in recent sessions. We'll cover those, along with some that have drifted lower for no apparent reason.
With the exception of Great Bear Resources, we'll focus only on those ExplorerCo's with sub-$50M market caps.
Note: I'm bolding the text of those with a sub-$10M market cap as these co's may represent some of the better values.
41.96 million shares outstanding.
$6.71M market cap based on its recent $0.16 closing price.
CBG operates along the northeastern part of the Abitibi Greenstone Belt in the Chibougamau region of Quebec. The area boasts over 6.7 million ounces of historical gold production.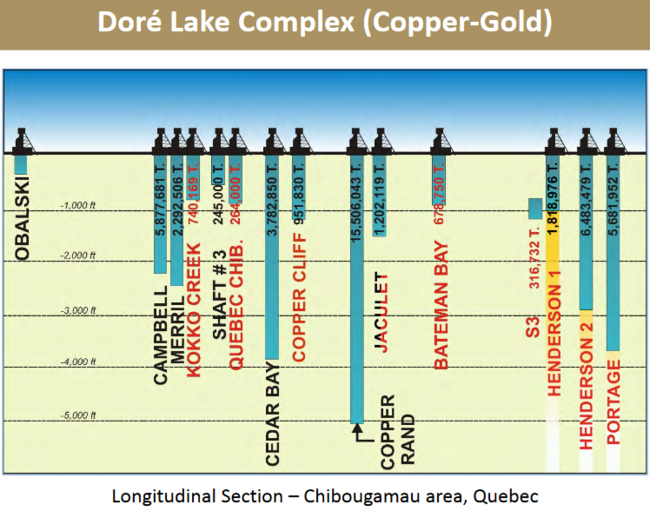 The company boasts multiple projects and the potential to convert historic resources (non-NI 43-101 compliant) of roughly 3.3 Mt at an average grade of 1.78% Cu and 2.92 g/t Au into NI 43-1012 compliant numbers.
Millennials, this is what can happen when a strategically located company with a tight market cap drops half decent drill hole assays…
This one popped. When we featured the stock at a mere $2.5M market cap and $0.06 share price, it represented an extremely low-risk entry point. Hopefully, more than a handful of you seized on the opportunity before this news dropped:
Chibougamau Independent Mines Intersects Wide High-Grade Zones of Copper and Gold Mineralization Extending the C-3 Zone to Depth
And what does a good Abitibi drill hole look like?
Drill hole BJ-19-17 intersected the C-3 Zone at a vertical depth of 340 metres, 80 metres below and 25 metres southeast of drill hole BJ-16-16 which returned 3.61% copper (Cu), 1.72 g/t gold (Au) and 11.9 g/t silver (Ag) over 12.5 metres.
Hole BJ-19-17 returned two intersections of 3.46% Cu, 2.75 g/t Au and 10.81 g/t Ag over 12.47 metres and 8.49 % Cu, 7.55 g/t Au and 49.22 g/t Ag over 5.90 metres from 375.60 metres to 388.07 metres and 391.70 metres to 397.60 metres respectively.
Hole BJ-19-18 returned 7.70% Cu, 3.58 g/t Au and 33.25 g/t Ag over 9.2 metres from 496.5 metres to 505.7 metres.
These results flowed out of the company's 100% owned Bateman Bay property located in McKenzie township, east of the town of Chibougamau, Quebec.
Also, from the April 23rd news release:
Two drill holes were also completed on the Grandroy Mine copper/gold property following up on a projected control structure. Both holes, drilled to undercut the old open pit, intersected pyrite mineralization with visually minor chalcopyrite. The core has been logged and split and will be sent for assay.
The company's current $6.71M market cap is still fairly modest for what the company may ultimately have subsurface. Buying on weakness might be a good strategy going forward.

So-so results from the next round of assays – from the unrelated Grandroy Mine copper/gold property – may present such an opportunity.
44.1 million shares outstanding.
$2.65M market cap based on its recent $0.06 close.
This one is fairly new to the ExplorerCo arena.
The company's primary focus is the Timmins Gold Camp of north-eastern Ontario.
One of the company's projects –  Deloro – has a historic drill hole from the 1940s that intersected three mineralized intervals: 2.2 g/t Au over 11 meters, 1.8 g/t Au over 12.2 meters and 3.3 g/t Au over 22.0 meters.
Drill results reported on January 21 failed to repeat past success.
Not much has changed since we last check in. The share price is essentially flat.
The one piece of news that did surface offered basic guidance going forward:
Central Timmins Exploration Corp. Continues it's Initial Drill Program
Don't count this one out.
Charles Gryba, president, CEO:
"We are just starting our drill testing of gold and base metal targets in the Timmins Camp. Given that many recent discoveries have been on brownfield sites in old camps, we are excited by our prospects. Our MMI programs have identified many interesting targets and CTEC hopes to drill test at least 15 of these targets in 2019 with both winter and summer drill programs envisioned."
53.9 million shares outstanding.
$16.44M market cap based on its recent $0.305 closing price.
CORE is a Hemlo focused ExplorerCo run by Gordon McKinnon, son of Don McKinnon, co-discoverer of the Hemlo Gold Camp back in the 1980s.
The company is currently focused on its Wire Lake and North Limb projects located in the heart of the Hemlo camp.
Drill assays from the company's Wire Lake project in late 2018 tagged 133.2 g/t Au over 2.0 meters, including 443.0 g/t Au over 0.6 meters.
Since we last checked in, the company commenced and completed additional drilling to follow-up on the high-grade results noted above.
Canadian Orebodies Completes Smoke Lake Drilling and Commences Sampling Historic Core
This drilling campaign consisted of 10 holes totaling roughly 1,305 metres.
Management was particularly pleased with the drilling program and looks forward to receiving the assay results.
Assays are pending.
38.12 million shares outstanding.
$101.78M market cap based on its recent close at $2.67.
Great Bear is exploring its Dixie Project in the prolific Red Lake District of Ontario.
Since we last touched base, the company has followed-up on previous high-grade intervals from its Hinge zone (16.35 meters of 26.91 g/t Au, 7.00 meters of 68.76 g/t Au) with multiple news drops.
Highlights from recent Hinge zone drilling include:
0.70 meters of 1602.73 g/t Au
3.40 metres of 31.60 g/t Au
1.50 metres of 28.01 g/t Au
0.70 meters of 31.40 g/t Au
7.25 metres of 30.15 g/t Au
Encouraged by the high-grade intervals encountered in recent weeks/months, the company doubled the size of their drilling campaign and added a third rig:
Great Bear Doubles Fully Funded Drill Program From 30,000 m to 60,000 m – Will Add Third Drill Rig
Great Bear's share price has been all over the map with this active newsflow.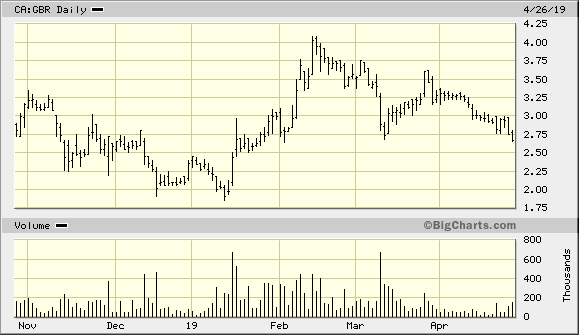 This news item just happened to drop while I was editing this piece:
New Gold Control at Dixie Limb Zone Yields High Grades Including 17.55 g/t Gold Over 2.55 m within 9.15 g/t Gold Over 5.30 m – West Madsen Property Optioned to GoldON Resources
Based on its high-grade nature, upscale address and potential for scale, buying on weakness could pay off handsomely long term.
92.81 million shares outstanding.
$24.6M market cap based on its recent close at $0.265.
GFG has seen some nice share price appreciation since we last checked in, up a nickle for a tidy 35% gain.
The company is probing its 100% owned Pen and Dore gold projects, two highly prospective gold properties west of the prolific Timmins Gold Camp.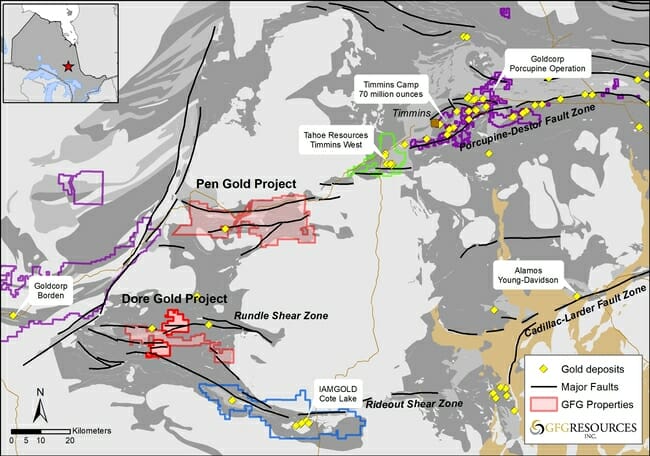 Since we last checked in, the company followed up a hit of 33.77 g/t Au over 1.05 meters at its Pen Gold Project with the discovery of a new zone and a solid 21.26 g/t Au over 1.7 metres in this April 3 news release:
GFG Discovers New Gold Zone with 21.26 g/t Gold over 1.7 Metres at Pen Gold Project West of Timmins, ON
Follow-up drilling is planned.
Brian Skanderbeg, president and CEO:
"We are very pleased with our discovery at Crawford and the high success rate of intercepting high-grade gold mineralization in the inaugural drill program at the Pen Gold Project. The fact that we encountered a new gold zone and other numerous high-grade intercepts clearly demonstrates the potential that exists in this underexplored land package. Based on these results and those from our regional till sampling program, we strongly believe that we will continue to outline additional gold systems and demonstrate that this area of the Abitibi represents an exciting new region to make gold discoveries."
69.22 million shares outstanding.
$7.61M market cap based on its recent close at $0.11.
Since we last checked on Granada, the share price has come off rather hard, down some 40%.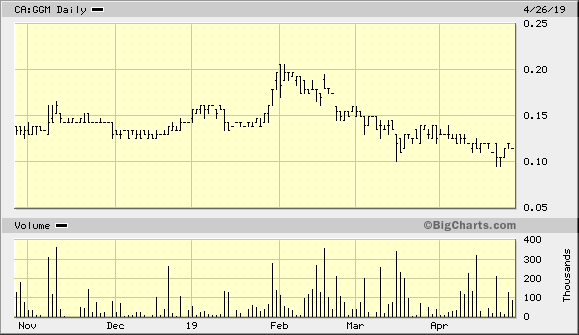 Granada is developing a significant gold resource along the prolific Cadillac Trend in northern Quebec.
Along with management's goal of "transforming into a 100,000 oz/yr gold producer with numerous high-grade exploration targets," the company has released two pieces of news relating to metallurgical tests, further de-risking its Granada Gold Project which sports a pit-constrained resource of 762,000 ounces of gold in the Measured and Indicated categories, plus 455,000 ounces of gold in the Inferred category.
Exploration plans:
Plans are in place to begin the next phase of drilling, a ready-to-drill 5,000 metre program. 75% of this program will focus on a target area next to the Pit-Constrained Resources, with the aim of expanding the resources at shallow depths (See figure below). The target area has not been adequately drilled, but scattered drill holes have intersected encouraging results such as 10.0 m grading 2.01 g/t gold and 28.5 m grading 0.51 g/t gold.
The remaining drill program consists of 3 holes planned to test the North Zone ("Genesis"), about 750 m north of the Granada Shear zone. The holes will follow-up the first ever hole drilled in this zone, #GR-18-04, in late 2018, which intersected 5.45 g/t Au over 4 metres, including 45.7 g/t Au over 1.0 metre (See Press Release January 8, 2019).
I see no real shift in Granada's underlying fundamentals to justify this dramatic cut in market cap. Now could be a good buying opportunity, particularly if you're long term oriented.
102.04 million shares outstanding.
$8.16M market cap based on its recent $0.08 closing price.
GIS is exploring its 100% owned Chevrier Gold Property located in the Chibougamau region of Quebec.
After tabling an updated resource estimate in early Feb, the stock drifted lower. It's down roughly 15% since we last checked in.
Newsflow since then has consisted of both land and talent acquisitions.
The company should generate significant newsflow as it looks to grow its 726K resource in the upcoming field season.
Stay tuned for an update regarding future exploration plans.
428.57 million shares outstanding.
$12.86M market cap based on its recent $0.03 closing price.
GWA's North Timmins Gold Project is located on the Pipestone Fault / North Pipestone Break, two highly prospective gold-bearing structures within the Timmins camp.
According to the company's homepage, its 100% owned Bradshaw Gold deposit is on the verge of "becoming the newest gold producer in Timmins."
The main piece of news that surfaced since we last checked up on GoWest is the announcement of a strategic investment by Fortune Future Holdings (Future) of some $8,000,000.
The Private Placement is subject to the completion of a consolidation of the outstanding common shares of the Corporation, on a one for ten basis, prior to the closing of the Private Placement.
This is good news. Bradshaw's positive PFS and 1.18 million ounce (6-plus g/t Au) resource will be viewed much more favorably with a post consolidation share price of roughly $0.45, the price of admission for Future.
69.52 million shares outstanding.
$2.43M market cap based on its recent $0.035 close.
Metals Creek is exploring its Ogden Gold Property, a project boasting eight kilometers of strike along the prolific Porcupine-Destor Fault in the Timmins Gold Camp.
This project, a 50/50 joint venture with Goldcorp, hosts a historic (non 43-101 compliant) resource of 1 Mt @ 4.12 g/t Au.
The last time we checked in here, we were waiting on assays from five holes from the company's recent acquisition – the Garrison Gold Project – where historic drilling encountered 22.09 g/t Au over 6.10 meters, including 74.63 g/t Au over 1.52 meters.
On March 14th, the company tabled Garrison drill results which consisted of modest, narrow hits.
"The company is currently in the process of reinterpreting ground and airborne geophysics previously performed over the entire property for the purpose of applying the current geological model and geophysical signatures generated from known mineralization at Naybob and Thomas Ogden, to the rest of the property in search of similar targets."
In more recent news, the company announced plans to drill its Clarks Brook epithermal gold property in central Newfoundland.
266.83 million shares outstanding.
$26.68M market cap based on its recent $0.10 closing price.
Moneta's 100% owned Golden Highway project is located along the Destor Porcupine Fault of the Timmins Gold Camp of northeastern Ontario.
The company is focused on building on a recently updated resource at Golden Highway:
Moneta defines new resource at its Golden Highway Project: 383,400 oz of gold at 4.61 g/t of indicated and 873,200 oz of gold at 4.21 g/t inferred
The last time we checked in on Moneta, we made the following comments:
"Fact is, the old resource was bullshit – it factored in gold ounces that will likely never be mined.
This new resource factors in ounces, and only those ounces, that stand a chance of being hoisted to the surface.
It's refreshing to see a no-bullshit attitude in an "ExplorerCo."
I believe those who were on the sidelines prior to this revision will have no problem getting onboard should new exploration drilling prove successful.
Moneta commences winter drill program at Golden Highway, Ontario
This is a 10K meter drilling campaign designed to expand the current resource and test nearby high-grade structures.
This is an interesting company. Access to the project is right off the highway and there are a number of mills in the area that would welcome a new source of feed.
If this drilling campaign is met with sufficient success, the company could have a target on its back, resource hungry producers 'n all.
62.49 million shares outstanding.
$6.25 market cap based on its recent close at $0.10.
Nexus is probably best known for its highly prospective portfolio of projects in Burkina Faso, West Africa.
Market operators and a new high-grade acquisition for Nexus Gold (NXS.V)
Acquiring the McKenzie Gold Project in the Red Lake Gold Camp in recent weeks broadly expands the company's jurisdictional scope.
Nexus Gold (NXS.V) expands its jurisdictional scope: Red Lake UPDATE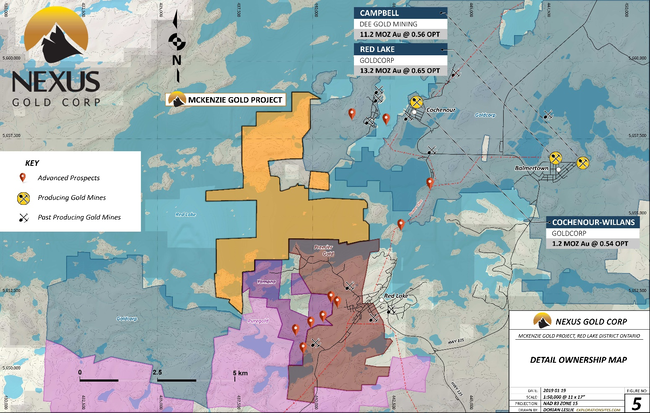 McKenzie's 1,348.5 hectares is located in the heart of Red Lake. The project is surrounded by the likes of Goldcorp (G.T), Yamana (YRI.T), Pure Gold (PGM.V) and Premier Gold (PG.T).
This was a smart, heads up acquisition by the company. We dove into it as soon as the news was announced…
Read: Nexus Gold (NXS.V) expands its jurisdictional scope – enters the prolific Red Lake Gold Mining Camp
This is one of our favorite ExplorerCo's, and no, it's not just because we have a marketing relationship with the company. Nexus has a solid portfolio of geologically and jurisdictionally diversified assets.
It's current dime-ante share price lodges it firmly in deep value territory. I just don't see much downside risk at these levels, and exploration success could come from multiple fronts this year.
38.1 million shares outstanding.
$9.15M market cap based on its recent $0.24 close.
Pelangio's share price has come off slightly in recent weeks, making for a slightly better entry level.
PX holds in its property portfolio the recently acquired Dalton Property, located in the Timmins Gold Camp, and the Birch Lake Property, located in the prolific Red Lake Mining District.
Since we last checked in, the company initiated a modest drilling program at its most recent acquisition, the Dome West Project, located only 800 meters west of the Dome Mine super pit in Timmins, Ontario.
Pelangio Exploration Diamond Drill Program Underway at Dome West
It doesn't take a rocket scientist to see the potential for significant upward share price trajectory should Pelangio hit with this modest drilling campaign.
Ingrid Hibbard, president and CEO of Pelangio:
"We are excited to begin the diamond drill program on our Dome West gold property. The results of this program will be used in confirming the existence of a highly prospective porphyritic sill that is interpreted to extend across the Dome West property. This program represents our first step in advancing this strategic asset."
Project summary (no corp presentation)
60.41 million shares outstanding.
$4.83M market cap based on its recent $0.08 closing price.
We were waiting on assays from 2,500 meters of drilling at the company's Currie project the last time we looked at this company. Currie gave us a reasonably fat hit of some six meters of 4.79 g/t Au & 118.4 g/t Ag earlier this year.
The results we received on Mar 29th, with the exception of a headline interval of 7.9m @ 2.55 g/t Au, 16.67 g/t Ag, 0.4% Zn, might best be classified as a technical success. Prosper's share price has come off roughly 30% since.
According to the Mar 29th release:
With completion of Phase 1 at the Currie Project Prosper is now reviewing, analysing and planning future work at Currie. In addition to Currie, 2019 fieldwork will include compilation and groundwork at the Company's Cadillac-Larder Lake Break Matachewan project
Since then, Prosper went shopping around the neighborhood, adding bulk to its Matachewan property portfolio:
140.26 million shares outstanding.
$7.01M market cap based on its recent $0.05 closing price.
The company's flagship asset, Monster Lake Project, is a joint venture with mid-tier miner IAMGOLD (IMG.T). This is a high-grade project sporting an inferred resource of 433,300 oz's at 12.14 g/t Au.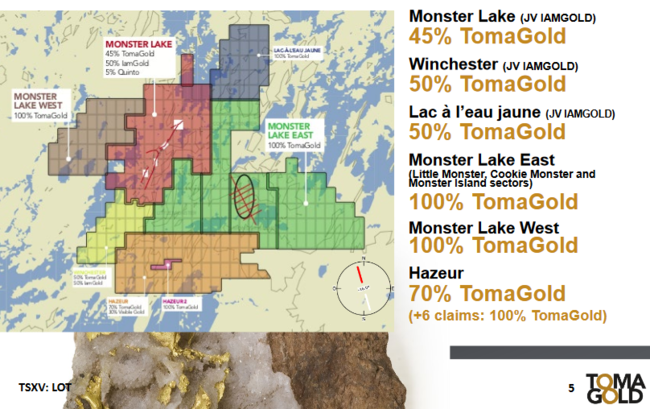 The stock was halted in late January when the company announced its intention to spin-out Monster Lake and a selection of newly acquired assets.
Shareholders loyal to the company finally received an update regarding said spin-out two weeks ago:
TomaGold provides update on spin-out transaction, announces Monster Exploration, secured additional gold deposit and named a new seasoned board member
There's a lot to digest in this transaction, including a proposal to consolidate the company's share capital.
A work in progress might be the best way to define the current situation.
A new add to the list
177.1 million shares outstanding.
$20.37M market cap based on its recent $0.115 closing price.
Cartier's flagship Chimo Mine project is at the resource definition stage. The ounce count could easily exceed one million ounces once the number crunching is done later this year (this author's humble opinion).
The company is in the third phase of an aggressive drilling campaign.
Leafing through the press releases over the past 18 months, it's clear the company has its sights set on an end game (Agnico Eagle owns 17% of the outstanding shares).
Chimo project highlights:
The Chimo Mine produced 379,012 ounces of gold in its day.
Cartier owns 100% interests of the property.
Year-round access by road, proximal to six custom mills.
Gold mineralized material was mined intermittently from 14 zones by three different producers.
Mine infrastructure consists of a network of drifts distributed over 19 levels, connected by a 3-compartment shaft 965 meters deep.
The headframe and surface facilities were dismantled in 2008 but the electrical line and the sand pit are still present.
The company's Abitibi portfolio also includes Benoist, a project with a modest high-grade historical resource (Non 43-101 compliant).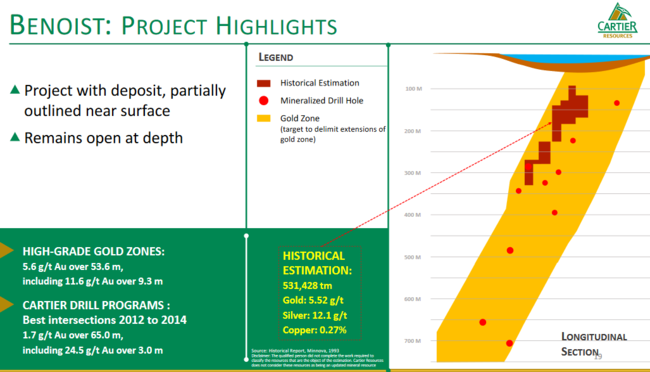 A recent OreVision IP geophysical survey on the property generated over a hundred anomalies.
The company estimates 20K meters of drilling is required to test the project's higher priority targets.
Definitely an interesting company. Definitely one worth keeping an eye on.
(The author would like to thank consummate stockpicker LucTenHave over at Tommy Humphreys ceo.ca for helping peel back the layers on this one)
Final thoughts
We aren't the only ones keeping tabs on developments in the Abitibi.
Gold producers both big and small are running out of mineral inventory. Every day they are in business they reduce the number of ounces on their books.
The brutal bear market of the past eight years forced them to slash exploration spending. Without a proper pipeline of new discoveries, their future is uncertain.
In order to prop up their mineral inventory, they'll take on the role of acquirer, predator.
When an ExplorerCo makes a significant new discovery, its days are often numbered. It becomes a sitting duck.
(This sitting duck role often translates into FAT profits for well positioned  shareholders)
END
~ ~ Dirk Diggler
Full disclosure: Of the companies featured above, only Nexus Gold is an Equity.Guru marketing client. We may own stock of any one of them at any given time.