On April 30, 2019 The Green Organic Dutchman (TGOD.T) announced that its Kelowna-based extraction processing services provider, Valens GroWorks obtained organic certification from Pro-Cert Organic Systems.
According to Zion Research the global organic food & beverage market was valued at USD $124 billion in 2017 – and is expected grow 14% between 2017 and 2024 to around USD $320 billion.
In a recent study conducted by Hill & Knowlton, over 50% of recreational consumers stated it was important that their cannabis was organic. When the same question was posed to medical patients, that number increased to 63%.
It's not breaking news that organic cannabis is harder to grow and more profitable to sell than regular weed – but the psychology behind the rapid adoption of organic consumables is not often discussed.
It turns out, buying organic products sooths people who worry about the future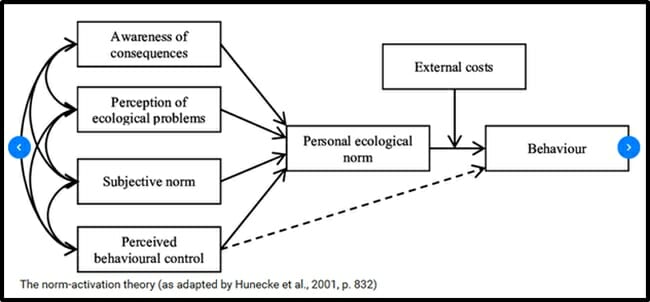 Conversely, play-hard-die-young yahoos are unlikely to buck-up for a clean product that provides nebulous immediate benefits to their bodies or the planet.
Consideration of Future Consequences (CFC) is a measure of the extent to which people calculate the future consequences of their current behaviour.
Bagel-eating researchers with PHDs have determined that the higher a person's CFC, the more likely they are to buy organic food.
High-CFC individuals also tend to be young, educated, and thinner than low-CFC people. To be fair, the last criterion is also a socio-economic indicator (poor people are fatter than rich people).
"Kelowna-based Valens Groworks is a vertically integrated cannabis company focused on extraction, distillation, cannabinoid isolation and purification," wrote Equity Guru's Joseph Morton on March 11, 2019.
In exchange for helping Valens get their processing certification, TGOD will get exclusive access to all of Valens' extraction services for the first year of the 2-year deal. The agreement includes the extraction and purification of TGOD's cannabis and hemp biomass, and the conversion of the proceeds into resins and distillates.
"TGOD has been committed to organic since day one," stated Brian Athaide, Director and CEO of TGOD, "Working with service providers who embrace organic as much as we do is paramount.  We look forward to delivering certified organic oils of the highest standards to our patients and customers."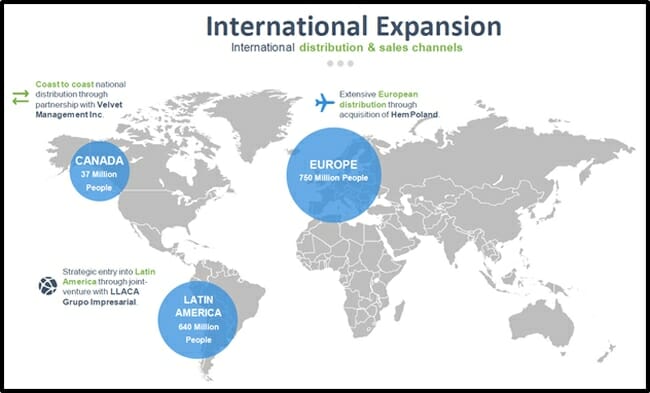 On April 22, 2019 TGOD announced it has received its oil sales licence from Health Canada for its Hamilton, Ontario facility – after installing a state-of-the-art "supercritical CO2 extraction system".
The Supercritical CO2 Extraction System process is free of toxic solvents and produces and "aromatic golden-brown oil that is as close to the original plant composition as can be achieved."
TGOD's oil extraction facility was built to GMP (Good Manufacturing Practices) specifications, and work is currently underway for European Union GMP certification, which will allow TGOD to expand distribution into global markets.
"We are pleased to offer TGOD's medical patients access to new premium certified organic cannabis oils," stated Athaide, "This step will assist TGOD in transforming our premium quality organic raw material into a variety of higher-margin cannabis products."
On April 26, 2019 TGOD announce that its 100% owned subsidiary, HemPoland, has received organic certification from EKOGWARANCJA PTRE – the Polish version of Eco-Cert.
"We are incredibly excited that HemPoland's facilities, production and processes have received organic certification within Europe," stated Athaide, "This is a major point of differentiation."
Focused on medical cannabis markets in Canada, Europe, the Caribbean and Latin America, as well as the Canadian adult-use market – TGOD has a planned capacity of 219,000 kgs and is building 1,643,600 sq. ft. of cultivation and processing facilities across Ontario, Quebec, Jamaica and Denmark.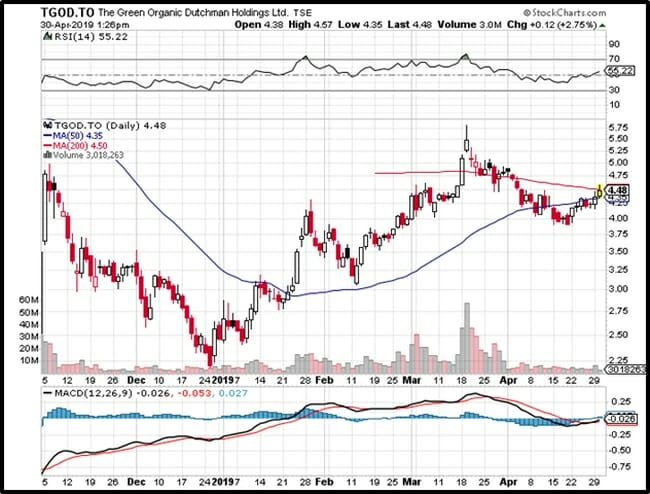 The big-money boys have invested heavily in TGOD:
May 2018 IPO raised gross proceeds of $132.3 million.
Completed two bought deals worth $101.2 million.
Completed private placements worth $77.6 million.
Warrants exercised worth $63.4 million.
Fully funded for its domestic and international strategies; TGOD has no plans to return to the market for additional capital.
For TGOD investors – like buying organic cannabis – that is soothing.
Full Disclosure: TGOD is an Equity Guru marketing client and we own the stock.