We just learned that the US plans to sanction nations for importing oil from Iran.
AP sources: US to sanction nations for importing Iranian oil
The immediate reaction when oil resumed trading Sunday night overseas: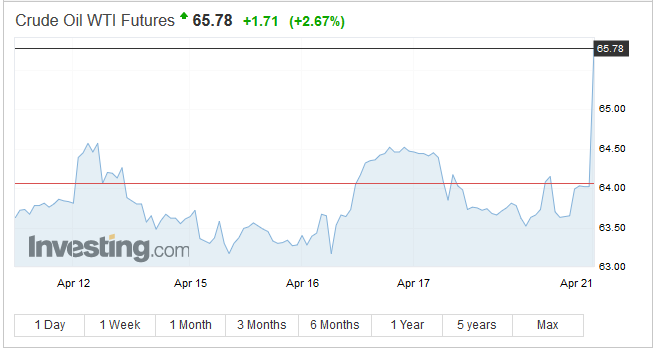 The image above is a snapshot of a live streaming intra-day chart (1hr) showing the market's reaction to this latest salvo from the Trump administration. This is what's known as a price gap – the market closed last week at $64.00 and gapped 2.6% higher at the open Sunday eve.
There are a good number of junior oil companies that have been riding out the recent correction in oil, waiting for the market to reclaim higher ground before they resume developing their assets.
The magic number many of the companies need to see: $65.00. Taking a quick peek at the current price overseas, we're pushing $66.00.
One of our favourite Oils here at Guru Central is Permex Petroleum (OIL.CN).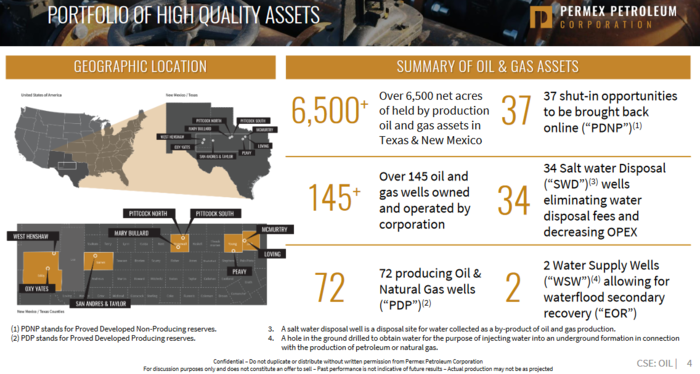 Permex boasts an enviable portfolio of assets in the Permian Basin of West Texas and South East New Mexico. They occupy acres atop the same formations many of the large-cap oil companies are vying for today – the San Andres', the BoneSpring's, the Wolfcamp's.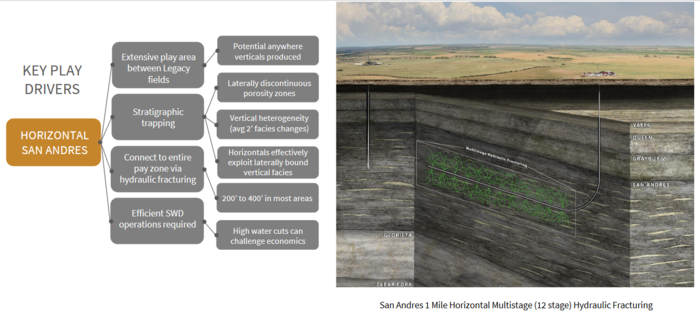 We believe Permex, at current prices, represents an extraordinary opportunity. We spell out the reasons why in these recent Guru offerings:
Permex Petroleum (OIL.CN): a deeply undervalued Permian Basin focused oil and gas opportunity
Permex Petroleum (OIL.CN): broadening its audience as oil pushes higher
Two pieces of company news dropped in recent sessions.
Last week, the company announced that approval has been granted for the listing of its shares on the OTCQB market in the US under the ticker symbol OILCF.
Permex Petroleum Corporation Approved for Listing and Trading on USA OTC Exchange
Permex CEO Mehran Ehsan:
"Trading on the OTCQB Market will expand Permex's presence in the United States with exposure to US equities markets through an established trading platform. We look forward to introducing Permex to a broader range of institutional and retail investors in the United States and to providing US investors with access to the Company's securities through a recognized US marketplace. Further to our recent listing on the CSE," continued Ehsan, "this is an important milestone as we continue our track record of execution towards maximizing long term shareholder value."
And today – April 22nd – this item dropped while the oil price continued chipping away at higher ground (nice timing Permex):
PERMEX PETROLEUM ANNOUNCES NON-BROKERED PRIVATE PLACEMENT OF UP TO C$1.5M OF UNITS
CEO Ehsan and crew have plans for Permex.
They are looking for a minimum of 4,000,000 units ($600,000) and a maximum of 10,000,000 units ($1,500,000) at a price of $0.15 per unit.
Each unit will consist of one common share and a two-year warrant exercisable at $0.25.
Note, these warrants are subject to an acceleration clause in the event Permex common shares close at or above $0.50 for 10 consecutive sessions.
All Common Shares issued in connection with the Offering will be subject to a four-month plus one day hold period under applicable Canadian securities laws.
A record date of April 18th, 2019, has been set. Why? This is the good part:
The Offering will permit participation of existing shareholders of the Corporation who held shares of the Corporation as of April 18, 2019 (the "Record Date") and who continue to hold shares of the Corporation as of the closing date of the Offering…
Giving the small guy a seat at the table is something you don't see every day in the resource arena. Management, who own roughly 10% of the outstanding common, have aligned themselves right alongside their loyal shareholder base.
The news release also went on to state:
All proceeds from the Offering will be used for restarting waterfloods, bringing online additional shut-in wells for added production, offset acreage acquisition for an increase to contagious acreage holdings as well as general working capital purposes.
If the company raises the minimum amount, $250,000 will go towards restarting waterfloods and bringing shut-in wells online – the balance will go towards working capital.
If the maximum amount is raised, $350,000 will go towards restarting waterfloods and bringing shut-in wells online while $650,000 will go towards offset lease acquisitions – the remainder will go towards working capital.
The company is looking to spend $650K on potential acquisitions – you gotta know they have their sights set on something specific – right in their backyard.
In a performance review delivered to shareholders at the beginning of this year, the company highlighted the following milestones:
Daily gross production increased by ~200% from qtr 4-17 to qtr 4-18
Acreage position in the Permian increased by 25% from qtr 4-17 to qtr 4-18
Proved plus Probable reserves total $142 million or 9 million barrels of oil equivalent, a 23% increase year over year
Proved (1P) reserves total $79.5 million or 4.32 million barrels of oil equivalent, a 72% increase year over year
The timing of this PP couldn't be better. The funds Permex intends to allocate towards secondary recovery and bringing shut-in wells online will augment this impressive production growth.
At some point in the not-too-distant future, we're bound to hear more about the company's plans to dramatically scale growth via a horizontal leg conversion and lateral drilling program on its San Andres acres where they are partnered with oil giant Occidental Petroleum (OXY.NYSE). This'll move the needle in a big way.
Final thoughts
The oil price rally continues. It's exceeding the expectations of the analyst community and pissing off consumers at the pump. We'd best get used to this volatility.
With OPEC supply cuts and the threat of US sanctions against its allies, the market doesn't have much of a cushion in the event of a supply shock.
Of course, all of this chaos presents an opportunity for the likes of Permex.
Once again, as per a recent Guru offering:
"Anyone positioning themselves in Permex common at current prices will be getting in before the growth curve starts.
With a little under 36 million shares outstanding, the company's share structure is super tight. With its stock currently trading in the $0.14 range, this has to be considered one of the most out-of-whack valuations in the entire resource arena (author's humble opinion)."
END
~ ~ Dirk Diggler
Feature image courtesy of Fortune.
Full disclosure: Permex is an Equity Guru client. We own the stock.