Markets:
After a dismal 2018 (-25%) China's stock markets are boiling to the point of frothiness.
So far this year, the Shanghai's composite is up 30%.  The Shenzhen component is up 40%. The CSI 300, which tracks the biggest-cap companies listed on mainland China, has risen 35%.
By comparison, the DJIA and S&P 500 are up 13% and 15%, respectively.
The latest GDP numbers coming out of China indicate that the economy is growing at a 6.4% annual clip – about 3X faster than the U.S.
The rumour is that "Beijing is close to consummating a trade deal with Washington" following a series of tit-for-tat tariffs.
"Retail investors in China are busy trying to take their money back after a terrible 2018," stated Tai Hui, Asian market strategist at J.P. Morgan.
In a rare win for Cadet Bone Spurs, the U.S prevailed in a World Trade Organization (WTO) ruling this week against China's tariff-rate quotas for rice, wheat and corn.
The WTO adjudication process moves slowly.  The case was lodged by the Obama administration in late 2016.
China's Ministry of Commerce said in a statement on Friday it "regrets" the panel's decision and that it would "earnestly evaluate" the panel's ruling.
Fueled by the rising popularity of mobile online trading, China's affluent middle class is investing heavily in U.S. equities.
China's rich middle-class will reach 33 million by 2020, with assets growing from the current level of $4 trillion – to $7 trillion in 2020.
As an exporter, China benefits from a low-valued Yuan (the Chinese dollar). But weak currency makes things expensive for Chinese travelers or international investors. USD investments diversify risks.
More Chinese companies are offering IPOs on U.S. markets, rather than on Hong Kong or China stock markets.  Now, Alibaba, the largest e-commerce co. in China, lists on U.S. exchanges.
Media:
There are a number of separatist movements opposing China's authority (Hong Kong, Macau, Taiwan, Tibet) but there will be an ocean of blood spilled before one acre of land is relinquished.
The North-West autonomous region of Xinjiang is another hot spot of conflict.  45% of its population are Uyghurs, and 40% are Han (Chinese nationals).
Uyghur people believe that entrance doors should never face west. Women dance publicly with no face covering.  Young women sometimes wear jeans and drink alcohol. When men greet, they often touch each other's chest using both hands.
The Uyghurs and Han disagree on which group has true historical claim to the Xinjiang region. Uyghurs point out that they've been there since 200 BC.  China claims that they arrived last Tuesday.
Before 1950, the Uyghurs were the majority. Then there was a massive state-sponsored migration of Han Chinese, followed by a clamp-down on expressions of Uyghur identity.
For the last 70 years, things have been getting increasingly nasty.
Example: In March 2014, in the Kunming Railway Station in China, 8 Uyghur Muslim men and women pulled out swords and butchered 31 Chinese civilians, while injuring 140. A flag associated with a Xinjiang separatist movement was found at the train station.
Recently, China's Xinjiang policy has been marked by mass surveillance, arrests, and a system of "re-education camps," estimated to hold 1 million Uyghurs and members of other Muslim minority groups.
Chinese nationals living abroad have discovered that criticism of China's Xinjiang policy is not welcome.
Diba – a chat-room offshoot of Baidu – has 32 million users.  Its slogan is: "Be patriotic, don't curse, and maintain truth." Diba users are now harassing Beijing's critics overseas, adopting a trolling tactic called brigading.
Facebook accounts condemning China's Xinjiang policy have been bombarded simultaneously with thousands of Diba-originated posts warning the FB poster: "don't lose face for yourself and your country."
Facebook claims it is working "to disrupt this kind of abuse and to provide people with the tools that help people control the content they see."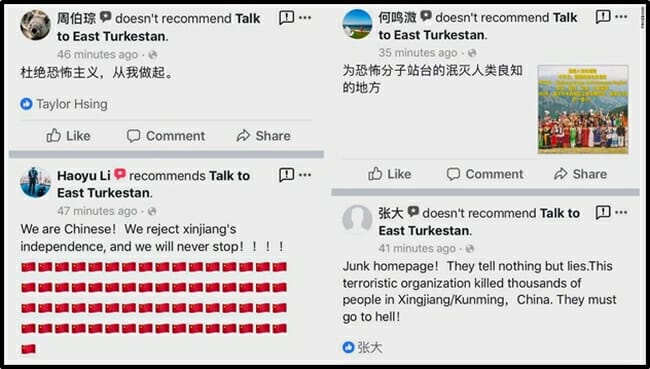 Mayhem:
In 1972, Carl XVI Gustaf of Sweden, was asked "Which man has had the most influence on you?"
"Mao Zedong" replied The King of Sweden, "Amazing man! He has written beautiful prose and excellent poems!"
Since then, relations between Sweden and China have turned sub-zero frosty.
Two years ago, a young Swedish man running a legal-aid NGO in Beijing was arrested and frightened so badly that he appeared on Chinese TV and apologised for "hurting the feelings of the Chinese people."
Last September, a group of Chinese tourists arrived at a Stockholm hostel 24-hours too early.  Since there were no rooms available, the Chinese tourists asked if they could sleep in the lobby chairs.  Request denied. Voices raised.  The travelers were booted onto the street.
A video showing the brutish ejection was circulated on Chinese social media. The Chinese embassy in Sweden warned Chinese nationals that the Scandinavian country was "unsafe".
In 2015, Gui Minhai, a Chinese-born Swedish scholar and book publisher, went missing in Thailand, one of five men who vanished during the Causeway Bay Books disappearances.
Gui turned up later on mainland China, admitting on TV that he'd killed a Chinese pedestrian in a hit-and-run, years earlier.
Then shit really hit the fan.
A satirical show Svenska Nyheter (Swedish News) offered advice to Chinese tourists on how to behave in Sweden, like not pissing on historic buildings or eating Swedish dogs.
The Chinese embassy stated that the segment "broke the basic moral principles of mankind".
This week, Sweden appointed a new ambassador to China, after her predecessor was accused of breaching national security by organizing a "secret boozy meeting" to dicsuss the aforementioned imprisoned bookseller Gui Minhai.