IAnthus Capital (IAN.C) recently announced quarterly revenue of $2.2 million – $0.58 million lower than analysts' expectations, though revenues increased 165% over the prior-year period.
For the full year, iAnthus delivered $4.5 million in revenue and other income, an increase of 88% over 2017 levels.
The company's pro forma revenue, which includes the operations of the recently acquired MPX, came in at $49.3 million for the full year.
Companies use pro forma statements to assess the potential value of a proposed change, such as an acquisition or a merger.
Adjusted EBITDA loss for the quarter and for the full year stood at $6 million and $17.9 million, respectively. iAnthus' assets at the end of 2018 stood at $168.4 million, a sharp increase from the $45.8 million in assets it held at the end of 2017.
What's driving iAnthus' growth?
IAnthus' most significant catalyst right now is its expanding footprint. The company opened up eight dispensaries over the past seven months in key cannabis markets.
IAnthus' Lake Worth location in Florida is its third in the state. The company plans to open another 17 locations this year as it aims to double the rate of store openings.
IAnthus currently operates 21 dispensaries across 11 states in the U.S.
The company's footprint spans 63 retail locations post the merger with MPX Bioceutical. Meanwhile, iAnthus wholesale network is spread across 90 dispensaries that sell the company's branded products.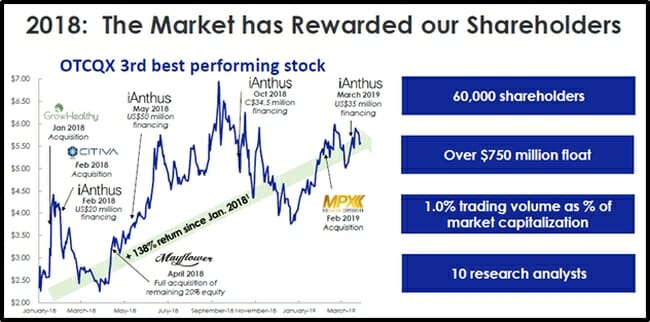 The retail footprint will get a shot in the arm once it completes the acquisition of CBD For Life.
CBD for Life has a massive retail network spread across 750 locations, and it is growing at a weekly rate of roughly 25 new locations. The $13.6 million deal will give iAnthus access to the lucrative CBD market that's expected to hit $22 billion by 2022, per Brightfield Group's estimates.
A smart growth strategy
Nine of states that iAnthus operates in are generating revenue now, with California expected to become the 10th revenue-generating state within the next two months. The company's planned expansion for the remainder of the year will bolster its presence in markets such as New York, Florida, Massachusetts, New Jersey, and Nevada.
This looks like a smart strategy as the markets mentioned above can send iAnthus shares higher on the back of consistently strong growth.
In Florida, for instance, sales of medical marijuana were in the range of $200 million-$300 million last year, up significantly from 2017's $20 million-$40 million range, according to the Marijuana Business Factbook.
The number of active patients in Florida has tripled to nearly 160,000 in the span of just one year.
Jeffrey Sharkey, the executive director of the Medical Marijuana Business Association of Florida, believes that the number of patients in Florida will grow to a range of 800,000 in the near future.
IAnthus could end 2019 with 20 locations in Florida, a significant increase over its current footprint.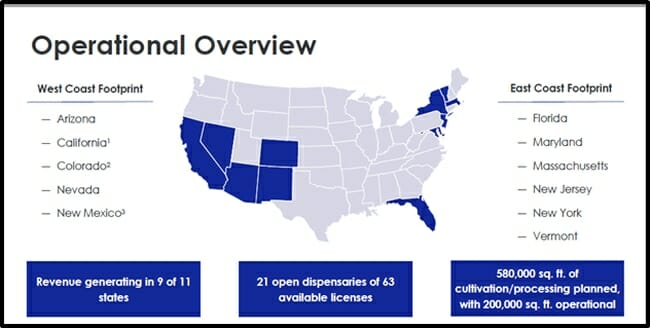 Moreover, the medical cannabis market in the U.S. is expected to clock an annual growth rate of nearly 17% through 2024, according to a Market Study Report.
Apart from the MPX Bioceutical transaction and the proposed acquisition of CBD for Life, iAnthus had acquired GrowthHealthy in January this year. This was a smart move as GrowthHealthy is one of only 13 medical marijuana treatment centers that are licensed to provide medical cannabis according to the state's law.
Similarly, the acquisition of Citiva Medical in February this year gave iAnthus access to one of only ten medical marijuana licenses issued by the state of New York.
April 4, 2019 iAnthus announced a licensing agreement with Blissiva, a women-owned, Maryland-based company focused on medical cannabis products specifically formulated for women.
iAnthus will manufacture, market and sell a variety of Blissiva products, with initial launch in Maryland scheduled for April 20, 2019. iAnthus also has the exclusive right to launch Blissiva in its ten other existing states and across the United States.
"iAnthus is the perfect partner to realize our goal of reaching female consumers who could benefit from our products across the country," stated Dr. Apgar, Co-Founder and Medical Director of Blissiva.
iAnthus is on track to deliver significant revenue growth in 2019 on the back of its acquisition-fueled expansion and partnerships with downstream cannabis innovators.
by Harsh Chauhan
Full Disclosure: iAnthus is an Equity Guru marketing client.