On March 04, 2019 Invictus MD (GENE.V) updated shareholders on production and expansion plans at its Licensed Producers: Acreage Pharms, AB Labs and Canandia.
The update follows Invictus' November 16, 2018 100% acquisition of Canandia – which features two properties located in Delta and Mission, BC.
Invictus' production portfolio now includes licensed cannabis operations in BC, Alberta and Ontario.
"Each of our three purpose-built licensed facilities are designed with separate environmentally-controlled grow rooms to allow for maximum flexibility as we adapt to meet the needs of recreational consumers and medical patients," stated Invictus' CEO George E. Kveton.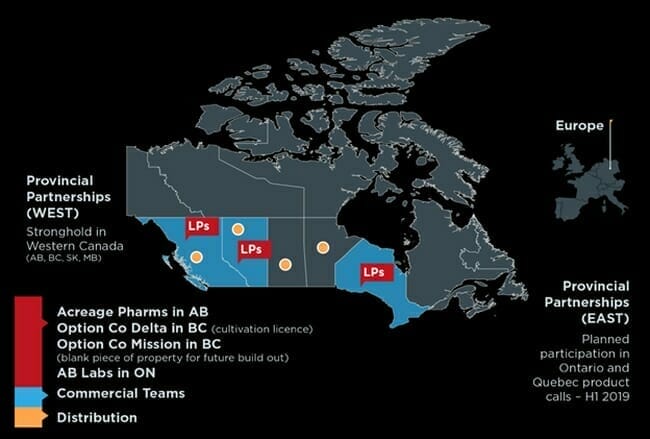 Invictus has fulfilled 100% of its provincial product orders to date and looks to "further strengthen sales and distribution relationships" as the company ramps up to full operating capacity.
A production footprint of 189,000 square feet is targeted, with future capacity based on demand fundamentals and funding.
Acreage Pharms
Invictus' flagship grow-op, Acreage Pharms is equipping and servicing the 45,000 square foot West Wing of its Phase III facility in Edson, Alberta.
Together with the East Wing, the new facility is anticipated to feature 90,000 square feet of total production capacity and is designed to be European Union Good Manufacturing Practices (EU-GMP) compliant.
Invictus plans to obtain EU-GMP certification – a requirement to sell and distribute medical cannabis to Germany, and across the European Union.
On December 20, 2018 Invictus announced that Acreage Pharms signed a 5-year supply and distribution agreement with Deutsche Medizinalcannabis (DM) for a total of 10,000 kgs of dried cannabis flower.
DM is an importer and distributor of medical cannabis in Germany with direct access to 20,000 pharmacies.
"There is insufficient supply to meet patient demand in Germany and this is a great opportunity to expand our distribution and sales beyond Canada," stated Kveton, CEO of Invictus.
"Invictus' supply will ease the product shortage in German pharmacies," confirmed Cornelius Maurer, CEO of DM, "We are excited to further develop our international network of EU-GMP certified suppliers through this partnership."
Before weed can be shipped to the German market, DM must obtain an export permit from Health Canada, an import permit from Germany and EU-GMP certification – in accordance with European Union medicinal product rules.
Acreage Pharms' Phase I and Phase II facilities are now operating at full capacity with continuous harvests employing automated harvesting and packaging.
AB Labs 
AB Labs has almost completed the Phase II facility in Ancaster, Ontario which will add 40,000 square feet of production capacity to its current operations, for a total of 55,000 square feet.
AB Labs will finalize its evidence package by mid-March to support a "confirmation of readiness" submission to Health Canada.
The Phase I facility is operating at full capacity with bulk transfers shipped to Acreage Pharms and other Licensed Producers.
AB Labs' strain variety R&D has added 15 new strains to be used in the Phase II facility.
Canandia
Canandia's two properties are located in Delta and Mission British Columbia.
The Delta Location features 4,000 square feet of production capacity and recently received its business-to-business license for cannabis sales under Health Canada's Cannabis Act and Cannabis Regulations. This location will complement Invictus' production and product profile with small-batch craft cannabis supply.
The Mission Location includes 32 acres of buildable land.  It has received approval from the Fraser Valley Regional District and is currently awaiting approval from the Agriculture Land Commission.
The Mission Location taps into wholesale energy costs with 38 MG Watt service at the property line, and access to an ample water supply from underground aquifers, making it a strategically attractive and cost competitive addition to Invictus' current cultivation footprint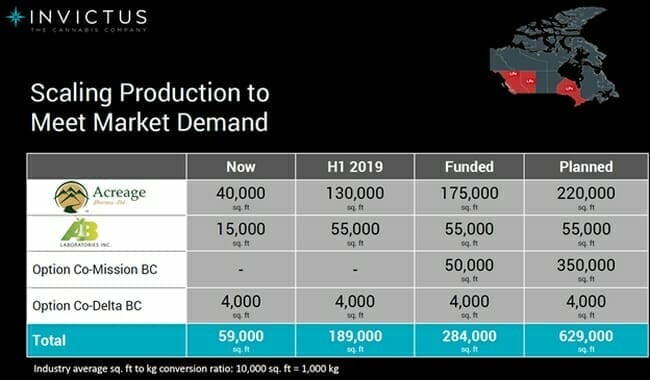 For the six months ended July 31, 2018, Invictus generated EBITDA of $9.3 million, with $10.7 million in cash on hand.
According to the Financial Post, "the supply of legal pot in Canada will only meet 30%-60% of demand."  Production shortfall is expected to be about 400 tonnes.
Full Disclosure:  Invictus is an Equity Guru marketing client, and we own the stock.