In business, like in politics, perception is everything. Either you define yourself or someone else will do it for you.
Shortly after Graph Blockchain (GBLC.C) went public last November we wrote that they were hesitant to identify with blockchain technology because they did not want it to define them. They want to be seen as a company that uses blockchain and not a blockchain company.
But this is 2019 and the market isn't just disinclined towards blockchain companies anymore. Instead, it downright hates them.
One glance at their chart is enough to see this.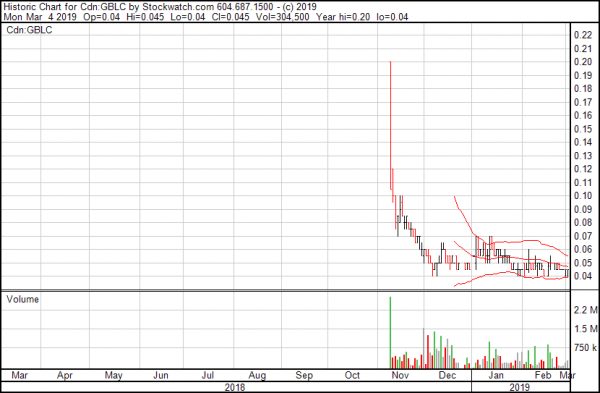 That's why it makes sense that they would dump their CEO.
The blockchain sector isn't like the cannabis sector. The bar on corporate shenanigans required for a CEO to get canned in the cannabis sector has been set pretty high in the previous year by the likes of Namaste's (N.V) Sean Dollinger, or Vic Neufeld of Aphria (APT.T).
All Peter Kim had to do to get fired was underperform.
And he didn't even really do that. Instead, he grew the company through patents and big name partnerships.
Patents
These patents involve the processes, algorithms and logical methods that improve blockchain systems.
They're also in the process of building a patent portfolio with 10 additional patents for data security and replication, anomalous data detection and logistics data management.
Only one problem comes to mind: If blockchain is on the way out, then how are they going to cash in their patents? They could wait until (if) blockchain comes back into vogue, but by then we could all be living in cities on the moon.
Partnerships
'They're big in Korea' should never be a phrase attached to a company trying to make it in North American markets.
But Graph has made some big name partnerships in Korea, including Samsung (SSNLF), LG (066570:KS) and KTNET, a Korean government agency.
Other partners include IBM (IBM.Z) and Hyundai (HYMTF.Z).
They have also been in talks with Canadian beef exporters. The company signed an MOU with Lotte Data Communication to find a blockchain-oriented solution to Canada's ongoing mad cow problem in order to get the beef flowing into hungry Asian markets again.
So it's not like Peter Kim was resting on his laurels during his tenure as Graph CEO, it's just that it's not 2017 anymore. The faith in the fancy math that will save the world has proven misplaced and the markets really have moved on.
Filling Kim's absence as CEO is Jeffrey Stevens.
"I am incredibly excited to assume the position and for the future of Graph Blockchain. We have an exceptionally talented team that is focused on continuing to innovate our product in new and diverse ways and unlocking future growth opportunities."
It's going to be a curious run for Graph in the next few months.
Graph Blockchain dipped $-0.005 to close at $0.04, with a market cap of $6,223,000.
–Joseph Morton
Full disclosure: Graph Blockchain is an Equity.Guru marketing client.