That's a pretty salesy headline, huh? I mean, I couldn't have given a higher five to a company in an ultra competitive space with billions in valuations flying around the world than to say, 'this is the future.'
What I'm suggesting is, one company is on the ultra right path, and not many others are. I'm suggesting this one group, in the future, will dominate in ways the big boys, the legacy guys, the growers that have been around a while, currently can't.
But SLANG Worldwide (SLNG.C) is that thing. It's a moonshot. It's a rookie of the year candidate. It's a slingshot pulled back hard.
And, on Tuesday, it finally lets that slingshot go.
I'm not going to apologize for fluffing a company that has created exactly what I've been calling for someone to create for four years now.
There have been some that have come close, and some that are even most of the way there, but most cannabis companies have selected a business model that brings them market favour, rather than 25 years of Big Pharma-style profit potential.
I think Plus Products (PLUS.C) has a ridiculously good business that has zoomed from nowhere to #1 in the California edibles space. And Chemesis (CSI.C) is white labeling a bunch of extracted oil products in California for others, building a real business that is now starting to expand nationally. And iAnthus (IAN.C), with its MPX merger, is taking on the US retail space in a real, meaningful and not (MedMen) shady (Namaste) way (MedMenNamasteMedMen).
But, with the exception of Origin House (OH.C), almost all the cannabis pubcos are scope-locked on winning one vertical, while the eventual market out there is going to penetrate all walks of consumer life.
Farm it? Great way to build market cap, but good luck competing with the third world as it closes in – you're gonna need more.
Extract it? Superb, but most folks want their oil in an easy to consume form – you're gonna need more.
Edibles? Great, but not everywhere allows them and the vast array of product options means you've got to flood the zone and dominate on the logistics side.
Beverages? An industry in its infancy. You're gonna need more.
Strips? Nobody is there yet. You're gonna need more.
Retail? Expensive to build, with a premium capital cost stemming from the ultra competitive 'gold rush' landscape.
Online e-commerce aggregators? Medical research? Transport? Banking? Security? There are opportunities all over, but they're niche opportunities, early opportunities, or opportunities squeezed by massive competition.
But one company set out to go long a few years back, and has shown us the way. That company is Origin House, formerly CannaRoyalty. While others focused on farming or extracting, Origin House bought nice brands for good prices in Every. Single. Category.
And while the 'leaders' in the cannabis space felt market pressure over the last year, Origin House has consistently been a safe haven for dough, like an ETF on the business without the ETF problem of being stuffed with shitty deals based on market cap and not potential.
I've written nice things about Origin House for years, and they've never been a client of mine. They're just well run, they show a return on their investments, they're agile, they're accretive to the assets they buy and they're not afraid to sell something when the price is right.
With all due respect to the guys at Origin House, SLANG may be better.
SLANG: The basics
This is a company that has purchased, partnered with, and is actively selling the products of, well, a LOT of brands, some that they started, and some that they white label, and all of which they supply to end retailers.
They do vape pens and disposables, concentrates, edibles, cartridges, beverages, flower… 'Big deal,' I can hear you saying, 'there are others doing that.' For the most part, you'd be right.
But few have a 2,600+ store reach across 10 US states, and four continents.
Few are partnered up with companies like Greenlane, North America's most expansive dispensary distribution company, or Green House Seed Company which dominates in Europe on the seed and strain front, or (you may have heard of these guys) Canopy Growth. (WEED.T). Canopy, Green House and SLANG are also the co-owners of Agripharm.
From The Globe and Mail:
"One of Canopy's moves became clear at the end of November when Slang Worldwide Inc., a company run by long-time Canopy allies, filed a preliminary prospectus to list on the Canadian Securities Exchange. Toronto-based Slang is in the process of acquiring a handful of U.S. assets, including Denver-based Organa Brands, owner of several popular vaporizer, edibles and concentrate brands.

What the prospectus shows is that Canopy owns conditional warrants in Slang, giving it the ability to acquire 20 per cent of the company, "following the day that cannabis and cannabis-related products are legalized under applicable federal laws in the United States."

Exercising these warrants would give Canopy instant exposure to established marijuana-related brands in several U.S. states. (It had previously licensed Organa Brands' intellectual property for Canada.) More importantly, "what it becomes is shelf space [in U.S. dispensaries], it becomes channel access," said Bruce Linton, co-chief executive of Canopy.
Few have built brands with an active, dedicated customer base the way SLANG has. The company's customers have spent over CAD$250 million on SLANG products at dispensaries in the US since 2014.
These brands include Bakked, the #1 selling distillate brand in California, Massachusetts, Maine and Vermont, and top three in Colorado and Arizona, and District Edibles, a top three edibles seller in California and Nevada.
We've all heard the expression 'voting with your dollar,' but if SLANG was running for office the Democratic National Committee would be asking for its donor list.
They've won 40+ Cannabis Cups, they have over a million followers on social media, and they're just getting started; SLANG raised $66 million in its go public financing – despite only seeking $50 million – at a time when EVERYONE is hurting on the finance front.
Ya wanna know why they raked in $66 million and others are struggling to get $5 million?
BECAUSE REVENUE, LADIES
These guys aren't building something that they hope will get big some day, they've already built it. They're not telling you about plans to get a fat pipe distribution network that spans the world, they're already using one.
They're not paying some New York design firm half a million to design a logo and test it in seven markets with the hope they'll resonate with customers – they're already rocking an murderer's row of brands that are out there in the market, recognizable and accruing repeat sales.
If the modern cannabis world were the dark ages, SLANG would be Genghis Khan, waltzing through sector after sector, taking whatever they want, and dropping their DNA across half the globe.
Okay, that imagery may need a rethink. Let's move on.
HOW DOES SLANG DO ITS WORK?
I can't explain it any better than the company itself has in the following graphic. They are, quite simply, placed right where the mark-up is, and not where the commoditization and heavy capital spend is.
In the words of Uncle Jesse, "Have mercy!"
BRANDING IS COMPLICATED
Indeed. In fact, when someone tells you they have great brands, you should pretty much nod and smile and assume they're talking out of their ass, because it's easy to start a brand. What's really damn hard is building one out.
I can give you a brand right now, for free. Here we go: 'Sasquanch Cannabis.' Boom. Done. Canadian as heck, subtle tie-in to nostalgic popular culture reference that we won't name because you're not allowed to, forest theme, sasquatch head logo. Now let's go get us a shell and raise $5M, bois.
That was easy. But then what?
Well, if you're random Shell Company X in Canada, you have to get a Health Canada license to acquire weed, or at least lie that one is on the way.
In the US, you have to find weed that isn't dripping in pesticide, which is not as easy as you think, then find dispensaries that'll take it. Also not as easy as you'd think. Building a sales force is HARD. Building a logistics supply chain is HARD. Getting a transport license and building permits and municipal and state paperwork? HARD.
Now let's look at SLANG and what they do when they start a new brand. You ready?
First, they put the team together a la Nick Fury. SLANG has licensed its portfolio of brands to 14 separate cannabis-related businesses which handle both production and distribution.
This network may very well be the largest network of extract producers developing a single collection of branded products on the continent.
Then they make their new product to a mature market like Colorado, the de-facto proving grounds for American pot products. If it flies off of the shelf, the company expands distribution to other states.
If it doesn't perform, and sometimes the best of efforts, with the highest quality product, still result in a 'meh' from the public, they'll have a new one out in a month.
That's how O.penvape got into 10 states. It's how Bakked got into nine. District Edibles and Magic Buzz are in three states and that'll grow quickly.
That routine works. 90% of SLANG's income comes from products that aren't just pretty logos but quality consumer packaged goods, and sit in the top five sellers in the states they're sent to.
And when it comes to international distribution, that's where the Canopy partnership comes in, allowing them to sell product into Canada, and internationally through that company's distribution channels.
Here's the tale of the tape: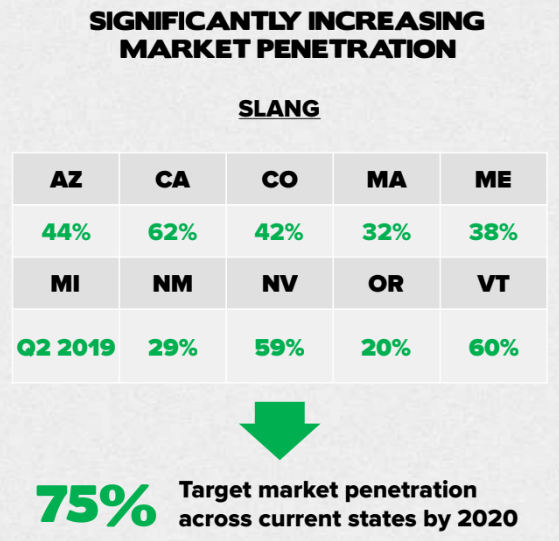 You're in, right? Me too. But you haven't even heard the best part yet
While there are execs aboard with experience at Virgin, Apple, and Marriott, and the initial business combo saw Organa and Canadian LP Agripharm join forces, the guys who run this ship are the guys who founded Mettrum, a top five Canadian LP until Canopy picked it up for over $400M in 2016.
Now, Mettrum is responsible for Spectrum, Canopy's flagship medical product. The guys at Mettrum, on the other hand, got that business going, raised the cash, delivered product, and got a fat exit.
And they're doing it again, only this time they're not the prey, they're the hunters, and they have a load of paper to go shopping with, both paper with dollar signs on it, and paper with shares on it.
My usual approach to cannabis company coverage, and it's something I'm famous (perhaps infamous) for is to find the negative thing about said company, to show you where the stuff they need to fix is.
In this instance, I'm honestly at a loss. I don't see this as a company with warehouses full of promise, or one that's going to run at a fat loss for years in the name of growth.
The company is currently EBITDA positive, with $11 million take home off $69M in revenue in 2018. The year earlier, the first year of operation, SLANG earned $7 million in EBITDA.
SLANG's revenue for Q3 2018 YTD was CAD$20.9M. It's worth noting, however, that this number isn't the whole story: The nearly $21M does not include the assets they have currently locked up in binding options agreements.
For example, the previously mentioned acquisition of Organa Brands was a multi-stage transaction. The non-plant-touching side of the business is captured within the prospectus while the plant-touching assets were secured through an options agreement.
This means, if exercised, SLANG's option agreement would benefit give them access to the revenue brought in by Organa's plant-touching assets, thereby beefing up SLANG's future financial statements.
These guys are, legitimately, doing everything I would hope a company I had invested in would do in the cannabis space, right now, right here, at this moment in time.
It's a pity that it's taken five years for someone to do it right.
But someone is doing it right. And judging by the $1.50 share price it's likely to IPO at, there's still a LOT of value to be had for early investors.
–Chris Parry
FULL  DISCLOSURE: Slang is an Equity.Guru marketing client, as are some other companies mentioned, including Chemesis, Plus Products, and iAnthus.