Blockchain Foundry (BCFN.C) moved to bolster its bottom line when the company announced an exclusive distribution deal with ARCHOS SA (JXR.EPA).
ARCHOS is a 25 year-old French consumer electronics pioneer that has pivoted to provide cryptocurrency wallets and blockchain-secured solutions.
A hardware cryptocurrency wallet is basically a purpose-built piece of hardware. It could be a phone, a usb stick or anything that securely generates and stores the keys to your online bag of Bitcoins.
Hardware-based key storage keeps your personal data offline, away from prying eyes and the computer viruses which typically plague software wallets.
BCF has agreed to market ARCHOS' SAFE-T Touch line of products. The SAFE-T Touch was designed to be a turnkey solution that would allow you to buy, trade and store crypto all on your phone.
These hand-held banks are the future of money according to Jag Sidhu, Blockchain Foundry CTO:
"Fiat currency has no answer to cryptocurrency, it's just more efficient. It's borderless and it's trustless. Global adoption is an eventuality."
As such, Mordor Intelligence, an internationally-based market research firm, estimated the global hardware wallet market was worth USD$94.61 million in 2017 and would climb at 24.93 percent CAGR to hit USD$391.64 million by 2023.
According to the news release, the exclusive agreement covers all of North America. BCF will grant ARCHOS 3.7 million common shares, which equates to approximately five percent of BCF's outstanding shares.
ARCHOS may also have the right to cash or share-based consideration of up to 10 percent of gross revenue earned by BCF from ARCHOS products in 2019. All of this is dependent on milestones including the installation of BCF as ARCHOS' preferred partner in blockchain development.
Blockchain Foundry CEO, Dan Wasyluk, explained the reasoning behind the strategic partnership:
"The BCF team has been developing products and services for blockchain since 2012. We are impressed by ARCHOS' strategy and believe that its developments are setting new standards for hardware wallets, which are key to building a secure blockchain environment. BCF's dedicated sales and marketing team will be actively targeting North American cryptocurrency asset holders and the cryptocurrency community in order to promote these innovative products and associated services platforms."
Loic Poirier, ARCHOS CEO, discussed his company's incentive for getting involved with Blockchain Foundry:
"This partnership is a key milestone for ARCHOS in the development of its Blockchain solutions. BCF's track-record in Blockchain technology is impressive, including the creation of the Syscoin Platform and important B2B blockchain services developments like Blockmarket Desktop 3.0., a decentralized marketplace and cryptocurrency wallet. The team is highly efficient, user centric and motivated. They are recognized in the crypto community and are long term advocates of the benefits of hardware wallets and their vast use cases. Becoming a shareholder of BCF is important as it structures the partnership for the long term."
This deal comes after a hard year for both Blockchain Foundry and ARCHOS SA. The economic climate in Europe is brutal at the moment and the markets are showing it.
ARCHOS has seen its value shredded steadily over the last five years as the company struggles to compete in a vicious smartphone and tablet sector.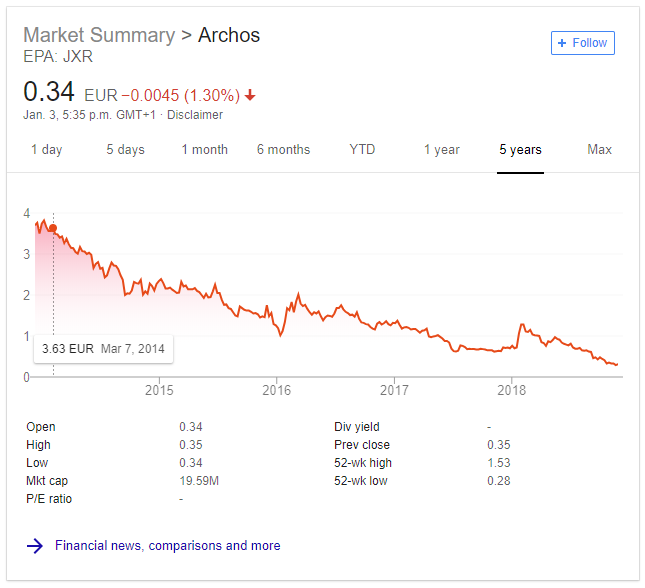 Despite this, ARCHOS still sits at number two for tablet manufacturing in the French market and is reorganizing to service four distinct verticals:
Mobile Solutions – B to B and B to C
Smart Homes and IoT
Urban connectivity solutions
Blockchain security
Cryptocurrency is in the toilet, for good reason, and the blockchain market is in shambles because of it. Big trouble for startups, who need capital to survive while they build themselves and their intellectual properties into a growing concern.
So how do you stay alive long enough to develop when financing three cent paper isn't an option?
Find any deal worth making that will keep money coming through the door and show investors you're not just sitting on your hands waiting for the world to collapse.
So what does this mean for Blockchain Foundry investors?
It's too early to tell how this year will pan out for blockchain in terms of implementation and commercialization, so there's no way to definitively say whether the ARCHOS SA deal is brilliant or a short-term fix.
However, despite the downsides to this agreement, including the dilutive nature of the transaction, the ARCHOS deal may still have some material worth to it.
After all, Blockchain Foundry certainly has the brainpower for the sector. If the ARCHOS distribution agreement manages to keep BCF's coffers from running dry, the cryptographic solution provider might just survive the trough of disillusionment and become a substantial player in the distributed ledger technology market.
–Gaalen Engen
FULL DISCLOSURE: Blockchain Foundry is a Equity.Guru marketing client.