Quadron Cannatech (QCC.C) announced the concluded the sale of a Boss CO2 extraction system to a licensed facility in Ontario.
The BOSS CO2 extraction systems operates on proprietary max flow technology with advanced thermodynamics, automated features and exclusive plug-and-play design.
As the marijuana marketplace shifts its gaze from flower-based products to ancillary product chains like edibles, vape pens and capsules, cannabis oil extraction units will play an ever increasing role in the sector and may even grow to dominate it.
As such, Quadron is on the move, literally. Over the last month, company representatives have traveled the continent putting the company in front of potential customers and investors.
For instance, the company showcased its equipment and turnkey extraction facility set-ups at the MJBiz conference in Las Vegas for three days in November.
Rosy Mondin, Quadron's CEO, was a person of great interest on the lecture circuit this year, having attended and spoken at  WECann2018 in Ontario, New Green Frontier in Toronto, and two industry conferences in Vancouver.
Mondin was also celebrated for her work and received the inaugural "Woman in Weed – Trailblazer" award at the fifth annual Canadian Cannabis Industry Awards held in Toronto on Nov. 29, 2018.
Women who shape the legal cannabis market landscape
During her acceptance speech, the Financial Post reported Mondin asked the women working in cannabis in the room to stand up and be recognized for their work.
According to the 2018 Diversity Disclosures Practices Report only 15.8 percent of executive officers for all disclosing companies on the TSX were women, versus 17.5 percent for S&P/TSX 60 companies. Those numbers separate even further when it comes to board appointments.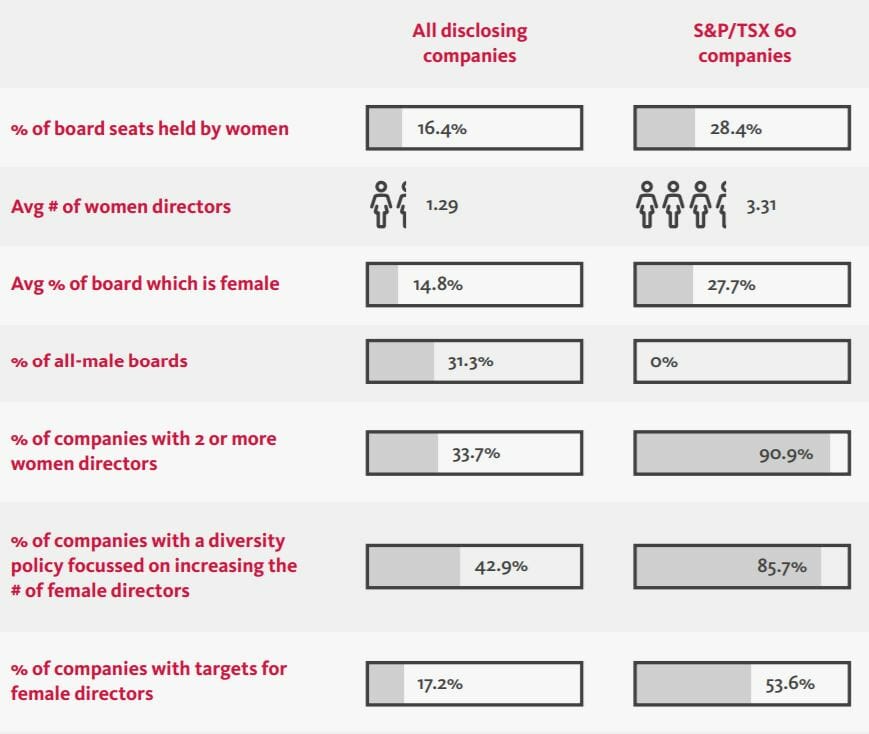 It's interesting to note that larger companies are leading the way in gender parity, but the numbers are still disproportionately low.
Cannabis fares better for women in leadership roles
According to a 2017 Marijuana Business Daily reader survey, women account for 27 percent of all executives across the cannabis market.
The report also showed women controlled more than 40 percent of ancillary businesses servicing the cultivation and distribution of cannabis.
Mondin's leadership of Cannatech is a prime example of this empowering trend. The company's investment deck lists her as a 20-plus year veteran of business, entrepreneurship and law. Mondin co-founded Soma Labs in 2013 and turned her gaze toward cannabis a year later. 
Since then, on top of becoming CEO and director of Quadron, Mondin founded the Cannabis Trade Alliance of Canada and acts as executive director for the advocate group.
She was also brought on as an advisory board member to the Canadian Association of Medical Cannabis Dispensaries.
Mondin's deep experience and connection to the cannabis sector bodes well for her efforts at Quadron and today's announcement builds on a string of sales this year, starting back in February when the company announced it had initiated the sale of next generation custom cartridges and vape pen consumption devices.
Mondin's continued contribution to Quadron
Quadron had a good 2018, reporting a 972 percent increase in revenue year-over-year back in September. In a piece covering Quadron's press release, Equity Guru's own Lukas Kane summed up how readers should measure Quadron's revenue announcement and its state of business.
Should we be impressed with Quadron's 972% yearly revenue increase?

Probably.

Should we be concerned, that after 6 months as a public company, QCC is not yet turning a profit?

Probably not.
The year ahead
Regardless, the entire cannabis sector is getting a good beating as the market corrects and tax loss selling hits its peak, and as 2019 queues itself up, Mondin and every other executive in the marijuana market will have their work cut out for them.
–Gaalen Engen
FULL DISCLOSURE: Quadron Cannatech is an Equity.Guru marketing client and we own stock in the company.