Gold has asserted itself in recent sessions, popping its head above the $1250.00 level.
This zone of resistance – the level between $1240 and $1250 – will be watched closely over the next few sessions. It'll be watched by a whole universe of traders. Another weekly close above $1250 will increase the odds that it will continue carving out higher ground.
It makes sense that gold is showing some attitude, here, now – safe haven status 'n all. General equity investors are currently mired in a world of hurt. The SPX (S&P 500) chart looks like a dogs breakfast…
On the other hand, this chart of the GDX, an ETF representing the world's largest gold producers, is bucking the general equities trend. It appears to want to go higher, up nearly 6% on the week…
The GDXJ – GDX's younger cousin representing a portfolio of smaller gold and silver mining shares – is also poking its head out of the tumult, looking to stake its claim on higher ground…
With gold showing strength and year-end tax loss selling drawing to a close, there may be an opportunity to scoop up some serious bargains over the next few sessions.
A handful of junior gold co's for your consideration:
Aben Resources' (ABN.V) flagship project is its 23,000 hectare FORREST KERR GOLD PROJECT located in the heart the GOLDEN TRIANGLE of northwestern British Columbia. The region is the host to a number of significant mineral deposits including: Pretium (Brucejack), Eskay Creek, Snip, Galore Creek, Copper Canyon, Schaft Creek, KSM, Granduc, and Red Chris.
A final round of drill hole assays are due to be released from Forrest Kerr later this month or early next year.
Aben also holds geologically prospective ground in the Yukon at its 18,314 acre 100% owned Justin Gold Project. Justin sits adjacent to Golden Predator's 3 Aces project.
The company's option to earn an 80% stake in the Chico Gold Project is also worthy of your due diligence. Chico is located 40 kilometers south of SSR Mining's Seabee / Santoy mine complex in Saskatchewan. It's a project which should see a fair amount of exploration activity beginning early in the New Year.
Greater insight into this multi-project ExplorerCo can be acquired via the following link…
Read: Aben Resources (ABN.V) extends mineralized envelope at North Boundary – updates Justin project
Cabral Gold (CBR.V) holds a substantial and strategic land position in the Tapajós district of northern Brazil.
The company's Cuiu Cuiu project – the largest of the historical gold camps in the Tapajós region – is about to probed with the drill bit.
After cashing itself up with a strategic investor, Cabral President, and CEO, Alan Carter stated:
"We are extremely pleased to welcome Dundee as a strategic investor in our Company and we look forward to the forthcoming drill program at the Cuiú Cuiú project which is planned for January 2019."
The following link offers greater detail on the subject…
Read: Cabral Gold (CBR.V) treasury stoked, drill targets prioritized, locked and loaded
Nexus Gold (NXS.V) has laid claim to over 664-square kilometers of highly prospective ground along proven gold belts in Burkina Faso, West Africa.
The company's project portfolio includes…
Bouboulou – 38-square kilometers comprising no less than five established gold zones contained within three separate 5-kilometer long gold trends. Over 60 holes have been drilled to date demonstrating widespread mineralization.
Rakounga – this 250-square kilometer concession ties in neatly with the Bouboulou concession. The mineralized footprint between the two properties exceeds 15 kilometers in length. Within the eight known gold zones along this 15-kilometer trend, three have been tested with the drill bit. Drilling at the Koaltenga zone has recently produced lengthy gold intercepts, several with higher-grade intervals.
Niangouela – This concession is a 178-square kilometer project featuring high-grade gold occurring in and around a primary quartz vein and associated shear zone spanning approximately one kilometer in length.
Dakouli 2 – Just to the south of Niangouela, Dakouli 2 is located on the Boromo-Goren Greenstone Belt. Significantly, the project is bisected by the Sabce shear zone, a major structural fault which trends southwest-northeast and bisects the entire length of the property. Sabce is the dominant geological feature underlying Nordgold's 3 million+ ounce Bissa deposit 20 kilometers to the northeast.
The link below offers our most recent coverage on Nexus…
Read: Market operators and a new high-grade acquisition for Nexus Gold (NXS.V)
Rise Gold (RISE.CN) owns the past-producing Idaho-Maryland Gold Mine located near Grass Valley, California USA.
Idaho-Maryland produced a total of 2,414,000 ounces of gold with an average mill head grade of 0.50 oz's per ton (17 g/t). Prior to being shut down by the U.S. government in 1942, Idaho-Maryland was producing up to 129,000 oz gold per year.
The company's property is steeped in U.S. mining history. The following YouTube link brings the properties past, as well as its untapped high-grade potential, back into the light…
Of interest, Yamana Gold (YRI.TSX) recently completed a $1.75 million strategic initial investment in RISE.
Golden Arrow (GRG.V) is more of a silver and base metal company, though they are on the hunt for gold too. The company's flagship silver/lead/zinc Chinchillas project is located in Jujuy province, Argentina.
We covered the company's prospects earlier in the year as it was advancing Chinchillas towards production along with partner SSR Mining.
Read: Golden Arrow's (GRG.V) silver lining: Win-wins in Argentina
On December 3rd, the company dropped the following piece of news…
Golden Arrow Reports Commercial Production Declared at the Chinchillas Mine
This is worthy of a mic drop. How many junior companies can you name that successfully achieved commercial production over the past half-dozen years or so?
GRG's share price is due for re-rating.
Blackrock Gold (BRC.V) was covered here recently in a piece titled 'Peak Gold and a classic setup in the mother of all mining jurisdictions.'
The company holds a large, 4,537 hectare chunk of geologically prospective ground strategically located near the confluence of the Carlin Trend and the Northern Nevada Rift of north-central Nevada.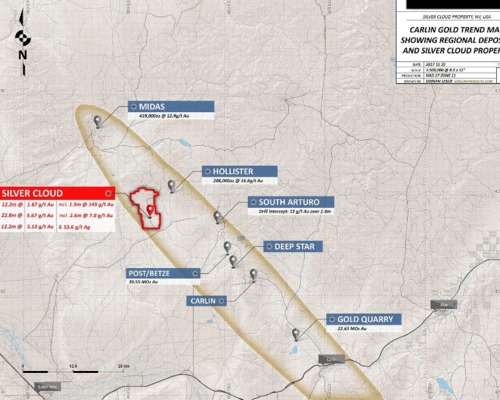 Blackrock's Silver Cloud Property is located 8 kilometers west of the Hollister Mine. Hollister has a Measured and Indicated resource of 208,000 ounces of gold at a grade of 16.6 g/t, and an Inferred resource of 74,000 ounces grading 14.4 g/t.
Hecla's Midas Mine lies only 20 kilometers to the north of Silver Cloud and sports a Measured and Indicated resource of 419,000 ounces of gold at a grade of 12.9 g/t, and an Inferred resource of 203,000 ounces grading 10.4g/t gold.
All eyes will be on Blackrock when it mobilizes a drill rig the property next year. If drilling is met with success, the company's days as an independent ExplorerCo could be numbered – resource starved predators lurk nearby.
Granada Gold's (GGM.V) flagship project is located in mining friendly Quebec. Note the deposits in the area. Some might call this elephant country…
Led by Frank J. Basa of Canada Cobalt Works fame, Granada sports a global resource of nearly 5 million ounces of gold (42.6M tonnes grading 1.12 g/t Au Measured and Indicated – 81.7M tonnes grading 1.31 g/t Au Inferred).
CEO Basa has plans for the project – he wants to process an initial 600,000 to 2,000,000 tonnes of material grading 4.5 g/t gold as per a Pre-Feasibility Study tabled back in 2014.
The link below offers a nice summary of the company's fundamentals…
Read: Granada (GGM.V) probes unexplored mineralized structures along strike
Lion One Metals (LIO.V) is on its way to becoming a high-grade gold producer at its 100% owned Tuvatu Project in the South Pacific Island nation of Fiji.
Fully permitted, Tuvatu sports an Indicated resource of 1,101,000 tonnes grading 8.46 g/t Au for 299,500 ounces of gold, and an Inferred resource of 1,506,000 tonnes grading 9.70 g/t Au for 468,000 ounces. Production is scheduled for 2020.
This is a unique, low Capex project with an after-tax IRR, based on a US$1200 gold price, of 52.3%.
Project financing has been arranged…
Lion One Announces US$40 Million Debt Financing for Construction of the Tuvatu Gold Project in Fiji
Aside from the near-term production potential, the company has tremendous exploration upside.
Final thoughts…
The above list is by no means exhaustive. It merely represents a cross-section of the buys I currently see as 2018 draws to a close.
Junior explorers – particularly those with ounces in the ground – have been known to catch a bid after tax-loss selling winds down.
Tic Toc…
END
~ ~ Dirk Diggler
Full disclosure: Aben, Cabral, and Nexus are Equity Guru clients. We have no current relationship with Rise, Golden Arrow, Blackrock, Granada, or Lion One.
Feature image courtesy of Smallcaps