If the world was inhabited exclusively by decent, well-adjusted people, Patriot One (PAT.V) (a weapons detection tech company) would be out of business.
Unfortunately, that is not the world we live in.
A September 12, 2018 Amnesty International Report made the remarkable assertion that "gun violence in the United States is a human rights crisis."
According to the Washington Post, "there are more than 393 million civilian-owned firearms in the United States – enough for every man, woman and child to own one and still have 67 million guns left over."
In 2016 (the last year of accurate statistics) over 38,000 people were killed and 116,000 suffered non-fatal injuries due to firearms in the United States.
Patriot One is a technology company that has developed "Cognitive Microwave Radar" which detects concealed weapons from parking lots to buildings.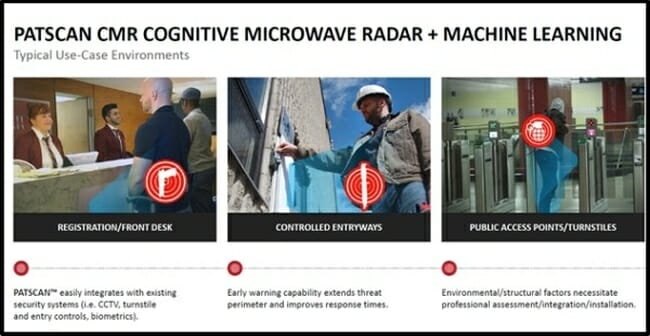 On November 21, 2018 Patriot One announced that is has closed a financing, raising $46 million.
18,400,000 units were offered at $2.50.  The syndicate of underwriters was led by Canaccord.
Each unit is comprised of one common share and one warrant. Each warrant (PAT.WT.C) entitles the holder to purchase another share of PAT at $3.25 – any time in the next two years.
Recently, numerous U.S. soft targets have been targeted by shooters: a grocery store in Kentucky, a synagogue in Pittsburgh, a yoga studio in Florida and a college bar in Thousand Oaks, California.
"Attacks on public spaces — locations where civilians work, dine, shop, and vacation — are tragic for the innocent lives lost," announced the U.S. Department of State.
"Restaurants, stadiums, and entertainment venues are designed to be open and accessible," according to the gov. post. "These types of attacks, which generally involve some combination of suicide bombers, gunmen or hostages."
The United States Department of Homeland Security defines the active shooter as "an individual actively engaged in killing or attempting to kill people in a confined and populated area."
"Most incidents occur at locations in which the killers find little impediment in pressing their attack," states Patriot One, "Locations are generally described as soft targets, that is, they carry limited security measures to protect members of the public."
Why aren't these locations protected? Cost and availability of effective technology are two main reasons.
According to New York City Police Department (NYPD) statistics, 46% of active shooter incidents are ended through the application of force by police or security; 40% end in the shooter's suicide, 14% of the time the shooter surrenders and, in less than 1% of cases, the violence ends with the attacker fleeing.
On October 24, 2018 Pat announced that it is partnering with Cisco Systems (CSCO.NASDAQ) on Cisco's global innovation program.
Cisco is a $206 billion company with 2017 revenues of $50 billion.  Its 75,000 employees operate in 165 countries around the world – from Algeria to Ukraine – developing communication and IT products.
We have been tracking PAT for two years, writing 24 articles including;
Recently, ABC affiliate KTNV Channel 13 Las Vegas, did a feature news piece on PAT's weapons-detection technology.
"After months of testing and development inside the Westgate Hotel and Casino, employees from Patriot 1 Technologies were busy Tuesday demonstrating several products aimed at helping police and security identify potential threats," stated KTNV.
According to PAT's deck, commercial roll-out is anticipated Q1, 2019.
Investors are realising that that PAT's technology is not dependent on an on-going parade of gun massacres.
PAT is exploring expanding their technology application to provide weapons detection protection for private home owners (it's always good to know who's packing).
PAT's "family concept" explodes the market for their technology from commercial – to retail.
"Our motto is also our goal," stated Patriot One CEO Martin Cronin in our first interview, "We aim to deter, detect and defend against random acts of senseless violence anywhere innocent people work, live, and play."
It is clear that once an Active Shooting event is underway nobody wins. The key is to short circuit the event through prevention technologies and security protocols.
The $46 million capital injection will be used to fund strategic initiatives, accelerate the deployment of technology and for general working capital purposes.
Full Disclosure:  Patriot One is an Equity Guru marketing client, and we own stock.