On November 15, 2018, The Green Organic Dutchman (TGOD.T) announced a supply partnership with Velvet Management for sales and distribution to provincial liquor and cannabis boards across Canada.
TGOD grows high quality, organic cannabis.  It has a funded capacity of 170,000 kg and is building 1.3 million sq. ft. of cultivation facilities in Ontario, Quebec and Jamaica.
A Google search of "Velvet Management" lead me to a Siberian modelling agency.
In the last year cannabis companies have partnered with chocolate makers, pop stars and pharmaceutical labs and blockchain companies – so the synergy between beautiful Russian women and premium organic weed – didn't seem that outrageous.
"Quality, but not quantity, is the main leitmotif of our daily work," stated Velvet Director Yulia Temporiti, "we always have the best choice."
Indeed – so does TGOD!
Eventually, I realised I was at the wrong Velvet Management.
Velvet Management – TGOD's partner – does not appear to have a website yet.  However, you can examine its DNA by tracking backwards from Velvet's parent company, Philippe Dandurand Wines.
Dandurand – formed in 1968 – is the largest wine importer/agent in Canada, booking $625 million of retail sales per year across 1,600 stores. That's about 4 million cases of wine. Dandurand has 115 employees and offices in Montreal, Toronto, Calgary and Vancouver.
Dandurand maintains relationships with "Canada's various alcohol monopolies".
"We work with you to develop a national business plan tailored to your needs and adapted for each and every Canadian province," states Dandurand, "In the provinces where law permits, we manage inventory in collaboration with internationally renowned logistics partners."
TGOD is committed to best-in-class distribution for its premium, certified organic cannabis. Sales and relationships with provincial cannabis and liquor boards is a critical aspect to TGOD's success. Through the partnership with Velvet, TGOD has secured a strong entry point with every provincial liquor and cannabis board across Canada."
As Equity Guru's Chris Parry pointed out, cannabis companies "need experts in bottling, branding, sales, operations, logistics. Not only has TGOD hired those people, they've also got folks from Procter and Gamble, Maple Leaf Foods, Xyience, Sun-Rype, Bedrocan, Canopy, Mega-Blox and Sulvaris Fertilizer."
Now TGOD has a big distribution dance partner.
Dandurand does not sell shit wine.
Velvet Management will not be selling skunk weed.
Leading up to Canada's adult-use market, Dandurand established Velvet Management to focus on the sales and marketing of cannabis brands. TGOD is the first cannabis partner and will be exclusive in the certified organic segment.
"When we began the search for a distribution partner, we wanted a partner with significant distribution capabilities and years of excellence in selling premium alcohol and wine," stated Csaba Reider, President of TGOD, "In Velvet Management we have found that partner."
"Velvet will be a powerful partner with their knowledge of the industry, extensive contacts, and second to none distribution capabilities," stated Mike Gibbons, VP of Sales, "We look forward seeing the tremendous success achieved by Dandurand in the wine and alcohol industry translate to the cannabis sector."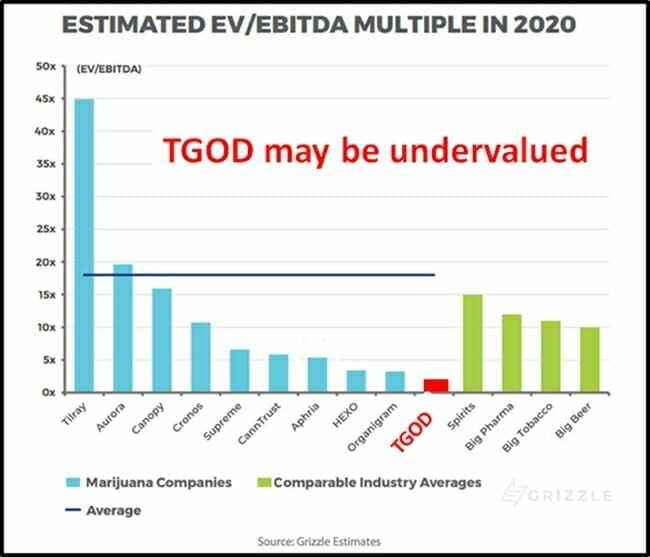 On November 13, 2018 TGOD reported Q3, 2018 fiscal and operational results.
Deployed $33 million on construction facilities in Hamilton, Ontario and Valleyfield, Quebec
Commercial production in both facilities anticipated the first half of 2019.
In Hamilton, developing five new strains for medical and recreational markets
The most recent commercial crop harvested will be allocated to TGOD's select "Grower's Circle" in January 2019.
Filed appeal with Hamilton planning department regarding a zoning amendment required to produce cannabis in its new 123,000sq ft hybrid facility.
Secured approvals from the City's Agricultural and Rural Affairs Committee, the Planning Committee, the Ontario Federation of Agriculture.
Hamilton's 2 existing facilities (total 27,000sq ft), already zoned to produce medical cannabis.
Invested in Jamaica, through Epican Medicinals. Existing retail sales in its Kingston store.  Planned expansion into four more retail stores. Expanding production capacity to 14,000 kgs.
HemPoland booked sales of CBD oil and other industrial hemp products across Europe
Anticipates 170,000 kgs of annual cannabis capacity across Canada and Jamaica.
Has developed both THC and CBD beverage formulations
JV'd with one of largest pharmaceutical distributors in Mexico.
Radically expanded operations, https://e4njohordzs.exactdn.com/wp-content/uploads/2021/10/tnw8sVO3j-2.pngistration and marketing infrastructure.
Loss for the 3-months ended September 30, 2018 of $11.3 million.
Loss for 9-months ended September 30, 2018 $27.1 million.
Both losses are in line with projected budgets.
"Our focus is now on delivering medical and recreational sales in Canada and internationally," stated Sean Bovingdon, TGOD CFO, "We expect to drive significant value for shareholders in 2019."
With Velvet Management – TGOD will have reps in every Canadian province and territory.  One in ten bottles of imported wine in Canada is sold by the parent company, Dandurand.
The market reacted warmly to the TGOD-Velvet partnership, TGOD stock is up 6% to $3.40 by mid-morning trading.
Full Disclosure:  TGOD is an Equity Guru marketing client, and we own stock.