Closely followed Mexican oil and gas developer International Frontier (IFR.V) released a production and development update on November 1st.
First, a quick review…
As you may recall from a host of Equity Guru articles relating to the subject, the company boasts first-mover status in Mexico's energy reform where it's aggressively pursuing production growth on an onshore block with significant potential.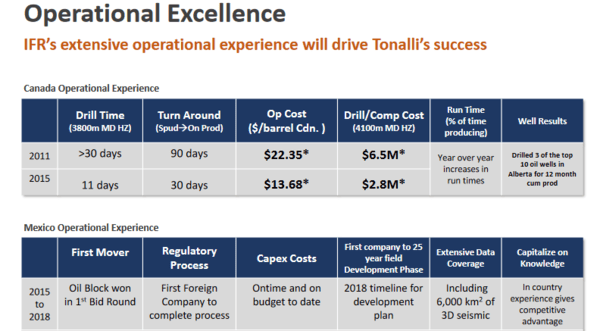 The names…
The name of this onshore block is Tecolutla, a vastly undeveloped mature field located on the Tampico-Misantla Basin, a prospective onshore 'Super Basin' with huge unconventional oil and gas potential (source: IHS Markit).
The name of IFR's joint venture partner is Grupo IDESA, one of the largest petrochemical companies operating in Mexico today.
The name given to the joint venture between IFR and Grupo Idesa is Tonalli Energia, a 50/50 arrangement.
It's important to note that the company recently entered into a share option agreement with its JV partner, Grupo IDESA. This agreement allows IFR to purchase all of IDESA's outstanding shares in the joint venture company, Tonalli Energia.
The details of this share option agreement are spelled out in an IFR news release dated September 26th.
For a deeper probe into the evolution of this aggressive first-mover, the following Equity Guru articles will help bring you up to speed…
(the Equity Guru scribes responsible for the above coverage: Chris Parry, Lukas Kane, and yours truly)
The November 1st news…
IFR Provides Tecolutla Production Update – New Horizontal Set to Drill
TEC-10…
As of October 31st, TEC-10 has produced for forty-two consecutive days from 2.5 meters of perforation with the following results:
As of October 31st, the well flowed for the previous 24 hours at an estimated rate averaging 181 barrels of crude oil (320 barrels of total fluid – 57% crude oil by volume) at 741 psi wellhead flowing pressure.
In October, the well produced an average of approximately 181 barrels of crude oil per day (312 barrels of total fluid per day – 58% crude oil by volume) at an average 873 psi wellhead flowing pressure.
Cumulative tested production from September 20th, up to and including October 31st, was 160 barrels of crude oil per day (302 barrels of total fluid per day – 52% crude oil by volume) at an average 813 psi wellhead flowing pressure.
These rates compare well with the improved flow rates highlighted in an August 7th news release.
Commenting on this updated flow rate data, Steve Hanson, President, and CEO of IFR stated…
"The flow data and high deliverability of liquids at TEC-10 continues to increase our confidence in the potential of this block. All Tecolutla oil sales have benefited from a strong commodity price in Mexico, and will provide ongoing cash flow for the field's development."
On the subject of oil sales and strong commodity prices in Mexico, it's important to note that Mexico's light oil demands a price premium to WTI (West Texas Intermediate).
TEC-11…
TEC-11, the company's first horizontal well, will be spud on November 12th. This first lateral well could mark the beginning of multi-well drilling program for the Tecolutla block. Detailed information gathered from the TEC- 10 well – permeability, porosity, and pressure data – indicate that the reef at Tecolutla is capable of high deliverability.
The crew…
The ability to execute with efficiency: it's often the difference between failure and success.
IFR's team, led by CEO Hanson, appears to be hitting its mark on all fronts.
On the company's investor deck there's a telling slide which points to management expertise in the sector…
Note the efficiencies demonstrated by this crew while operating in Canada between 2011 and 2015. Impressive.
Further potential for value creation…
The company is not content sitting on one asset. IFR is registered and is evaluating bid round 3.2 slated to hit the auction block in February of 2019.
The company will also be looking at a number of PEMEX farm-out opportunities highlighted in an October 24th news release…
International Frontier Resources Corporation is pleased to announce that its joint venture ("JV") Tonalli Energia ("Tonalli") has entered into a joint bidding agreement with Servicios de Extraccion Petrolera Lifting de Mexico S.A. de C.V. ("Lifting MX"), a subsidiary of leading oil and gas services provider Cotemar, S.A. de C.V. Under the terms of the agreement, the two companies will cooperate in evaluating and participating in the upcoming Petroleos Mexicanos ("PEMEX") farm-out bid rounds, scheduled for February 14, 2019.
This agreement with Lifting MX targets certain areas in southeastern Mexico where PEMEX is offering seven farm-out license contracts in the states of Veracruz, Chiapas, and Tabasco.
Commenting on this new partnership, CEO Hanson stated…
"This signing of this strategic agreement brings together two companies with demonstrated onshore Mexico experience. Tonalli has worked diligently in selecting a partner that has achieved significant commercial success in Mexico."
The company continues to pursue additional joint venture opportunities.
Final thoughts…
IFR has 151 million shares outstanding and a very modest market-cap of approx $21.9M. Management has significant skin in the game holding roughly 32% of those outstanding shares.
As noted in a recent Equity Guru article, the company is gaining ground and may find a whole new gear with TEC-11, its first horizontal well on its Tecolutla block in Mexico.
Stay tuned as the newsflow should be steady from here on.
END
~ ~ Dirk Diggler
Disclaimer: International Frontier Resources is an Equity Guru client. We own stock.