Licensed producer VIVO Cannabis (VIVO.V) is a serious player in the Canadian cannabis sector which isn't getting the attention it deserves.
The company's $300 million valuation belies the strategic value of its acquisitions and the multiple provincial supply deals it has signed this year.
VIVO Cannabis refresher

The company changed its name from ABcann Medical in August
VIVO Cannabis generated over $1 million in revenue during Q2
Subsidiary Canna Farms generated unaudited revenue of $9.4 million in the last year
Multiple provincial supply deals signed
Approximately $90 million in cash on-hand
VIVO Cannabis is all about medical. Besides simply offering the highest profit margins, VIVO Cannabis has devoted itself to medical cannabis because the scientific community is starting to realize its viability as a mainstream medical treatment.
VIVO Cannabis will be taking its medical line, Beacon Medical, on the road this fall as a means of educating doctors, nurses and researchers about the plant's potential.
This argument for designating cannabis as a form medicine has been continuously bolstered by mounting–albeit slow–acceptance from government bodies and mainstream institutions.
In June, we covered the US Food and Drug Administration's landmark decision to approve a cannabis-derived seizure drug for the first time.
This is big news for publicly traded companies like Vivo Cannabis (VIVO.V), (formerly ABcann Medical) that has staked ground in the medical and wellness markets for cannabis related products.

-EG Media's Lukas Kane
VIVO Cannabis has three brands:
 Beacon Medical: A pharma-grade, superior cannabis product which aims to deliver the consistency expected of modern medicine. Beacon Medical's products can be sorted by their predominant cannabinoids to tailor them to a patient's particular needs.
Fireside Cannabis: Not intending to leave recreational users by the wayside, VIVO Cannabis has developed a premium-quality brand of craft cannabis with varying potencies for any user.
Lumina Wellness: VIVO Cannabis' personal wellness brand currently consists of cannabis oils, but will soon include a line of cannabis-infused lotions, aromatherapy and athletic recovery products in the near future.
VIVO maneuvers into three provinces
In August, Equity Guru covered the initial 26 LPs selected to supply cannabis to Canada's largest province, Ontario.
VIVO Cannabis made it onto that list alongside industry giants such as Canopy Growth (WEED.T) and Aurora (ACB.T).
The company signed on to provide 16 unique SKUs for the adult-use recreational market.
VIVO Cannabis also signed a supply deal with Alberta earlier this year, while their wholly-owned subsidiary Canna Farms has inked its own supply deal with BC.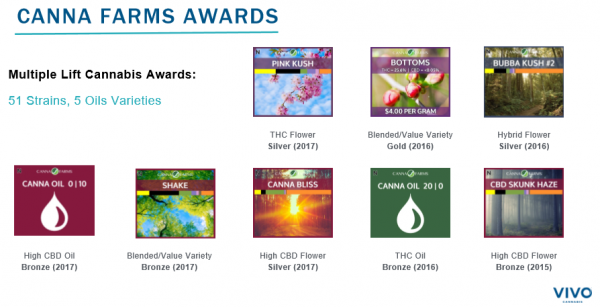 The acquisition of the award-winning Canna Farms brought 15,000 new medical patients and immediate revenue to VIVO Cannabis.
The company generated "net revenue and adjusted EBITDA of $9.4 million and $4.3 million, respectively, for the twelve months ending June 30, 2018."
Equity Guru believed this acquisition was a great move at the time and we still do.
The company is generating revenue that is best in its class. As near as we can tell, this company grows its own weed and sells it all directly to patients. If that is the case, and all of this revenue comes from patient sales, they generated $626 per patient in the trailing twelve months; a believable figure. This appears to have been achieved through vertical integration; growing their own product and selling it directly to consumer.

-Braden Maccke
Key partnerships
VIVO Cannabis partnered with Montreal-based Pharmascience last month to create high-grade, easy-to-use medical cannabis products.
To once again quote Lukas Kane, Pharmascience is not small potatoes. The company has 1,500 employees and product distribution in more than 60 countries. Roughly 45 million prescriptions in Canada are filled with Pharmascience products each year.
Pharmascience manufactures and markets generic, over-the-counter, and behind-the-counter products, as well as FDA approved Canadian-made injectables – covering 300 product families in 20 different dosage forms.

-Lukas Kane
With the backing of a well-known pharmaceutical company to round out their medical expertise and product formulation, this partnership will strengthen VIVO Cannabis' push into the Canadian medical cannabis market which is estimated to be worth $2 billion by 2020.
In October, VIVO Cannabis also made a $5 million investment in Westleaf Cannabis. This followed the signing of a supply deal with Green Hedge Education & Distribution (GHED) in September.
VIVO Cannabis will supply cannabis to both companies while the $5 million will assist GHED in the establishment of dispensaries which will carry VIVO Cannabis products nationwide.
Meanwhile, one of VIVO Cannabis' subsidiaries, Harvest Medicine is making moves of its own. The company operates a network of medical cannabis clinics which serve over 15,000 patients.
When Harvest Medicine acquired Trauma Healing Centres from Organigram Holdings (OGI.V) in October, the acquisition brought Harvest Medicine's patient count to above 22,000.
Harvest Medicine also released a mobile telemedicine app this week which connects prospective patients with doctors who can prescribe them cannabis.
Since accessing a cannabis-friendly doctor may be difficult in rural areas or for the elderly, the online consultation process allows people in need of medical cannabis to bypass a significant roadblock to their treatment.
The app educates users on the multitude of available cannabis treatments and even contains hyper-specialized information such as LP-specific dosage charts, a first within the industry.
Shekhar Parmar, CEO of Harvest Medicine, said the app was just one part of his company's portfolio which has attracted the interest of insurance companies and pharmacy chains.
Parmar said he has been having encouraging conversations with Canadian insurance companies in particular about potentially covering medical cannabis through their health plans
What interested these companies was Harvest Medicine's meticulous approach to educating patients instead of simply pushing product on them, according to Parmar.
The nature of some of these discussions has been: 'because we trust your approach we would cover your patients but not everybody's.' That's the hook for us.

–Shekhar Parmar
Trajectory and comparables
The crux of writing about a company's trajectory and comparables is finding companies to which they can, naturally, be compared.
As previously stated, VIVO Cannabis has a $300 million market cap, provincial supply deals and numerous partnerships which increase its reach.
To compare it to Hydropothecary (HEXO.T), a company valued at over $1.2 billion might seem odd–it's hard to make a flattering comparison between two companies in two vastly different weight classes–but Hydropothecary can serve as an indicator of where VIVO Cannabis might be someday.
Both companies target the medical market and both have established themselves in multiple provinces through their liquor boards, though one is only a fraction of the other in terms of size.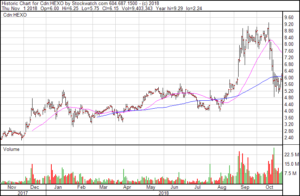 Hydropothecary has 310,000 square feet of cultivation space with an annual production capacity of 25,000 kilograms per year.
VIVO Cannabis operates a 14,500 square foot facility in Ontario while Canna Farms owns a 20,000 square foot facility in BC for a total of 4,200 kilograms per year.
VIVO Cannabis is producing nearly a fifth of Hydropothecary's capacity despite having roughly one tenth of its cultivation space.
Both companies have international ambitions and both are making advancements on that front. The only difference is it is much easier to double the valuation of a $300 million company than a $1.2 billion company.
At $1.11 per share, we think VIVO Cannabis is an undervalued, under-discussed company.
Full disclosure: VIVO Cannabis is an Equity Guru marketing client.