What began as a celebration in Canada's streets has given way to frustration as dispensaries nationwide are experiencing a cannabis shortage just days after cannabis was legalized.
Non-medical cannabis users hoping to find their favourite strains fully stocked on Provincial liquor board websites and in stores have been sorely disappointed: the country is in the midst of a shortage.
News of the anticipated scarcity made headlines in September and again earlier this month as Canadian cannabis connoisseurs counted down the days to October 17.
With less than a week before legalization, the C.D. Howe Institute, a Canadian think tank, predicted there would be a short-term shortage of recreational cannabis nationwide after calculating the output of Canadian LPs and contrasting it against expected demand post-legalization.
In their report, Anindya Sen and Rosalie Wyonch wrote that "at current production levels, legal supply will meet only roughly 30 percent to 60 percent of total demand."
Last week, CTV News reported that dispensaries nationwide are receiving far less cannabis than they expected from licensed producers (LPs), an issue Manitoba Liquor & Lotteries doesn't expect to change for at least six months.
The legal cannabis market in Canada is sold out? The black market is still flooded.

— Jim Fannon 🇨🇦 (@jimfannon) October 20, 2018
Sen and Wyonch expect that, due to an insufficient supply from legal channels, the black market will become the de-facto supplier of cannabis to Canadians who cannot find it online or in the few government-run stores open today.
Experts who study and work within the industry believe the shortage has two main causes.
Government regulation
Adam Pankratz is an adjunct professor at the University of British Columbia's Sauder School of Business. He said that, although supply chain issues are to be expected in a nascent industry, the shortage was exacerbated by overly restrictive regulations on LPs.
Pankratz cited Colorado's cannabis industry as an example of the stifling effect multitudinous regulations can have on cannabis companies.
"When you look at Colorado, regulation is an issue that dogs them. I was just reading that Colorado has had 141 regulatory changes in the last year," Pankratz said.
"One company, to keep up with that, employs 45 people in compliance, which is certainly a drag on efficiency and productivity when you're constantly trying to get clarity on what is appropriate."
The UBC professor said he was disappointed Canada elected to form state monopolies like what was done through Provincial liquor stores.
"I thought cannabis was an opportunity to move away from that. You can still generate the revenue for taxpayers that you want but you don't need to be standing in the middle," Pankratz said.
David Lynn has an intimate understanding of Canada's cannabis market as the COO of GTEC Holdings (GTEC.V). Based in Kelowna, B.C., the company has eight cannabis-related subsidiaries to its name which cover every facet of the market from seed to sale.
GTEC Holdings is currently awaiting a sales license inspection for its subsidiary, Alberta Craft Cannabis. Because of this, Lynn said his company was the perfect example of how an at-times unpredictable regulatory process can slow down a LPs development and contribute to shortages.
"We have contacted Health Canada and we will have an inspection in order to secure a sales license, but we won't control the timelines for that, how quickly they would come and how quickly we would get our sales license after that visit takes place," Lynn said.
The process of obtaining the necessary licensing is costly, time-consuming and expensive, according to industry experts. Lengthy correspondences with Health Canada, a department still swamped with applications and other duties, can cause significant delays in bringing supply on-stream.
Lynn said he was hesitant to be overly critical of the Canadian government's position on regulation. As the first G7 country to legalize recreational cannabis, he said the government's venture into uncharted territory showed courage.
Erring on the side of caution was understandable, according to Lynn. Besides creating an above-board, and taxable, commodity, the government had other policy objectives such as preventing the black market from infiltrating LPs.
Ironically, regulations placed on LPs may a be a boon to black market cannabis sellers, at least in the short-term, who can supply users who are faced with 'sold out' signs on government websites, according to the report from the C.D. Howe Institute.
"I think back to the first job I took out of university was in the alcohol industry, I worked at Molson Coors (TPX.B)," Lynn said.
"If you look at alcohol which, objectively speaking, is a harder drug than cannabis, obviously you've got laws and regulations that apply to that but they're far less stringent than what's in place for cannabis."
Issues in-house
Another contributing factor to the shortage can be attributed to in-house issues, such as a lack of skilled workers. Given that greenhouses and manufacturing facilities are imperative to a LPs survival, Lynn said there is a substantial amount of competition for skilled trade workers within the industry.
"A lot of people who planned to build facilities along certain timelines have trouble getting tradespeople on site and getting them to stay on your project, so there's competition for those resources. Ultimately, because it's a finite resource, it manifests itself in terms of delays in those projects."
Pankratz agreed with Lynn, adding that the danger of international pushback against cannabis could dissuade workers from working on cannabis-related job sites.
"Although the product is legal, I don't think we're at the point yet where there's full acceptance. This isn't just from the point of view of the product in Canada, but perhaps closely linked to the fear related to implications for travel to the United States."
Will legal #cannabis users be able to cross the #US border? 'It's anyone's guess,' lawyer says #Canada https://t.co/oAhtWkNtnT pic.twitter.com/pwMRzh5Pri

— Eli Dror (@edrormba) October 23, 2018
In July, the CBC reported that some Canadians had received lifetime bans from entering the US for associating with the cannabis industry in their professional lives.
The CBC followed up on that story earlier this month with a statement from the US government which said workers in the Canadian cannabis industry would 'generally' be able to enter the US for reasons unrelated to the cannabis industry.
Pankratz says this kind of waffling on policy at the border could be a contributing factor to skilled workers who work in industries either directly involved or adjacent to legal cannabis.
"Until there is something much more definitive, either on a statewide basis or certainly a federal basis, it would make sense that there is a certain reluctance to participate in the industry."
Beyond construction workers and engineers who lay out the floor plans for a greenhouse, there is also the issue of where to source cannabis growers themselves.
Lynn describes the paradox faced by LPs which want experienced growers cultivating their product: "People want to bring on experienced employees, but most of the experience is in the grey and black market."
Aphria destroys batch of marijuana due to lack of qualified workers https://t.co/kQw45uGxaU

— Kelly Coulter (@NORML_CWA) October 13, 2018
"In some cases those people don't know how to work effectively in a highly regulated environment, and in some cases you get into issues with meeting regulatory requirements in terms of the backgrounds of your people," Lynn said.
Conversely, Lynn said growers from the white market can lack the experience necessary to deliver the high-grade product necessary to compete in a highly competitive industry.
How to solve the shortage
Besides rolling back regulation, alternative solutions to the recreational cannabis shortage have been discussed at length.
Matt Maurer, a Toronto-based lawyer, spoke to Global News in September about what he saw as a viable solution to the problem.
Maurer suggested that LPs devote their domestically grown cannabis to the recreational market and restock their medical cannabis stores with imports from other countries.
Edgar Montero, the CEO of Chemesis International (CSI.C), said the viability of importing medical cannabis, for what could be a potentially short-term issue, would ultimately depend on cost.
"If you're importing from Asia or Europe, it's hard to see it being cost-effective unless there's massive amounts," he said.
This strategy is also highly unlikely given that profit margins on medical cannabis are much higher–by some accounts twice as high–than those from recreational cannabis.
Lynn said the profit margins on the medical cannabis market are too high to jeopardize for the recreational market. Furthermore, he said he believes the liquor boards which negotiated the lowest rates from their suppliers may see the worst of the shortage.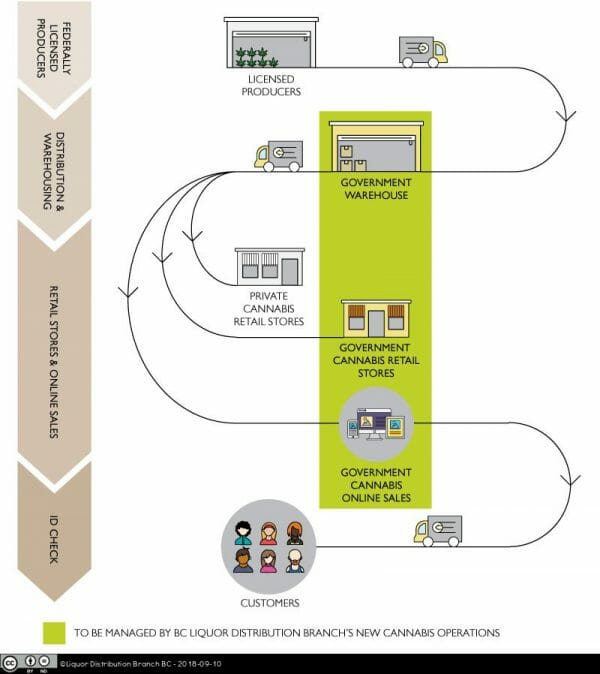 "I think any company that had a finite supply and anticipated a shortage is likely to steer their product to where they're going to get the best price," Lynn said of companies prioritizing the medical market.
According to Lynn, one way to streamline the process could be to fast track companies which have already secured their cultivation license.
He said this is because obtaining a cultivation license requires a far more exhaustive examination compared to the sales licensing process, which mostly involves ensuring documentation and SOPs are in order.
"I do think you could come in and say 'is this a good company that's producing safe product in a manner that is consistent with the expectations of health Canada?' If so, you don't then have to drag the process out. You don't have to catch people on technicalities because there's some minor deficiency in paperwork."
Full disclosure: GTEC Holdings and Chemesis International are Equity Guru marketing clients.