On September 24, 2018 Vivo Cannabis (VIVO.V) announced the launch of the new Beacon Medical website.
The website's objective is to help patients, doctors, and caregivers "navigate the complex medical cannabis market."
"Beacon Medical aims to provide a clear path to understanding medical cannabis," stated Sung Kang, Vivo Chief Marketing Officer in the press release, "We have upgraded our website to make it easier to navigate and shop."
The rebuilt website features expanded discount programs, a new classification system called Beacon Cannatypes and "simple categories that help consumers select from the hundreds of strains of cannabis available in Canada".
To educate the medical cannabis community about the new brand, VIVO is conducting 'Beacon Road Shows' in Edmonton, Calgary, Toronto and Ottawa this fall.
The Road Show – aimed at cannabis clinic staff, doctors, nurses and researchers – will feature experts in the scientific community including Vivo advisor Professor Raphael Mechoulam – known as the 'godfather of cannabis research' for his discovery of the THC molecule.
As the Canadian legalisation date nears, investors are beginning to focus on nuts-and-bolt subplots – like taxes.
According to the Canadian Revenue Agency (CRA), a federal excise duty is "payable by a licensed cannabis producer when the cannabis products they package are delivered to a purchaser."
The CRA states that an excise stamp must be present on all cannabis products.
The CRA is responsible for licensing cultivators, producers and packagers of cannabis products, and collecting federal duties and taxes.
Provincial and territorial governments are responsible for the distribution and retail sale of cannabis.
Beginning October 17, 2018, all Canadian licensed producers will have their cannabis taxed at $1 per gram or 10% of the sale price, whichever is greater," confirmed Vivo.
Vivo is pleased to announce that medical patients of Beacon Medical and Canna Farms will not have the cost of this excise tax passed on to them; it will be included in the list price.
As Ethan Reyes wrote on September 5, 2018 – Vivo completed the acquisition of Canna Farms, British Columbia's first cannabis company licensed under ACMPR/MMPR guidelines.
The acquisition cost Vivo Cannabis $133 million, consisting of $22.5 million in cash and the issuance of 92.5 million common shares priced at $1.20 each.
Additionally, Vivo Cannabis appointed the co-founder and president of Canna Farms, Daniel Laflamme, to its board of directors.
The acquisition of Canna Farms is accretive to Vivo. For the fiscal year ended June 30, 2018, Canna Farms' unaudited revenue and earnings before interest, taxes, depreciation and amortization (EBITDA) totaled $9.4 million and $4.3 million, respectively.
Highlights:
Enhanced Financial and Capital Markets Profile: strong cash position of $100 million, combined with Canna Farms' positive operating cash flow
Increased Capacity and Scale: Production capacity of 57,000 kilograms, with multiple provincial supply agreements already secured.
International Leverage: Expedited expansion strategy into international markets, with a focus on Germany and Australia.
VIVO has also announced an affiliation with Strainprint – a mobile app for medical cannabis users to monitor dosages and medical effectiveness.
"Strainprint's robust database will help us provide useful information to both patients and health care professionals," stated VIVO, "allowing us to enhance the patient experience develop new products that optimize health outcomes."
VIVO's Beacon Medical division plans to leverage data insights from the Strainprint app and encourage more patients to track their treatment sessions. Engaged users will be eligible for discounts and merchandise on a customized version of the app. Strainprint provides access to more than 30 million data points on strain efficacy from more than 800,000 personal health records – the largest and most granular data set of its kind in the world.
Strainprint Model:
provide clinical and observational data to patients, physicians and policy makers.
encourage responsible cannabis use.
Crowd-sourced outcomes
demand-side analytics on cannabis use and strain efficacy
tracks lab-verified products by producer, genetic category, product type etc.
We began tracking Vivo in April, 2017 – shortly before the company went public (as ABcann Medicinals).
"In the medical marijuana space, when licensed producers get together to talk about who has the highest quality product, Abcann Medicinals is never outside the conversation," wrote Chris Parry.
Since then the stock has been on a roller coaster ride.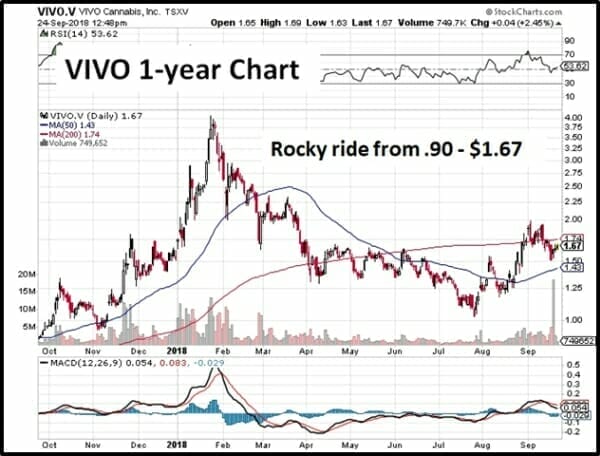 Vivo is currently expanding its production capacity.
VIVO also operates Harvest Medicine, "a patient-centric and highly scalable network of specialty medical cannabis clinics as well as a new free telemedicine app that provides best-in-class education and support to over 15,000 patients."
As of September 14, 2018, "VIVO has a healthy balance sheet with over $100 million in cash and is well-positioned to accelerate growth in both Canada and internationally."
Vivo's market cap is $470 million.
That's not tiny.
But – for perspective – it's about 3% of Canopy Growth's (WEED.T) market cap of $15 billion.
Canopy Rivers (RIV.V) has the same amount of cash, less deal-flow, and double the market cap.
In the current weed landscape, we consider Vivo good value.
Full Disclosure:  Vivo is an Equity Guru marketing client, and we own stock.