We have a 60-year-old friend with a torn-up knee who works in a lumber yard in Princeton, BC.  At the end of every shift, he ices his knee and pops 3 Ibuprofen, then sleeps fitfully due to the pain.
Last week, on the way to the Okanagan, we delivered him a bottle of CBD oil.
He took 10 mg before going to bed.  In the morning, I asked him how he slept.  "I had a dream that my knee didn't hurt," he said, "Then I woke up and realised it wasn't a dream."
At 6:45 a.m. he danced (clumsily) with his wife on their porch to celebrate this pain-free night.
No-one should make investments based on anecdotes.
Our friend could've been experiencing a placebo effect.
The US Food and Drug Administration (FDA) recently approved a cannabis-based drug for the first time.
According to a CNN report, "Epidiolex is approved to treat two types of epileptic syndromes: Dravet syndrome and Lennox-Gastaut syndrome, a form of epilepsy with multiple types of seizures that begin in early childhood, usually between 3 and 5."
This is big news for publicly traded companies like Vivo Cannabis (VIVO.V), (formerly Abcann Medical) that has staked ground in the medical and wellness markets for cannabis related products.
"Vivo — which translates to 'living' in Latin — embodies our commitment to providing quality cannabis products and services that improve lives", explained the August 2, 2018 press release, "It's the spirit behind the rebranding."
"Vivo is dedicated "to meeting the needs of our customers in Canada and internationally with cannabis-based products, both in the medical and adult-use markets," stated Barry Fishman, CEO of VIVO Cannabis.
Vivo has a healthy balance sheet showing about $110 million in cash.
When we talk about this new frontier weed market – we often mention the end of prohibition.  But it's a clumsy comparison, because prior to prohibition, the average U.S adult drank seven gallons of pure alcohol a year.
Alcohol consumption rates in a legal environment were already established.
Nobody knows how much cannabis will be sold world-wide in 2030.
When the element of criminality is removed, how wide will the doors blow open?
Will the "wellness" and "recreational" categories remain distinct?
We do know that the FDA hasn't approved any vodka-based products.
Vivo's portfolio includes the following brands:
 Beacon Medical: This standardized pharma-grade cannabis is a superior product that's clean, consistent and repeatable —qualities sought by physicians and patients.

Fireside Cannabis: Tailored to the social user, this premium cannabis is grown in small batches and undergoes a long curing process to ensure a smooth final product in three varieties to suit every gathering.

Lumina Wellness: An elegantly designed wellness-focused cannabis product line, Lumina was created to enhance mindfulness and self-discovery.
According a recent study, 67% of adult Canadians who are not currently using cannabis – but have a treatable condition – are "unfamiliar with how to obtain medical cannabis."
Vivo believes the market is ready for a brand that makes the process easier to navigate.
Vivo's wholly owned subsidiary Harvest Medicine is an established medical cannabis clinic with a scalable model. In less than 18 months, at one Calgary clinic, Harvest Medicine acquired a client base of 15,000 active patients.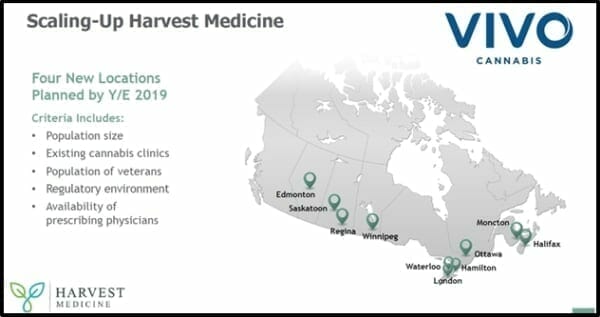 On August 02, 2018 Vivo announced the launch of Lumina, an adult-use cannabis brand and product line aimed at the health & wellness market.
Lumina supports a holistic approach to mental and physical well-being, key considerations in the flourishing wellness sector.
"Lumina is the third entry in Vivo's growing lineup of cannabis brands, joining Beacon Medical and FIRESIDE in our premium portfolio," stated Barry Fishman, CEO.
Lumina products are targeted to be ready-to-go when Canadian weed is fully legalised October 17, 2018. The product line is based on the belief that "a healthy mind and a healthy body are connected".
Lumina Oils come in three formulations:
CBD Oil: 0 mg/mL THC, 25 mg/mL CBD
Balanced Oil: 12.5 mg/mL THC, 12.5 mg/mL CBD
THC Oil: 25 mg/mL THC, 0 mg/mL CBD
The Lumina news comes hot on the heels of ABcann's July 30, 2018 "transformational acquisition" of Canna Farms.
The FDA's approval of a cannabis-based drug is noteworthy because it helps drag the benefits of weed out of the world of anecdote into the world of science.
"This is an important medical advance," stated FDA Commissioner Dr. Scott Gottlieb, "Because of the adequate and well-controlled clinical studies that supported this approval, prescribers can have confidence in the drug's uniform strength and consistent delivery."
According to the Epilepsy Foundation, up to one-third of Americans who have epilepsy have found no therapies that will control their seizures.
The FDA stated that the potential for abuse of Epidiolex was assessed at "low to negative."
"ABcann was an early leader in the burgeoning cannabis industry," stated Fishman, "As VIVO Cannabis, we embrace the mission to improve lives."
Full Disclosure: Vivo Cannabis is an Equity Guru marketing client, and we own stock.