BRANDS! Also, BRANDS!
And, sure, we grow some weed for smoking that we sell in a brown paper bag approved by Health Canada and wholesaled to liquor boards, but BRANDS!
Today, Canopy Growth Corp (WEED.T) and HIKU Brands (HIKU.C) announced the former will look to buy all shares of the latter, at a price of roughly $1.91 per share, up from the $1.46 closing price on the day, but down from the $4.50 HIKU was getting in January crazy times.
The deal offers a 21% premium on the closing price on July 9, which is… kind of light?
Alan Gertner, Chief Executive Officer of Hiku said: "This Transaction represents an incredible step in the Hiku journey that both realizes immediate benefits for our shareholders and at the same time provides an unparalleled opportunity to join forces with a preeminent global cannabis player. Ultimately, together we will continue to build one of the world's most engaging and successful cannabis retail and brand business. Canopy is a truly special cannabis company that is well positioned to lead both in Canada and around the world."
The twist in the tail is that HIKU had previously announced a deal with WeedMD (WMD.V), which has opted not to match the deal and accepted termination cash of C$10 million to go away.
What Canopy is buying here is something they can really use – store frontage. While HIKU has a grow license, it's grow is pretty small, but the bigger piece is their deal to operate store frontages through their Tokyo Smoke brand – the only recognizable cannabis-themed retail name outside of the Emery clan's awful and legally imperiled Cannabis Culture chain.
On the same day this was announced, Organigram announced HIKU would be selling their product in Manitoba through their Tokyo Smoke stores, and only five days ago HIKU was extolling the virtues of its deal to run WeedMD product through Alberta's liquor distro set-up.
So, clearly, action is hotting up.
The bigger picture here is something we've been talking about for a while as weed 3.0: Branding and retail frontage.
In 2014, I stood at the first Green Rush investor conference in front of a load of people and showed an image of Dev Randhawa, CEO of Fission Uranium (FCU.T) and Papuan Precious Metals (now Ironside Resources (IRC.V)), which was telling the world it was going to be the first weed dispensary roll-up.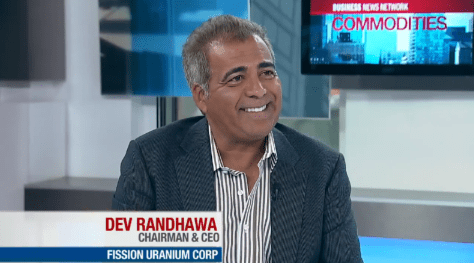 "This," I said, "Is the future of marijuana. Not people with 'legalize it' t-shirts, but guys who can walk into bank board rooms and do business with multinationals at the consumer end."
I had the person wrong, obviously, because Dev abandoned ship on the weed biz quickly enough when the legal side got sticky, but the greater point I was making wasn't that a uranium flinger was the be all and end all, but that his business concept – to go out and roll up dispensaries – was where people needed to be focused.
Not growing, but selling from retail frontages. Not appealing to activists, but appealing to Main Street.
A few years and a few laws had to pass before that could come to fruition, but we're now at the 'retail weed' stage, where consumer products matter and what weed they came from matters less, where the margin one can squeeze out of growing it is far outshone by the margin one can get after processing it, labeling it, and getting it on a shelf in a store.
More recently, at a Cambridge House conference in a gold vs tech vs weed panel, I was asked what company I liked to dominate all others in the weed business in 2020, and my reply was, "It doesn't exist yet."
"It'll be something that comes up with a brand that transcends, and that all other LPs will want to sell to, and that won't grow an ounce for itself. It'll be the Skinny Girl or Red Bull of cannabis. But it doesn't exist yet."
Today, just a few months later, maybe it does exist.
The weed business right now has never been harder to pick a winner in, and it's because those early prophecies are coming true. The pack is rearranging. LP's know they need other ways to monetize weed they've grown than selling it for cheap to government distributors. They also know outdoor grows are coming, and that imports from developing countries will eventually be a thing.
So a brother's gotta develop brands, consumer products that are marketable, and deals with big retail.
Just look at The Green Organic Dutchman (TGOD.T), which raised nearly $300m coming to market, largely from retail investors, and is assembling a Wonder Friends-like lineup of beverage industry ops guys, and has doubled its worth to $1.3 billion in just ten weeks.
That puts it at #6, right behind Cronos Group (CRON.T). Not bad for less than three months in the game.
| | |
| --- | --- |
| Canopy Growth Corporation | $7.8b |
| Aurora Cannabis Inc. | $5.2b |
| MedReleaf Corp. | $2.8b |
| Aphria Inc. | $2.4b |
| Cronos Group Inc. | $1.6b |
| Green Organic Dutchman | $1.1b |
| Hydropothecary | $957k |
| CannTrust | $797k |
| Organigram | $518m |
| Emerald | $470k |
To go from zero to #6, and to be a couple of days of trading away from breaking the top 5, proves out the theory that a sizable section of the market is looking to 'new weed products' for value now, reasoning that pressure will continue to build on the old growers as they become more and more dependent on agriculture revenue, and begin to face pressure from imports, and not be legally allowed to market themselves, and face a smaller number of customers they can sell to as provincial distributors put their business out to tender.
Investing in companies because they're the biggest can be a perilous business. Check out this Visual Capitalist graphic on the biggest companies over the years and you see a lot of churn as tech, fashions, and the market changes.
If you go back further, there's a lot less change over most of the 20th century, because everything we did back then needed steel and oil, and every investor played for dividends. Now, a company can enter the list without ever making a profit, and investors seek little more than growth.
A company with no hotel rooms dominates that hotel booking industry, a taxi company with no taxis dominates that industry, and a company that gives free phone calls dominates the call business. We're in a new age.
So what does a weed start up need to do to push into that top ten? We're about to see.
This is the investor presentation for Ascent Industries, which has no ticker and isn't due to be public for a little bit. It's fairly freaking great, and they GET IT on the branding side.
You may not know who Ascent is just yet, but you may have heard of their previous name; Agrima. Pioneers in the BC weed space sure did.
These guys put together a nice facility early on in Maple Ridge, BC, which I just visited for the second time last week, and which was previously working under the old MMAR licensing arrangement.
Despite being widely respected as one of the best groups of growers out there, and having a really nice setup, Health Canada made them jump through a lot of hoops to get licensed – I suspect because Maple Ridge was a little renowned as one of BC's home of illegal weed for many decades..
But their investors held strong with them through the dark times, and they did ultimately get licensed. Now comes the game of catch up, which they are well underway on.
Existing business includes a 40k sq ft lab facility and kitchen in BC, a 25k cultivation facility also in BC, a 600k sq. ft. BC greenhouse they're moving over from peppers to weed in due course (I've been there, it's a monster), the Sweet Oregon oil and edible facility in Oregon, a 37k sq. ft facility in Nevada, and a deal out of Denmark.
They have a whole line of products and brands from oils to pens to tinctures to whatever you like, that they're just waiting to unleash, and they are genuinely the most non-nonsense group I've ever dealt with.
When they come public, have your powder dry.
NOTE: They're not an Equity.Guru marketing client, but we're in active discussions, just FYI.
Ascent isn't alone on the weed 3.0 front. Here's one we like that started its public listing just today:
SPROUTLY (SPR.V): The tech play that could plug into everything
The sell on Sproutly: Landing with a $100m valuation, the Sproutly deal is they have an agreement to license a technology that allows them to essentially 'wash' weed with reagents that carry the non-damaged, non-butane torched, ready for consumer product processing, good CBD stuff along into a water-based product. To get weed (or CBD more specifically) completely and inexpensively into everyday consumer products, it needs to be water soluble, consistent, and clean. This tech does that. In my opinion, it's everything that weed 3.0 will be, wrapped up into one deal.
https://equity.guru/2018/07/09/can-sproutly-spr-c-shake-cannabis-beverage-market/
What the market thinks: It just arrived as a public company, and had 3m shares traded on day one, with most of that in the first hour. Rest of the day was slow moving and slipped down from $1 to $0.82, for a $100m valuation. If they can execute, that's cheap.
CHEAP.
C21 INVESTMENTS (CXXI.C): Golden Leaf without the debenture crush
The sell on C21: 28,000 sq ft indoor grow facility in Oregon. Current negotiations will expand operations to include greater indoor/outdoor grow capacity, multiple green houses, CO2 and Butane processing facilities, and retail dispensaries throughout California, Nevada, Colorado and New Mexico. Recent acquisition of Swell brings them 50 SKUs of consumer oil products across 275 locations on OR.
I loved the promise of Golden Leaf (GLH.C) a few years back, because it was just a straight growth play in oil products, also based in Oregon, but the CEO got spendy and the guys brought in to make the save got loany and the government got ridiculous, and now the company is so under water it's hard for them to get out, even with good acquisitions being made.
C21 has the starting point of GLH, with a nice Oregon presence and real business and brands, without that oppressive 'let's borrow from just about everyone and employ everyone else' business style. It's got brands, revenue, and only 42m shares out. Me likey.
What the market thinks: The market doesn't know what to make of it, yet.
But I know the exec team is BUSY right now, and I expect more deals to come, which should make the stock easier to predict.
LIVEWELL CANADA (LVWL.V): 'Little Canopy Growth Corp'
As I wrote in late June:
In Quebec, which still has only one sales license [across the province], Livewell has a 1m sq. ft. hybrid greenhouse project with the first 100k due to be completed in Q4. They claim they can grow in this facility for less than $0.75 per gram, a claim I frankly don't believe but will be really interested in seeing if they can hit, because it will be a gamechanger if it happens.

In Ottawa, they're retrofitting 540k of greenhouses that are already built and operational in the growing of consumer vegetables. They're adding 144k sq ft to that, with 200k sq ft of hothouse space also available. The completion of this project is due in the next quarter. The company estimates they can grow in this space for less than $0.90 per gram.
But growing is bleh, as we've discussed. You really want to put that weed into something marked up.
Presto:
Part of that 1m sq ft won't be growing cannabis proper, but will be devoted to hemp, which will supply Livewell's subsidiary, O-Hemp, a company that sells hemp seeds and hemp snack bars.
Even better? They're not just little Canopy because they're building a lot of grow. They're little Canopy because, well, Canopy bought a little 10% piece, and has committed to buying 20% of their product for the next 20 years, and gave them a $20m credit line. It's a 10-20-20-20 deal that, for mine, lines them up for a future buyout.
The market thinks: It's worth $158m. I think the market will readjust that upward soon.
PLANET 13 (PLTH.C): The best little ganj-house in Vegas
The sell on Planet 13: They've got a 15k sq ft grow facility in Clark County, they've got six active licenses to cultivate, produce, and dispense weed in Nevada, they have an active dispensary just a stone's throw from the Strip with one of the highest ratings on Leafly, Weedmaps, and Google, but the big kicker here is Planet 13 is building a 40k+ sq ft mega dispensary right by the famous Spearmint Rhino.
The Company is currently focused on building Phase I of its Planet 13 Superstore, which, at over 40,000 sq. ft. (over 16,000 sq. ft. of retail selling space) and located as close to the Las Vegas strip as regulations allow, is expected to be the largest cannabis entertainment complex in the world. The Superstore will be a one of a kind, true Vegas style cannabis attraction aimed at the 55 million visitors(1) that travel to Las Vegas every year.
Take your MedMen (MMEN.C) weed Apple Stores and stick them way up where the hipsters will never find them, because if you really want to win over hearts and minds, the world's largest weed store is a hell of a way to make a splash.
I got your Apple Stores right here.
Another thing they have that MedMen doesn't; profits. That 2300 sq. ft dispensary they're currently operating has 2017 revenues of $9m and $1.6m in EBITDA.
CHOOM HOLDINGS (CHOO.C): The retail play with a monster in its pocket
The sell on Choom: Back in the day, a former US President spent his college days toking hard on the beaches of Hawaii with his buddies who called themselves The Choom Gang. While Choom: The Company can't exactly use that President's name for legal reasons (Thanks, Obama.), the word does sit pretty nicely on the divide between casual 'gettin' high' user and lifestyle brand devotee.
Regular readers know the Choom story fairly well, and it's an interesting story in the aftermath of the HIKU/Canopy love affair. Sure, they have 37k sq ft of grow. Yawn.
But they also have a retail distribution plan, and that's where the HIKU story has parallels.
Put simply: if you love the idea that a big fish in Canopy will take a smaller retail brand like HIKU/Tokyo Smoke and march them across the country in malls aplenty, consider this:
Alcanna [formerly Liquor Stores NA] intends to use the proceeds of the [Aurora Cannabis investment] and the private placement to establish and launch a leading brand of cannabis retail outlets, whereby it intends to create, initially, some 50 retail cannabis stores in prime retail locations in western Canada, both through conversion of existing stores and by establishing stores in new locations.
AND:
Aurora Cannabis Inc. announced today that it has closed its previously announced $7 million investment in Choom Holdings Inc., whereby Aurora received 9,859,155 common shares from Choom's treasury, priced at $0.71 per share, representing a 6% ownership interest.

"This strategic investment positions Aurora to participate in the emerging craft cultivation market, as well as in an exciting Western Canada retail strategy with a seasoned team of executives," said Terry Booth, CEO of Aurora. "Choom's product cultivation strategy puts the cultivar first, developing a high-grade offering with unique flavour profiles, which are anticipated to resonate strongly with the adult-use consumer market, once legalized. We're pleased to close our investment in Choom, and look forward to building a strong, long-term relationship with the team."
AND:
Choom™ has secured the rights to an additional 7 retail locations in Alberta. Choom has 25 leases in highly strategic and secure locations in Alberta with 24 applications submitted. Choom has also secured 3 additional B.C retail leases, combined with the existing 7, for a total of 10 retail opportunities in B.C. In all cases, the retail opportunities are subject to all necessary governmental and municipal approvals being granted. This number is expected to grow over the coming months as the Company is currently negotiating additional leases with the intention of submitting applications for retail licenses.  The following link will bring you to our retail opportunity map: https://investors.choom.ca/wp-content/uploads/2017/11/ChoomRetailMap.pdf
Look man, you can point to Choom and say what you like about their prospects as a company, but you can't deny there's some strong parallels between Hiku's plans and theirs.
Also, that chart tho.
TREE OF KNOWLEDGE (TOKI.C): To hell with weed, CBD for the win!
The best little weed deal you've never heard of yet is a team of heavy swinging MD types who have made a decision that I think is a smart one; while you're all out there trying to push a rock up hill and get marijuana legalized everywhere, these cats are moving forward with hemp CBD products that are legal basically everywhere, bring a big margin, and work effectively.
My grandma is 92 years old, and when you're that old, everything hurts – always. She's in Australia, so the rules there are where they were in Canada in 2015, which means she can't really get marijuana-based relief without enduring a network of bureaucratic bullshit that I wouldn't touch. So I sent her some hemp-oil CBD tincture.
It was not cheap.
Today, while she's not pain-free, she is painkiller-free, and that's worth the world to me. Yes, it'd be great if there was enough THC in the mix to really kick off that entourage effect, but I'll take 85% effective now and 100% legal, over 100% effective in the three-plus years it'll take for local laws to change.
Tree of Knowledge is working that same math, and when I say they're taking the legal CBD path 'everywhere', I'm being literal.
In Brazil, their EVR CBD line is reportedly the market leader and does business through 11 approved suppliers. In Argentina, EVR is one of only two suppliers approved. Ireland and China sales have just commenced, US and Canada deals are in place, and they've got paperwork in for legal approval in Chile, Peru, Portugal, Mexico, Denmark, Italy, Colombia, Macedonia, Germany, the Czech Republic and…
They're dealing with the Vatican. Yep, the Holy See.
Seems even men of God get a little arthritic sometimes.
If you dig square footage, the company says it has the world's largest indoor grow facility – for hemp. That's a lot easier to manage, and cheaper to grow, than cannabis at scale.
The company has been live for about the length of time this article has, so the market hasn't really settled in on it yet. But the starting market cap is $113m. More on this as news comes to hand.
GREENTEC HOLDINGS (GTEC.V): Laser focused branding, retail booming
The sell on GTEC: Artisan brands for premium weed to dedicated customers was a nice start when all anyone looked at was growing product. But now that investors are looking down-line at what's next, GTEC has been mondo proactive and secured some serious retail heft that the market hasn't yet appreciated.
"Cannabis Cowboy" is to be a privately owned recreational cannabis and accessories retailer based in Calgary, Alberta, Canada. Upon the pending approval from the Canadian Federal Government to legalize cannabis for recreational use, Cannabis Cowboy will begin offering retail dispensary services to Western Canada. To meet the rapidly growing demand for cannabis products and services, Cannabis Cowboy has developed an ambitious growth strategy to develop up to 30 turnkey retail locations within the next four months anticipating the legalization of recreational cannabis on October 17, 2018.
Oh yeah? Prove it.
Pursuant to the Cannabis Cowboy Shareholders' Agreement, GreenTec has committed up to $150,000 per retail storefront, be the preferred supplier, and hold a right of first refusal on the following:

Partnering with Cannabis Cowboy on any future locations within Canada
Participating in whole, any future financings
Purchasing any shares of Cannabis Cowboy that are offered up for sale
What else?
Alberta: Upon commencement of the Company's TSX Venture listing, the Alberta Gaming and Liquor Commission ("AGLC") immediately processed 24 retail cannabis storefront applications under the name Cannabis Cowboy.
Saskatchewan: GTEC's application into the Saskatchewan Liquor and Gaming Authority (SLGA) lottery process was selected to apply for a cannabis retail permit. GTEC has identified two locations, one to serve as a retail storefront and one to operate the online ecommerce segment of the License.
BC: GTEC has already secured 2 retail locations that comply with their respective municipal zoning by-laws, with the intention of applying for over 20 locations within BC.
To supply these locations, GTEC has invested in a variety of brands and growers:
Alberta Craft Cannabis: 100% owned, cultivation licensed 14k sq ft facility
Greentec Biopharmaceuticals: 100% owned, 80k sq ft late stage applicant in Revelstoke BC
Falcon Ridge Farms: 100% owned certified organic farm in Kelowna BC that currently grows echinacea and is NSP certified with Health Canada. Plans for 10k sq ft grow
Grey Bruce Farms: 100% owned 15k sq ft boutique brand and grower in Kincardine ON, home of Supreme Cannabis (FIRE.V)
Tumblewed Farms: 100% owned 10k sq ft boutique grower in Chase BC
Zen Labs: 100% owned lab in Kelowna BC, currently undergoing inspection processes for dealers license.
That's a lot of moving parts, and the $66m market cap associated with all that is WAY undervalued.
BIOME GROW (private): The Maritimes conglomerate with a VR twist
The sell on Biome: Remember back in 2014 when the Canadian cannabis space was a wild west of promises and sales pitches but no actual companies behind them? That was a time when Canopy was Tweed, and was raising a few million bucks at a time and being called overpriced at $2.00 (by me, i'll admit it).
At that time, there weren't a lot of places you could go for weedco research. Basically it was down to me, and Jacob Securities, who put together most of the big early deals, and whose researcher at the time, Khurram Malik, put out theindustry standard reports that became gospel for many.
Jacob may have got a little big for its britches, however, when they announced a $50m weed investment fund, right about the time the weed market took its first big dip, and the regulators decided to go digging through their couch cushions looking for uncrossed T's and undotted i's. That saw the investment banking house decide to turn inwards to less volatile activities for a while rather than get into a slapfight with the gub'mint.
But head honcho Sasha Jacob has never let himself get too far from the weed coalface however, and is back with this east coast deal that has rolled up a few Maritime based growers, including a licensed producer, and, wait for it – a VR play.
Biome wholly owns Highland, an Authorized Licensed Producer in Nova Scotia, P-209 Inc., an Ontario company in the late stages of applying for a license under the ACMPR, The Back Home Medical Cannabis Corporation, a Newfoundland and Labrador late stage applicant, and Weed VR, a new virtual reality technology platform focused on the medical and recreational cannabis markets.
Central to the Biome pitch is not to build a zillion sq ft of grow rooms, but rather to have nice, small, manageable grows across the country, which will open retail distribution deals to them in each province.
The value comes from the team, who have a long history not only in identifying the serious players in the business while they're still small, but also in helping them navigate the licensing process to accelerate permit achievement.
And then there's VR:
I've gotta be honest – I love VR as a sector, but I struggle with how this might make a million bucks. Until we have smell-o-vision, and every teen has a VR headset, this seems like a high risk/high upside gamble on the future rather than an important piece of the puzzle.
Still, Biome comes public soon, rolling into the Orca Touchscreen Technologies (OAA.C) shell.
PURE GLOBAL (PURE.V – SOON): The weed hub of Toronto
This one is really under the radar, but the soon to be public Pure Global has an interesting twist that I like a lot:
As of the date hereof, PureSinse [known as a parent company by the name Pure Global] is the first company to receive a production license from Health Canada without demonstrating prior cultivation capabilities.
Let's percolate on that for a second. Every single other license holder, and some that haven't yet got a license, had to show they could grow before they kicked off with paperwork in hand.
Pure has not, which tells you this team is working on a level of knowledge and professionalism few others have obtained.
"No no, it's okay, you guys just go ahead and grow what you want there, we've seen enough." — Health Canada, maybe
The PureSinse License permits PureSinse to produce, sell, possess, ship, transport, deliver and destroy dried cannabis. The PureSinse License also grants PureSinse the authority to purchase product from other Licensed Producers in bulk and repackage and resell such product to registered medical patients, enabling the distribution of products from multiple Licensed Producers. PureSinse is not yet authorized to sell dried cannabis products it has produced. The next licensing stage for PureSinse is to obtain the authority to sell the products it has produced under the ACMPR and the Cannabis Act (Canada) (once it comes into effect). PureSinse anticipates obtaining this license in the third quarter of 2018.
People, the writing is on the wall here, and it once again applies to the Weed 3.0 path that everyone is moving towards; Pure will grow for themselves and be happy doing it, but they're going to work on creating new brands, which will be white labeled using other people's weed, which they'll then take to retail shelves all over – not just in Canada, but beyond.
To not have to grow your own weed is a huge cost saving. To be able to buy it from where the quality is good and the price inexpensive, is a time and cost benefit.
And to be positioned right outside Toronto, alongside Pearson airport, means you can get delivery to Toronto based customers inside two hours.
TWO HOURS.
Do you want to buy from Aphria and wait for the mail? Or do you prefer to buy from Pure and get your Aphria product quicker than Amazon will send you a USB cable?
PURE goes public Wednesday. I'm already in. Here's the investor deck:
[pdf-embedder url="https://e4njohordzs.exactdn.com/wp-content/uploads/2018/07/pure-global-investors-july10.pdf"]
—
All of these deals are zeroing in on a new sub-sector of the marijuana trade, and one that boasts far higher margins than simply growing. They're also BLISTERING on to the market at speed, indicating the next weed wave isn't coming – it's upon us.
HIKU and Canopy are just the opening salvo.
— Chris Parry
FULL DISCLOSURE: Greentec, Hiku, C21, Biome, Choom, and Livewell are Equity.Guru marketing clients. Sproutly, Tree of Knowledge, and Ascent have been in negotiations for marketing programs and may, at some point in the future, become clients.
The author owns stock in several companies mentioned.