Aurora Cannabis (ACB.T) exec Cam Battley came onto the Equity.Guru livestream a bit over a week ago and said (I'm paraphrasing here), we may see a bit of a drop off in Aurora's acquisition game, to give the pieces a chance to show how they'll work together, and that folks who worried that the share structure was being diluted with deals had a fair point that he believed was counterbalanced by the need to catch the big three, who got a head start on ACB back in the day.
Then he said, the company isn't concerned about being difficult for a 'Big' multinational to acquire, but rather wants to be the big multinational doing the acquiring.
Trading volume doubled to some 20m shares a day for the two days following the interview. Clearly the shareholders of Aurora have spoken. And over the last few days, there's been plenty for them to digest.
It doesn't appear Aurora is slowing down after all.
The Globe and Mail reports in its Wednesday edition that Aurora Cannabis has agreed to buy Anandia Laboratories Inc. in an all-stock deal valued at $115-million. A Canadian Press dispatch to The Globe says that Anandia provides research and development services as well as analytical testing for clients licensed under Canada's medical cannabis rules. Aurora chief executive officer Terry Booth says that the deal expands his company's capabilities and will help accelerate product development. Anandia's cannabis testing services will remain operationally independent of Aurora. Aurora has been gearing up in anticipation of the legalization of recreational marijuana in Canada expected later this year.
This purchase was one that even I, a traditional cynic regarding Aurora's 'buy it all and pay whatever it takes' approach, think is a solid move.
Anandia is a legitimate business and well positioned in the Canadian space to not just test every LP's product, but to develop consumer products and technology that can be licensed to every company going forward.
It's also a nice liquidity exit for CannaRoyalty (CRZ.C), who bought their stake in Anandia for $4m and come away with some $19m.
Under CannaRoyalty's previously announced investment relationship, CannaRoyalty invested approximately $4-million in Anandia beginning in February, 2017, at a postmoney valuation of $20-million. This included $1.5-million paid in cash, over $2-million in stock, and $500,000 in equipment and services.
Great business, and one of the reasons CRZ has marched upward this year while almost every other cannabis company has slipped.
https://equity.guru/2017/05/09/cannaroyalty-crz-c-to-benefit-from-sweeping-health-canada-changes/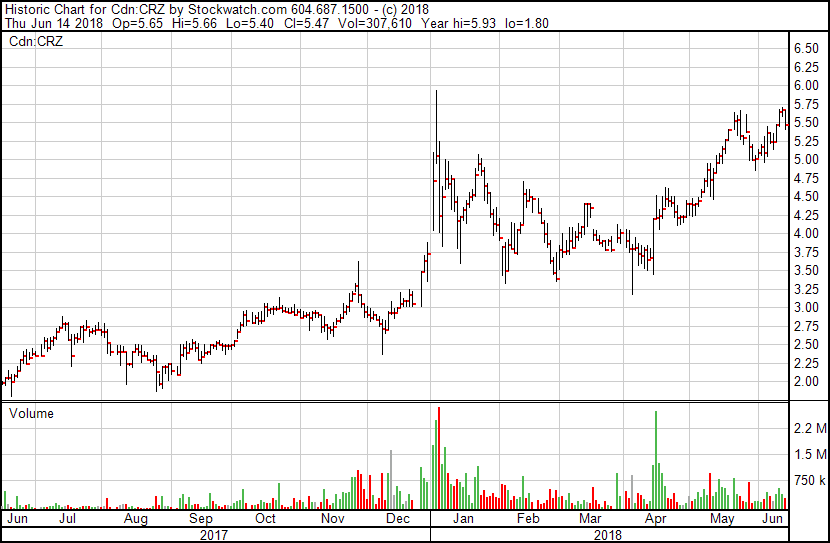 Aurora also grabbed a piece of Ascent Industries, the soon-to-be public company that owns Agrima Botanicals, a licensed producer working on finishing a 600k sq ft grow in BC's Pitt Meadows. I'm going out tomorrow to see that facility for myself, having first been introed to the Agrima crew a few years ago, while they were fighting Health Canada for recognition.
Aurora Cannabis Inc. has signed a cannabis flower and trim supply agreement with Ascent Industries Corp.'s wholly owned subsidiary, Agrima Botanicals Corp., a licensed producer of medical cannabis pursuant to Health Canada's Access to Cannabis for Medical Purposes Regulations (ACMPR).

Under the terms of the agreement, Agrima will supply Aurora with up to 20,000 kilograms of dried cannabis flower and up to 6,000 kg of cannabis trim per year from its Canadian cultivation facilities. The agreement is effective for a term of five years, subject to a 12,000 kg per year minimum.
Ascent also has business in Oregon and Washington, so I'll have more on them soon.
Meanwhile, Aurora wasn't done by long shot.
Yesterday, they came for beach brand Choom Holdings (CHOO.C).
Aurora Cannabis Inc. intends to complete a $7-million investment in Choom Holdings Inc., whereby Aurora will receive 9,859,155 common shares from Choom's treasury, priced at 71 cents per share, representing an 8-per-cent ownership interest.

Choom currently operates two late-stage applicants under the Access to Cannabis for Medical Purposes Regulations (ACMPR). Choom has agreements in place to acquire two additional late-stage applicant craft growers in British Columbia and Saskatchewan, including a facility in Sooke, B.C., anticipated to receive its cultivation licence from Health Canada in the third quarter of 2018.
Choom were worried that the discounted price Aurora were paying for their piece – $0.71 on  stock that was trading at $0.93 – might upset the market.
It didn't.
Despite profit taking today, CHOO is up over 15% from it's pre-announcement price, and 62% from what Aurora paid, meaning ACB is already booking a significant paper profit on the deal, similar to how it made around half a billion in profit in a few months on its Green Organic Dutchman (TGOD.T) stock purchase..
Usually, when a company announces a discounted private placement, the stock comes down to match the discount, with holders selling their existing stake to buy the lower priced stock and get warrants into the bargain. But the interest in Choom as a piece of the bigger Aurora entity could not be denied.
Central to that interest should be ACB's deal earlier this year to take a stake of a giant Canadian liquor store outfit, with literally hundreds of stores under their umbrella, existing contacts with provincial liquor boards, and a definite need for brands to put through that channel.
The Aurora deal could make Choom, which already has dozens of retail applications in to operate weed stores, a national brand from the get go.
https://equity.guru/2018/06/11/brands-brands-brands-want-em-got-em-arent-think/
It hasn't yet, and may never. But it *could*, and that's propelled buying in a serious way.
I've been hard on Aurora for its buying practices for what I view as a means of supporting an over-valuation, rather than a defined plan to build out properly, and the market hasn't necessarily disagreed with that, with very little upward action on ACB's share price with each of these news pieces. In fact, the stock has trended downward.
Execs will say, they don't care what the share price is doing, but they do. As some serious competition looks to enter the market in the coming months, there will be increasing pressure on companies with high market caps to justify those caps, be it through serious (non-dilutive) growth or serious revenue.
But I'll say this: The last three deals Aurora has made, have made sense. What Choom does with it's $10m will be interesting to see. What Ascent does when it goes public, likewise. And what value Anandia brings and how it plugs into Aurora's family will be a gauge as to whether Aurora is buying for news, or piecing together a grand plan.
That said, nobody pays $115m for a news release.
— Chris Parry
FULL DISCLOSURE: Choom and TGOD are Equity.Guru marketing clients, and the author has purchased  – and added – stock in both companies on several occasions. Ascent is in negotiations to engage Equity.Guru as a client.