Thanks to Electric Vehicles (EV's) and all things mobile – lithium demand is expected to double in the next 7 years.
E3 Metals (ETMC.V) is a Petro-Lithium company figuring out how to recover lithium from oil and gas projects in Alberta.  The beauty of this strategy is that the oil and gas companies have already done the drilling.
It's like sweeping your driveway right after it's been power-washed. The hard work has been done.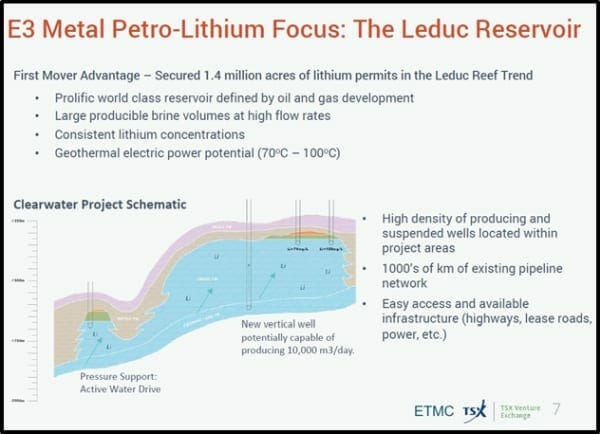 E3's objective is to produce commercial grade lithium from the Leduc reservoir formation.
Alberta's hydrocarbon reserves within the Devonian strata contain reservoirs ideal for lithium production – typically at depths of 1,500 – 3,500 meters.
E3 Metals has defined a combined inferred resource of 6.7 million tonnes (Mt) of lithium carbonate equivalent (LCE) from three resource areas.
Getting the brine to the surface requires the same equipment, expertise and knowledge as the oil and gas industry.
Everything is already in place.
Well – almost everything.
The lithium extract must be concentrated before it can be extracted economically.
E3 has been developing an extraction technology with The University of Alberta. The collaborative stated goals are to develop a chemical process that has a "high selectivity of lithium" to achieve:
At least a 10x concentration factor
Greater than 90% Li recovery.
Less than 10% impurities.
This low-energy concentration step will require no evaporation and provide a concentrate that can be purified by most off the shelf technologies available on the market.
On May 29, E3 Metals announced the results of its initial metallurgical test work on its proprietary concentration technology.
The testing was completed by the University of Alberta and independently reviewed.
E3 Metals conducted six bench scale metallurgical tests on the raw brine from the Leduc Formation.
Highlights From the Metallurgical Tests
Production of Lithium (Li) concentrate of up to 1206 milligrams per liter (mg/L)
Concentration factor of 16 X
Removed up to 99% of the critical metal impurities
Lithium recoveries as high as 81%.
Less than 3-hour completion time
NI 43-101 technical report coming in the next month
To summarize, E3's bench test killed it on concentration and removal-of-impurities and fell 9% short on it's stated objective for lithium recoveries.
According to the press release, "E3 Metals will work to optimize and scale-up its concentration technology to further improve the lithium concentration and recovery performance."
"With high porosity and permeability, the Leduc Formation has demonstrated the ability to deliver high volumes of hot brine. With extensive oil and gas infrastructure, including disposal wells, production sites and pipelines, and a mature regulatory regime, Alberta is an attractive jurisdiction for petro-lithium development."
"Development of a simple and effective brine concentration process, which significantly reduces impurities, positions us to begin work on proving the economic and technical viability of our large Alberta petro-lithium resource," stated E3 Metals CEO Chris Doornbos.
If E3 was playing darts, the E3's bench test would look like this:
"It is the opinion of the qualified person that, while the project is still at a concept level, the resulting concentrate from E3 Metals' Technology has the potential of being further processed into lithium carbonate and/or lithium hydroxide."
"We are aiming to achieve enhanced recoveries and higher concentration factors," stated Doornbos, "working aggressively towards the next steps required to advance extraction technology for our Alberta Petro-Lithium Project."
On May 29, The University of Alberta reiterated that "Doornbos has exploration permits for metallic and industrial minerals for more than half-a-million hectares of land known as the Leduc Reservoir in Alberta. The company is focused on extracting lithium from the brine in the reservoir, which would otherwise be waste material. However, to extract the brine efficiently and effectively, E3 needed research expertise."
Doornbos connected with Daniel Alessi, assistant professor in the University of Alberta's Department of Earth and Atmospheric Sciences, will determine how best to extract and purify the lithium. The partnership is facilitated by a collaborative research development grant, supported by the Natural Sciences and Engineering Research Council of Canada (NSERC).
"Our role is simply to develop more efficient and greener technologies to get the lithium out of the brine," said Alessi. "We are developing a technology that does not require us to evaporate the brine, and by keeping the lithium in solution, it mitigates the surface footprint. And it's essentially turning a waste product into a resource."
A week ago, Equity Guru's Greg Nolan wrote " E3's Leduc reservoir is too large to ignore. If the University of Alberta partnership doesn't produce a viable, cost-effective technology to extract and concentrate the lithium from these saline brines, the company will pursue a 3rd party solution."
The extraction technology just took a quantum leap forward.  In our opinion, the "3rd party option" has receded further into the background.
Lithium carbonate prices have drifted lower, but are still above $19,000 a tonne – up 300% in the last three years. We feel E3's 6.7 million tonnes (Mt) of inferred Lithium Carbonate Equivalent (LCE) is radically undervalued by the market.
E3 is currently trading at .44 with a market cap of $7.6 million.
Full Disclosure: Equity Guru has no commercial relationship with E3 Metals, but the writer owns stock.