On May 24, 2018 Nexus Gold (NXS.V) announced that it closed a $3 million private placement (PP) of 20 million units at a price of $0.15 per unit.
That's a little unusual – because Nexus is trading at .33 – more than double the PP price.
The TSX and TSX.V require that a private placement has to be "at fair market value".
The TSX expects that listed issuers proposing a private placement will price their offerings in the context of the market.

The Market Price should reflect all material events, changes or announcements.

Where there is undisclosed Material Information, it is not appropriate to price a financing prior to dissemination of the Material Information, as the Market Price of the securities may not accurately reflect the business and affairs of the listed issuer.
In other words, if you are Exploration Company X sitting on bonanza drill results, you have to publish the data before announcing the private placement.  Otherwise, the financing participants would be getting an unfair advantage (to purchase shares cheaper than Joe Blow).
Conversely, if Exploration Company X is sitting on unpublished bad news, the financing participants would be getting boned.
Either way – not fair – not allowed.
Nexus closed at $0.20 on the day the PP was announced. The upward stock price drift is surprising because on April 16, 2018, Nexus executed a 10-1 roll-back (share consolidation).
Typically, post-rollback shares drift lower; the roll-back is an admission that: 1. stock price is embarrassingly low, 2. there are a lot of shares outstanding.  3. the company is short of cash.
But here's the Nexus chart since the day of the roll-back.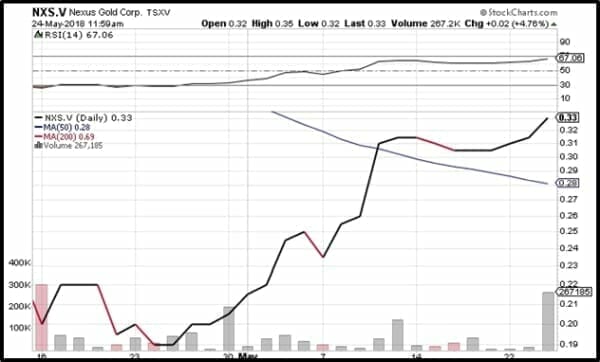 Nexus' 65% surge is a counter-example to a general rule that sees share-price slide after a roll-back.
The reason?  The roll-back may have inadvertently put more eyeballs on NXS. Instead of existing shareholders thinking, "Oy – I gotta get off this is a sinking ship", new investors thought, "Oy – why don't I buy some of this dirt-cheap NXS?"
One thing is for sure: Nexus hasn't benefitted from macro good-news in the gold sector.  How do we know?  Because there hasn't been any.
Geopolitical uncertainty is back in the marketplace, boosting gold prices higher Thursday, as President Donald Trump cancels his much-anticipated historic meeting with North Korean Leader Kim Jong Un.

"Trump's scuttling of the summit with North Korea is not surprising, but it still produces an uptick in geopolitical uncertainty, which is bullish for safe-haven gold and silver," said Kitco's senior technical analyst Jim Wyckoff.

Gold prices pushed solidly into positive territory, above $1,300 an ounce, following the breaking development. June gold futures are up 1.23% on the day, last trading at $1,305.40 an ounce.
Gold bugs are so beaten and abused that they may take solace in this cancelled U.S/North Korea meeting.  But as Wyckoff wrote, it's "not surprising" and ultimately trivial.
We don't see political uncertainty as a long-term gold-price driver.  Paper currency devaluation through global money-printing is the strongest catalyst.
NXS has 3 gold projects in Burkina Faso:
The 178-sq km Niangouela gold concession where the company has delineated a 1km quartz vein and shear strike. Eight of the first nine diamond drill holes on the property returned positive gold results, highlighted by a 4.85m intercept of 26.69 g/t.
The 38.8-sq km Bouboulou gold concession with historical drill results including 40m of 1.54 g/t. The property contains three distinct gold trends, each extending 5000 metres (5km) in length.
The 250-sq km Rakounga gold concession contiguous to Bouboulou property, contains many artisanal mines.
We first wrote about NXS on March 7, 2017 commenting on a shiny drill program.
Nexus hit gold on eight of nine holes, with four of those being classed as 'significant'. The best intercept was 4.85 metres of 26.69 grams per tonne. That's almost an ounce per tonne across an almost 15-foot section at a depth of about 165 feet.
On May 1, 2018 Nexus announced that Alex Klenman has been appointed the new CEO, and that J. Ian Stalker is joining the board of directors.
According to the press release, "Mr. Stalker has more than 40 years of development and operational mining experience in countries around the world, including over a decade working in West Africa."
Mr. Stalker is the President & CEO of LSC Lithium, and a Director of K92 Mining, a TSXV listed company that is operating a high-grade gold mine in Papua New Guinea.
Stalker is a…what's the word?  A beast? A monster? A giant? There's not a junior explorer on the planet who wouldn't want him on the board.  There's a reason Stalker joined the Nexus board.  You can read a metal news interview with him here.
In a recent Equity Guru interview, Klenman addressed the subject of the 10-1 rollback.
"The reality is we were between a rock and hard place," said, Klenman, "Languish sub .05 cents, with little prospects of financing.  Or, we make a tough decision and take the money contingent on a consolidation."
Nexus Gold has a current market cap of $4.8 million.
You do not need a degree in geology to realise that NXS is woefully under-valued.
Full Disclosure:  Nexus is an Equity Guru marketing client, and we own stock.