CannTrust Finally Getting Some Respect From the Market (and maybe why)
CES Energy Getting Rained On… Does Anyone Know Why?
Financial Post Exclusive: Investing For Dummies
The House Continues To Win
PAC Gold Owns Another May Friday
Here's What Happened May 11th
(Feature image of Rappin Rodney on Wax courtesy Evan Moss)
CORRECTION: Yesterday's HWH placed Aphria 2nd place behind Canopy in pubco marijuana production for the trailing 12 months. Medreleaf is actually 2nd with 4,638 kilos sold in 2017. We regret the error.
We've long considered Toronto's CannTrust (TRST.T) to be among the most transparent and effective of the Canadian Marijuana cultivators, and the market is beginning to agree with us. TRST was up $0.61 to close at $9.42 today (+6.92%) on 871k shares. That capped off a nearly +30% run since CEO Eric Paul appeared on BNN May 2nd. Paul gave an affable chat about how his company has a medical background and culture, is focused on research, and happy to take advantage of the retail market. He then gave a preview of consumer products like coffee pods and a veterinary medicine line.
Active production space is what production is made of, and TRST is in that tight active space 2nd tier with Medreleaf and Aphria, right below Canopy. Planned production space doesn't really interest us right now. If all the buzz about oversupply comes true, a million square feet may well become a liability. We tend to see Aurora's aggressive pursuit of Cannimed and rumoured pursuit of MedreLeaf as a savvy maneuver. They're using value created by the promise of future capacity to buy actual capacity. CannTrust had an $884M market cap at close today.
Investors who find value in active square feet may consider CannTrust to be cheap here.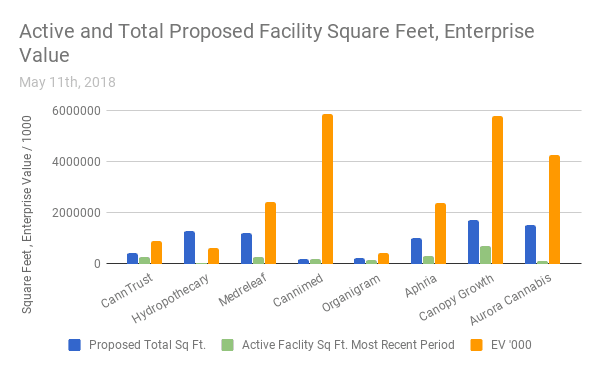 Cannabis investors who value production (sales) may also consider CannTrust cheap.
What's Going On In The Patch?
CES Energy Solutions (CEU.T) reported record revenues of $300 million for $41 million in earnings today, and got pummelled for it. CEU fell $0.61 to $5.66 (-9.73%) on 2.28 million shares, exactly twice its average volume, and the only reason we can find is that the street expected more.
The $1.6B oilfield services company does carry a fair bit of debt ($409M), recently re-financed, so this might be a reaction to an environment of rising rates. We called around but couldn't raise any energy analysts on a Friday afternoon. If anyone knows anything about what number CEU had to hit, get a hold of us.
Common Sense Isn't All That Common
Do you like sweet, sweet MONEY, but hate hard, boring MATH?
This morning's Financial Post carries a listicle by Peter Hodson entitled "You don't need a spreadsheet to see these five companies are strong buys".
Peter is out to make all that complicated "investment" gobbledy gook look EEEE – ZEEE! Here's his lead:
Researching investment ideas can, at times, be very complicated. There are ratios to look at, cash flow, interest coverage, competitors, patents, margins, inventories and thousands of other metrics to consider.

Many investors have simply given up, and go for passive exchange-traded funds instead. These ETFs own 'the market' rather than trying to pick a winning individual company. But this is no fun.

How about instead we try and 'dumb things down' and look at five companies, or themes, with just some common sense? No cash-flow analysis, no current ratios, nothing complicated at all. Just a theme-based on what's happening in the real world and with these companies.

So, sit back, toss out that calculator, and read on.
The nationally syndicated columnist goes on to tip a few brand names. Here's a summary:
Half trillion dollar market cap Facebook (FB.Q) (Ever heard of 'em?!)
Hardware maker Navida (NVDA.Q) "one of the hottest stocks in the world over the past five years," (trading at a 52 week high).
Box Inc, because everything is moving to the cloud, and Box is going to be able to charge customers for AI analysis of it (also near 52 wk high).
Cigarette maker Altira (MO.N), who Peter figures will be consolidating the marijuana sector in "a matter of time," but doesn't say how much time (MO is near yearly lows).
and Toronto merchant services co Shopify (SHOP.T), because when was the last time YOU were in a mall!?
We honestly can't tell if Hodson used the phrase "just common sense" while describing each one of his picks as a literary device, or if that's the best analysis he can come up with without a spreadsheet. If it's the latter, we can't really blame him.
Without making comment on the quality of these tips, this is a terrible way to pick stocks. Anyone who wants to invest but doesn't want to do any research should really go talk to a qualified IA, or stick to the index funds and ETFs that the author mentioned in his lead, despite the fact that they're "no fun." Losing your money is less fun, and that's invariably what happens to people who don't understand what they're doing and decide to play stock market. While there's something to be said for big picture looks at sectors and trying to imagine the gut feel that the market might have, research is where the edge comes from, and Hodson knows that.
The guy who wrote a market column that felt like talking stocks with Dr. Phil is a principal at independent research firm 5i, who tipped Photon Control (PHO.V) on their blog a few days before their earnings crush yesterday, and look to be a generally thorough outfit.
Stephen Hawking famously said that a publisher told him he'd halve the sales of A Brief History of Time with every equation he included in the book, and there's wisdom in that. Spreadsheets ARE boring, and that might be why nobody reads our columns. A national column is a great place for Hodson to get some profile and there's no sense chasing off interest with numbers. Besides, nobody has ever accused the Financial Post of respecting their readers' intelligence.
Get Back Here! Gaming Corp Ain't Done Wit you Yet!
Great Canadian Gaming Corp (GC.T) turned in an encore performance to yesterday's earnings gap. The Casino operator was up $3.52 (+7.45%) to close at $50.70 on 432k in volume. Gaming is easily one of the biggest movers right now.
PAC Gold Owns Another Friday, Somethings Up In West Oz
We wrote a week ago that sleepy May Fridays are a good time to watch the junior resource market, because
Companies still doing volume on a May Friday with no big company or industry news are usually professional operators whose markets are well managed, and know how to get and keep the attention of the street.
The Friday Test turned up Pacton Gold (PAC.V), who was up two cents on a million shares on no news. The action indicated that something was up. There's still no project news out of Pacton, but they did close an oversubscribed private placement for $5.5M and grant some $0.35 options to directors and officers. PAC.V traded 3.6 million shares today to close up $0.12 at $0.55 (+27.91%). Since its mention in last friday's HWH, Pacton has climbed 63% on strong, consistent volume.
Novo Resources NVO.V was the only other mining company in the top 10 for volume today, finishing just ahead of PAC. NVO is exploring in the same "Pilbara" Western Australia gold belt as PAC. They did 456k in volume today to go up a quarter to $5.50 (+4.72%) on news of some horse trading that they did to get Kirkland Lake involved.
Novo has been building expectations for a couple of months now (news releases here) as the market waits on results from trenching and bulk sampling that they're doing on a JV property with Artemis. On a brief look, it sounds like a plaeo-placer conglomerate type deposit, and gold bugs love those. We've seen this movie before. Expect NVO to live or die on the results from this sampling.
Have a good weekend. If you're in The Lower Mainland, come see us at the Cambridge House Show Tuesday and Wednesday at the Vancouver Convention Centre.