International Frontier (IFR.V) is an early identifier of the Mexican Oil & Gas opportunity.
They've just finished drilling their Mexican oil field – and they are about to complete a production test on this new well.
Today, crude oil prices rose to 3-year high of $71 – following the news that the Trump https://e4njohordzs.exactdn.com/wp-content/uploads/2021/10/tnw8sVO3j-2.pngistration revoked the nuclear deal with Iran.
A recent Sproule report titled, "Mexico: how evolving energy reforms are driving foreign investment", does a good job of explaining the opportunity in Mexico.
Here's another way to explain the Mexican oil opportunity: three days ago, my cousin invited me over for lemon pancakes.  She instructed me to make lemon juice while she ran out to buy white sugar.
I couldn't find a squeezer – so I chopped the lemons in half – crushed them by hand.
Result: a quarter of a cup of fresh lemon juice.
When my cousin returned, she had a chuckle. There was an electric citrus squeezer on the counter (in my defense, it looked like a cappuccino maker).
She picked up my half-lemons, ran them through the automatic squeezer.
Updated result: a full cup of lemon juice.
My low-tech extraction left a lot of valuable product behind.
This same scenario is currently playing out on Mexican oil fields.  Only the prize is – not ¾ of a cup of lemon juice – but a couple of trillion dollars worth of oil as many of the oil and gas fields in Mexico were drilled back in the 50s and have had little modern investment since then.
Since 1938, Pemex has been the only oil and gas company operating in Mexico. The state-owned company has been extracting oil from the ground for decades but many of the existing fields have not had new techniques deployed.
Five years ago – Mexico's government instituted a radical reform, allowing foreign investment and new technology to flow into the country.
Petroleum experts believe that the "risk profile and quality of oil and gas assets in Mexico far exceeds that of assets available in North America."
Estimated resources are about 42,000 million barrels of equivalent (BOE).
In the last couple of years, IFR has 1. partnered with a veteran local operator, 2. set up a 50/50 jointly owned Mexican company with its partner; and 3.  Participate in bidding and won an onshore license in Round One.
An April 24, 2018 operational update stated that "IFR has successfully executed on its strategy to be a first-mover. Through its joint venture company, Tonalli, IFR built a solid foundation from which to emerge as an energy leader in Mexico."
IFR highlights:
closed a $5 million private placement
Tonalli received evaluation plan approval for the onshore Tecolutla block.
Development of scheduled work program
Secured drilling permit TEC-10 directional development well at Tecolutla.
TEC-10 targeted new locations within the reservoir
Reprocessed 3D seismic
Spudded first directional evaluation well, TEC-10.
Began drilling to target the El Abra formation at a depth of 2,490 meters
On May 7, 2018, IFR announced that it is has reached total depth at its first evaluation well, TEC-10,
Production casing has been successfully installed and the drilling rig was released on Friday May 4th, 2018.
TEC-10 Highlights: 
The TEC-10 well encountered the top of the El Abra reef at 2315 meters
Wireline logs indicate 57 meters of the penetrated El Abra reef has above 3% porosity.
Average porosity of 5.7%.
Primary target interval in the upper El Abra with 13 meters of net reservoir with a porosity range of 6-18% (average 10.7% porosity).
High porosity intervals identified in the TEC-10 wireline logs.
Visual inspection of the core taken from within this primary target interval has visible porosity and oil staining."
Wireline logging involves lowering a recording instrument on the end of a wireline into an oil well and recording petrophysical properties including "gamma ray, electrical, acoustic, stimulated radioactive responses, electromagnetic, nuclear magnetic resonance, pressure etc."
Wireline logging is an invasive medical check up that spits out a vital sign data-storm.
The porosity data from IFR's wireline logs is very significant.
Porosity consists of the tiny spaces in the rock that hold the oil or gas. If the rock has 8% porosity, that means 92 % is solid rock and 8% contains oil, gas, or water.
"We are really encouraged by the data we're getting from TEC-10," stated International Frontier CEO Steve Hanson, in an exclusive Equity Guru interview, "porosity is necessary to make the oil flow."
Fracking is a way of creating porosity in 'tight areas' – but the data from TEC-10 suggests that mother nature is doing the work for IFR – and that will make it less expensive to the get the oil out of the ground.
Generally, 5% porosity is enough to have an economic oil project.  The 13 meters averaging 11% porosity is one of the numerous areas IFR will be production testing.
This is where the rubber hits the road.  IFR could be an oil producer in the next 30 days.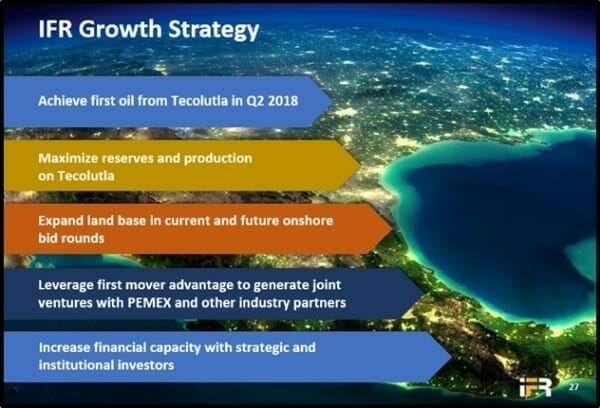 As Greg Nolan wrote in an earlier article, "IFR is not content sitting on this one project alone. Management is in the process of running due diligence on prospects coming up in the next round of bidding. This next round, scheduled for this summer, will be an onshore conventional auction containing lands that are adjacent to their Tecolutla block."
IFR has "re-evaluated the field using existing well control and 3D seismic and believe that horizontal drilling and workovers will yield daily production results that exceed the historical peak production of 900 barrels per day and significantly increase recoverable reserves.
Right on cue: May 9, 2018 IFR announced that it has registered and been granted access to the data room for the second tender of Round Three of Mexico's oil and gas energy reform by the National Hydrocarbons Commission (CNH).
Concessions are to be awarded in September 2018 under a license contract model. The licenses for exploration and production will last 30 years and can be extended for two additional terms of five years each.
The pancakes were delicious.
There was a lot of lemon juice left over.
Full Disclosure:  IFR is an Equity Guru client, and we own stock.