I became familiar with the cannabis culture as a British Columbian treeplanter back in my late teens. I knew quite a few people who liked to imbibe. I even knew a few avid gardeners back in the Kootenays who secretly cultivated the herb, an activity apparently tolerated by the local constabulary given its widespread acceptance and use.
The one thing that really struck me about those hard-working agrarian types, those throwback's to the free-hippy-love-shit era, was the reverence bestowed upon the undertaking; the care and attention dispensed in the nurturing of each individual plant.
Weed was an obsession for many. And as they lit-up and puffed away on a big fatty – a 'gagger', if the length and width fit the dimensions of a Cohiba – they'd elucidate on the various qualities, characteristics and hallmarks of their very own strain of herb. This was a proud lot.
I suppose certain elements within that early weed culture need to be preserved.
As companies today seek to dominate a market that is becoming increasingly global, the question some will invariably ask is: will they remain noble?
Humble Beginnings:
Early on in the weed cycle there seemed to be a stampede of start-up companies, some ex-junior miners' suddenly (miraculously) turned green thumb, all vying for a limited number of marijuana growing licenses. There were far more wanna-be producers than there were available permits.
Receipt of a Health Canada growing license was viewed by the market, not to mention a number of my online friends, as a license to print money. Not really. Actually… not by a longshot.
The weed industry has matured a lot since then. Seeking to separate themselves from the herd, a small number of companies in the sector have taken on a very specialized approach, adopting a checklist of protocols which produce a line of cannabis products that are unique to the industry.
ABcann Global Corporation (ABCN.V) is one such specialized company. It's a standout.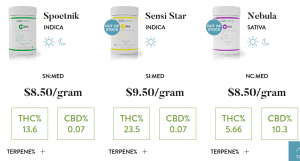 ABcann's platform:
When I first began looking at this company, I was immediately struck by their MO – their approach to producing premium high-quality bud.
ABcann management have designed and implemented a process for producing medicinal cannabis, much in the same way a pharmaceutical company goes about producing drugs.
ABcann's methodology and approach are very much mainstream.
Their marijuana plants are grown in a controlled environment where virtually every variable is harnessed and held in check: light, temperature, CO2, humidity, nutrients, water… Everything.
By controlling these environmental variables, they can encourage every wisp of green to behave in the exact same manner. They can coax each and every plant to produce the exact same medicinal compounds. And the entire process is driven, monitored and controlled by computers. No detail, want or need is left unattended.
This is some incredibly cooperative and obliging flora. It's also some trippy ass'd shit if you ask this humble observer.
Competent Team:
It stands to reason that this high level of efficacy could only be attained by a team of pharmaceutical grade experts…
ABcann is led by one Barry Fishman. His resume in a nutshell…
Additional team resumes can be viewed here. It's an impressive crop of talent, to say the least.
A pharmaceutical company attitude:
ABcann resembles a pharmaceutical company, more than it does your garden variety weed dispenser. And herein lies the difference between ABcann and most other cannabis producers. Even my mom, a hardcore RN and diehard fan of one Harry Anslinger – the first commissioner of the U.S. Treasury Department's Federal Bureau of Narcotics who attempted to convince America that marijuana threatened to turn an entire generation of kids into roaming mobs of psycho-sexual homicidal skull sucking lunatics – would applaud ABcann management on their strict adherence to producing a pharmaceutical-grade product.
A disruptive alternative:

I've always believed in looking to Nature for remedies and cures for the various ailments and maladies I come into intimate contact with. Traditional pharmaceuticals have always been a last resort for me.
I seek alternatives. I'm not alone.
Cannabis is considered a natural alternative by many people.
Medicinal cannabis is a disruptive industry. It presents a valid alternative, a serious challenge to traditional medicine.
Where medicinal marijuana produces only minimal secondary (undesirable) reactions, drugs produced by pharmaceutical companies sometimes carry dangerous life-altering side effects. This is particularly true with synthetic analgesics which mimic the effects of morphine.
Some people fear the challenge presented by the cannabis industry. Many embrace it.
ABcann's Growth Strategy:
In a recent business update, CEO Fishman had the following to report…
Over the past two quarters, we have enhanced our leadership team, strengthened our

balance sheet, improved operational effectiveness, and made significant commercial advancements. ABcann is well-positioned, with approximately $130 million in cash, to accelerate the growth of our business.
This recent update also outlined a growth strategy for 2018 and beyond, one focused on several key areas…
Key Area 1 – Production capacity and capability:
2018 capacity – 800 kilograms of indoor grown premium dry flower and 1,500 kilograms of seasonal greenhouse cannabis.
2019 capacity – 1,500 kilograms of indoor grown premium bud and 14,000 kilograms of seasonal greenhouse cannabis to be used primarily in finished medical and adult-use products.

Ultimately, the company plans to scale-up their proven production and harvesting platform to some 500,000 square feet. This will allow for the cultivation and harvest of 32,000 kilos of high-quality cannabis annually…
32,000 kilos of annual output. Is it just me, or is that a lot of weed?
Key Area 2 – Go-To market strategy:
Company to be rebranded and new consumer brands to be rolled out mid-year 2018.
Harvest Medicine to open second clinic in Edmonton in early Q3 2018.
Harvest Medicine to launch a telemedicine platform in Q3 2018 to provide access to patients seeking medical cannabis in underserved communities.
Regarding Harvest Medicine – an "education-focused, patient-centric, cannabis discovery center and clinic": when ABcann completed the acquisition of the company back in early February, it set the stage for the verticle integration of ABCN into the clinic segment of the medical cannabis industry.
Harvest Medical brought over 9,700 active patients with an acquisition rate of approximately twelve hundred new patients each month, all from a single location in Calgary Alberta. The new Edmonton location will expedite that growth rate. The company also has an aggressive expansion plan for the rest of Canada. Cool beans!
Moving along….
In order to drive revenue growth and enhance the customer experience, the company also intends to focus on…
securing distribution agreements for its adult-use products.
increasing its promotional interactions with cannabis clinic prescribers.
increasing the frequency and impact of its marketing and communications.
upgrading its product line and service offerings, including an innovative first-of-its-kind vaporizer access program as well as a Q3 2018 oils launch.
introducing innovative first-to-market products that meet unmet customer needs.
As ABcann begins to roll out new products, the fact that their premium bud is organically grown without the use of pesticides will be a dominant feature. The clean, untainted nature of their weed will go over extremely well with an increasingly health-conscious consumer.
This is particularly true with the company's planned roll-out of edibles and beverages. People will NOT be wanting pesticides and chemicals orbiting around their Space Brownies, or fouling the tannins in their Blueberry Bliss Tea.

The company also stated that it expects to announce a new company name (subject to all necessary approvals), a new medical brand, and two new adult-use brands which will target the soon-to-be-legalized recreational market.
I have friends who do not smoke or ingest cannabis. Period. Most say all of that could change the moment it becomes legal. Hmmm… this is the kind of demand-potential that cannot be measured. It could be explosive.
Moving along…
Key Area 3 – International expansion:
Australia sales and sales-activities are currently underway.
GMP status approval (required for European sales) are targeted for late 2018.
I find it interesting that a large chunk of the company's future revenue – some 50% – is expected from international sales. Obviously the global demand for premium high-grade herb is a robust…
CHOOM (CHOO.C) and the recreational market:
Two months back the company announced a strategic investment of $4 million in Choom. This is a further demonstration of management setting its sights on the recreational market… and growth.
CEO Fishman had the following to say about the Choom acquisition…
ABcann remains committed to becoming a global leader in the cannabis sector. With our strategic investment in Choom, we are signaling a strong move into the recreational market with one of the premium recreation brands in Canada. With our strong cash position of approximately $135,000,000, ABcann intends to pursue other accretive opportunities to diversify our industry presence. We look forward to working with and assisting the Choom team with the supply of our premium grown products. Choom (CHOO.C) is "planting our flag in the rapidly growing legal cannabis industry in Canada with our own brand of high-grade handcrafted herb."
Final Thoughts:
ABcann – soon to be renamed – is a growing and diversified company in the premium cannabis space. It's current $260M market cap, its people, its premium brand, it's commitment to quality, its growth strategy, its stoked-up treasury of some $130M, all make it a compelling speculation/investment IMO.
I'm curious to see what management plans on spending that $130M on!
We stand to watch.
END
~ ~ Dirk Diggler
Full Disclosure: The author does not own shares in ABcann.