TD Mortgage Hike, AB Still Trying To Give BC The Pipe, Small Caps Are Snoozy, A New, Empty Throne In the Pot Sector, And A Great Junior Miner is Getting No Respect.
Here's What Happened, April 26
It was reasonably quiet in equity markets of all sizes today. The AM news was all about the ongoing BC v Alberta pipeline fight. BC filing a reference brief with the Supreme Court of Canada kept it fresh, but you can expect pipeline stuff to fill up column inches in business sections on slow news days for as long as it goes on. It's reliable.
By the end of the day, TD bumping mortgage rates by 45 basis points was the headline. Bloomberg has TD with the highest rate in Canada, and calls it the largest mortgage rate move in years. TD's bump puts their fixed rate mortgage at 3.39%, and their variable at 2.75%. The yield on the Canadian 2 year is 2.18%, so it's a good 100pts of gravy at TD for as long as it takes this all to fall apart.
Small Caps
As we mentioned, it was pretty quiet out there, but here's what was making noise.
Crypto/Blockchain Tech
In yesterday's episode, Hashchain announced an all-stock deal for a cryptomining company that amounted to a bunch of new mining rigs in a building. They dropped the news right before the close, as if to say "Yeah. It's unconventional, but so is the industry we're in. We know it's a lot to take in. Why don't you sleep on it?"
KASH.V opened flat and churned through 6.5 million shares to close down two pennies (-5.6%) at $0.34, so the reaction so far has been… flat. We dare say that's a reasonable reaction to a deal that about doubles the company's capacity to create a hyper-volatile series of instruments that lack any consistency, while also doubling their share count. (We're ballparking the capacity, because this isn't an exact science.) KASH.V shareholders should be happy the volume's there.
Hashchain released their financials yesterday, too. Operationally, this is a high-margin company. They made $217,000 off of $26,000 in ops costs last quarter… while spending $2.4M on promotion and consulting, and we aren't even trying to make a point here, other than that scaling up isn't free.
Neptune Dash (DASH.V) kept up yesterday's volume, landing itself among the top 10 traders in volume for another day, though it gave back yesterday's gains to close down 0.035 at $0.36. Still now news out of Neptune Dash, who traded 1.3M shares today, 3x their average volume.
The Pot Sector Is A Land Without A King
Pot financier Cannabis Wheaton (CBW.V) and Quebec LP Hydropothecary (THCX.V) both ended up among the top volume traders, each doing about half their normal volume. That's how sleepy it was out there today.
The talk in the pot sector was a Vancouver Sun story about the province of BC looking to hire a "Pot Enforcement Czar" (the term appears to be The Sun's, not the government's). The new director of marijuana enforcement would be tasked with finding a way to make sure the goods at dispensaries were coming from LPs, and keeping it that way.
It's unclear what type of qualifications they're looking for in applicants, but there can't be a shortage of retired RCMP who served through the 70s and 80s, and have plenty of practice rolling up on dope slangin' hippies who are breaking the rules! and making them RESPECT THEIR AUTHORITY!
It's got to happen for these licenses to be worth the paper they're printed on (not to mention the $21 billion plus worth of paper that's been printed on them), so save us the bleedingheart whining about commercialising a second drug war. You can't stop progress.
SangOMIGOD! Something's Up In Markham, Nobody Knows What
The most curious action came out of the tech sector today. A Markham, ON company called Sangoma who sells VOIP systems, lost 5% on 30x their average volume today, and had no news until just a minute ago when they reached for the IIROC "I know nothing!" boilerplate.
That usually means somebody woke a regulator up from their nap with an angry or nervous phone call, and we don't blame them. Nobody likes watching a stock come undone with no news. It's no fun without anyone to blame.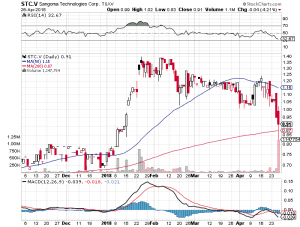 We don't know anything anyone else doesn't about Sangoma, but their most recent activity was a $10M bought deal back in February that closed March 15th, oversubscribed to raise $13M at $1 / share. The placement ended up being a $0.16 discount to market on the closing day.
We looked through the monthly position reports and saw a few different funds and institutions with 1M to 5M share positions in 34 million share STC.V, giving this the feel of a tight, institutionally held stock. Between the placement closing March 15 and now, STC.V traded a million shares at an average price of $1.12 a share, then got rained on with a million shares today.
That placement stock has a 4 month hold, but to a fund holding free trading STC paper when the flyer came around, and Bay Street whatsapp chats and bars buzzing on it, the placement would have looked like an opportunity to lock in a below-market cost base. The move would have been to pepper it out slow until they've locked in a gain, then just straight blow out anything that's still free trading and move on to greener pastures.
Pro money managers are every bit as greedy as retail action junkies, they're just more calculating.
Zinc One Keeps On Marching
EG client co Zinc One landed itself on the volume trader list with just under a million shares of volume as they continued to bang out both grade and width down at their Bongara project in Peru.
Today's announcement was the second batch of juicy widths, and represents a new zone of mineralization.
The timing is all wrong, because the zinc market isn't cooperating with them right now, but the stars don't always line up perfectly. 26-38% zinc is pay grade at any price, and what's wrong with $1.40/lb zinc, anyhow?
Z.V has been in been in the same slide as the zinc price since January.
We wrote previously about how Z is handled by an OG crew both on the business and technical side, so we're going to have another look at Zinc One in the next few days to see what it looks like with the new drill results in the context of a tiny $13M market cap.