The spot price of manganese has been climbing steadily for a year.
Manganese demand is surging because of a recent innovation in the way lithium-ion batteries are made.
You may have heard: lithium-ion battery demand drivers have a tailwind.  Actually, it's a hurricane. In 2016, Electric Vehicles sales grew by about 60 % worldwide. Solar panels have a similar annual growth curve at around 50%.
Both of these devices use lithium-ion batteries which are vulnerable to overheating and expensive to manufacture.
A brigade of scientists around the world is attempting to develop alternative systems: bio-electrochemical, redox flow, graphene supercapacitors.
The only market-ready technology is a steam accumulator which requires carrying 40 gallons of boiling water in the trunk of your car.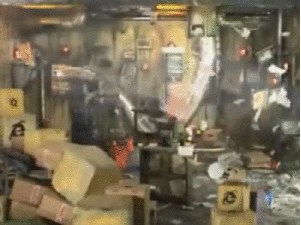 So the question in 2017 is not, how to replace the lithium-ion battery, but how to improve it.
Currently, one of the biggest improvements is the use of manganese in cathode materials.  The cathode is the battery's negatively charged electrode (typically painted black with a "negative sign" on it).  Lithium Nickel Manganese Cobalt Oxide (NMC) cathodes are made of nickel, manganese and cobalt.
The Green Car Congress has stated that NMC cathodes have improved power balance and thermal stability at a lower cost to conventional cathodes. The NMC cathode materials can be customised for different applications: from power tools to high-power electric vehicles.
NMC technology isn't just a scientist's wet dream.
The chemical subsidiary of LG Electronics, LG Chem and 3M, have already started using NMC cathode materials in lithium-ion batteries. LG Chem supplies NMC-based Li-ion batteries to plug-in vehicles, including the Chevy Volt.
On May 11, 2017 Manganese X (MN.V) announced that it had received the results of an electrolytic manganese dioxide (EMD) concept study relating to its 896 hectare property located in Carlton County, New Brunswick.
"We now have a detailed roadmap to create Canada's first high-grade manganese product," stated MN CEO Martin Kepman, "Our strategic location is only 10 km from the US border. We also have access to major rail lines, making us an obvious potential supplier to the lithium ion battery market."
Manganese has the following demand drivers:
Manganese is the critical component of the cathode material in modern alkaline, lithium, and sodium batteries
Manganese in terms of environment (green/clean energy = 0% emissions) as well the requirements as getting away from fossil fuels.
Manganese is likely to remain the preferred energy material for the future.
Manganese is also well suited for cathode mix in bulk energy storage & energy management for portable power and integrating solar and wind renewable energy.
The MN Manganese deposits are about 5 km northwest of the town of Woodstock and are easily accessible from the Trans-Canada highway via all-weather roads.
MN recently completed a 16-hole, 3,585 diamond drill program – designed to evaluate three historic manganese occurrences on the Houlton Woodstock property (Iron Ore Hill, Sharpe Farm and Moody Hill).
Drilling was completed over a 1.8 km strike length of the prospective manganese occurrence trend.
Conclusions from the Drill Program
The initial drill program, consisting of wide spaced drill holes, has confirmed significant widths of near surface manganese mineralization over a strike length of approximately 1.5 km.
Intersection widths of up to 87.7 m (287.7 ft) and MnO grades of up to 21.5% were encountered as shown on the table below.
Mineralization remains open to depth and along strike.
Based on the current drill results, the mineralization shows good continuity and has been intersected from surface to vertical depths of 115 meters.
Following the concept study, MN is performing lab tests to determine the manganese recovery and sulphuric acid consumption as these factors affect process design and operating costs.
MN is also in discussions with the National Research Council of Canada towards testing the manganese for commercial acceptability.
MN is eye-balling a low-cost open-pit manganese mine in Canada.  There are currently no operating manganese mines in North America.   Most of the supply comes from China and Africa – which brings political risks, tariffs, and transportation costs.
Manganese X is focused on supplying product into a very hungry market.  Keep your eye on the lab tests and the follow up on the concept design.  So far, the company has been hitting its milestones, methodically removing obstacles to production.
The stock is currently trading at .12 with a market cap of $5.4 million.
FULL DISCLOSURE:  Manganese X is an Equity Guru marketing client.