Had an interesting meeting a few days ago with someone connected with an old favourite stock of mine, though not one that has been without its stumbles, in Portland, Oregon's Eastside Distilling (ESDI).
Eastside has gotten itself tangled in some poisonous financing deals that it's working through right now, so it's not a buy, but it is a damn shame because the company has some amazing branding and that brand is growing fast.
Which is something I was still thinking about when Molson Coors came in with profit down by 24.1% this quarter. The company has all sorts of things it would like to explain that drop, but the real big reason is seen at any get-together of people aged 50 or under (and sometimes over).
The guy who brings Molson is a douchelord.
<iframe width="420″ height="315″ src="https://www.youtube.com/embed/04u58ifxmRA" frameborder="0″ allowfullscreen></iframe>
Growing up, people actually drank Molson. They may even partake in some Budweiser. The lah-de-dah types may have put down a Moosehead or Corona. But our dads, and their dads, they drank the same beer every day, all day, until the gout tripped them up.
We don't. We drink every brand because beer drinking these days has become about discovery. It's essentially Pokemon Go for the liver. Gotta try them all!
I know when I go out with friends in downtown Vancouver, we might pop in to the 33 Acres Tasting Room. We might go to Postmark, or Fuggles and Warlock's new room in Richmond. We might go to Tap and Barrel and look over the hundred or so things they have on tap. We might also just fill a growler and go home.
But Coors? As we used to say about Fosters back in Australia, "we can't believe they can train the cat to stand over the bottle."
In fact, it's gotten to the point now where, when I go to a bar or restaurant, I don't even order my own beer. My usual refrain, and acquaintances will back me up on this, is a 'you choose' to the server.
"Don't just pick the most expensive, don't give me the thing you can't sell, impress me with your excellent taste."
The servers used to be flummoxed by this and would start asking, "what do you like?" to which I would say "I'm not here to make your job easier. Pick me out a good one, Sparky."
Because, really, I don't care what craft artisan hand-crafted, ice-filtered, heifelagerweizeneben you select for me. It's beer. Thus, it is good. If a trappist monk brewed it or it has hazelnuts fermenting in it or it was only ever brewed in this keg that's being tapped right here, right now, I'm in.
Just as long as it's not mass-produced bullshit.
When I look around at my people, craft brewing is not just something we buy, a lot of my crew brew their own. I've seen more home brew spray hitting the ceiling at drunken D&D games than I care to recall. Beer has character. Bud has beer flavour.
So when I look around at the companies being taken to market by our Vancouver financial sector, I'm astonished that I don't see breweries involved. No Dead Frog, no Howe Sound, no Fernie or Central City. No Parallel 49 and Phillips and Steamworks.
I see lithium as far as the eye will focus. I see gold and biotech and fashion and weed, but I see no brewing, even though IT'S WHAT WE ALL BUY.
We're in a brewery boom right now. According to Wikipedia, this is how many breweries exist, in BC alone, right now:
33 Acres Brewing Co. (Vancouver)
"A" Frame Brewing Co. (Squamish – Opening in 2016)
Andina Brewing Co. (Vancouver – Opening in 2016)
Arrowhead Brewing Co. (Invermere)
Axe and Barrel Brewing Co. (Victoria)
Backroads Brewing Co. (Nelson – Opening in 2016)
Bad Tattoo Brewing (Penticton)
Barkerville Brewing Co. (Quesnel)
Beach Fire Brewing (Campbell River – Opening in 2016)
Big Ridge Brewing Co.] (Surrey)
Big Rock Urban Brewery (Vancouver)
Big Surf Brew Co. (Kelowna)
Black Kettle Brewing Co. (North Vancouver)
Black Loon Brewing (Delta)
BNA Brewing Co. (Kelowna)
Bomber Brewing (Vancouver)
Bone Brewing Co. (Kelowna)
Bowen Island Brewing Co. (Vancouver)
Boundary Brewing Co. (Greenwood – Opening in 2016)
Brassneck Brewery (Vancouver)
BrewHouse (Whistler)
Bridge Brewing Company (North Vancouver)
Broke 'n Rode Brewing (100 Mile House – Opening in 2016)
Callister Brewing Co. (Vancouver)
Cannery Brewing Co. (Penticton)
Canuck Empire Brewing Co. (Aldergrove)
Category 12 Brewing (Saanichton)
Central City Brewing Co. (Surrey)
Chaos and Solace Craft Brew Co. (Chilliwack – Opening in 2016)
Coal Harbour Brewing (Vancouver)
Columbia Brewery (Creston)
Crannog Ales (Sorrento)
Crossroads Brewing (Prince George – Opening in 2016)
Dageraad Brewing (Burnaby)
Dead Frog Brewery (Aldergrove)
Deep Cove Brewers (North Vancouver)
Doan's Craft Brewing Co. (Vancouver)
Dockside Brewing Co. (Vancouver)
Dogwood Brewing (Vancouver)
Driftwood Brewing Co. (Victoria)
East Van Brewing (Vancouver)
Faculty Brewing Co. (Vancouver – Opening in 2016)
Fat Cat Beer Co. (Nanaimo)
Fernie Brewing Co. (Fernie)
Fieldhouse Brewing Co. (Abbotsford)
Firehall Brewery (Oliver)
Foamers' Folly Brewing Co. (Pitt Meadows)
Forbidden Brewing Co. (Courtney)
Four Winds Brewing Co. (Delta)
Fuggles & Warlock Craftworks (Richmond)
Gladstone Brewing Co. (Courtenay)
Granville Island Brewing (Vancouver)
Green Leaf Brewing Co. (North Vancouver)
Gulf Islands Brewing (Salt Spring Island)
Hearthstone Brewery (North Vancouver)
Hell's Gate Brewing Co. (Vancouver)
High Mountain Brewing Co. (Whistler)
Howe Sound Brewing Co. (Squamish)
Hoyne Brewing Co. (Victoria)
Kettle River Brewing Co. (Kelowna – Opening in 2016)
Lighthouse Brewing Co. (Victoria)
Luppolo Brewing Co. (Vancouver – Opening in 2016)
Main Street Brewing Co. (Vancouver)
Maple Meadows Brewing Co. (Maple Ridge)
Marten Brewing Co. (Vernon – Opening in 2016)
Mill Creek Brewery (Kelowna)
Mission Springs Brewing Co. (Mission)
Moody Ales (Port Moody)
Moon Under Water Brewery (Victoria)
Mozart Brewing Co. (Kimberley)
Mt. Begbie Brewing Co. (Revelstoke)
Nelson Brewing Co. (Nelson)
Noble Pig Brewing Co. (Kamloops)
Pacific Western Brewing Co. (Prince George)
Parallel 49 Brewing (Vancouver)
Persephone Brewing ( Gibsons )
Phillips Brewing Company (Victoria)
Postmark Brewing (Vancouver)
Powell Street Craft Brewery (Vancouver)
R & B Brewing Co. (Vancouver)
Russell Brewing Company (Surrey)
Sapporo Beer – Sleeman/Okanagan Springs (various)
Spinnakers Gastro Brewpub (Victoria)
Steamworks Brewing Company (Vancouver)
Steel & Oak Brewing Co. (New Westminster)
Strange Fellows Brewing Company (Vancouver)
Storm Brewing (Vancouver)
Swans Brewery (Victoria)
Tofino Brewing Co. (Tofino)
Townsite Brewing (Powell River)
Tree Brewing Company (Kelowna)
Turning Point Brewery (Delta)
Twin Sails Brewing (Port Moody)
Vancouver Island Brewery (Victoria)
Whistler Brewing Company (Whistler)
White Sails Brewing (Nanaimo)
Wolf Brewing Company (Nanaimo)
Yaletown Brewing Co. (Vancouver)
Yellow Dog Brewing Co. (Port Moody)
And that list is far from complete.
So why can't I invest in them? Where are they? Do they not need public financing for growth and marketing and eventual world domination?
I called up Hani John al Reyess, a wheeler dealer at Vancouver bulldog deal shop Howe and Bay, and asked him.
He said it's something he's often thought about.
"I think Russell Brewing (RB.V) went to market with Cannaccord and that deal just wasn't a good time for all involved," he said. "That's put a bit of a dampener on the space for a while. You're also sometimes dealing with the sort of personalities that would create their own beer brands, you know, people who have a strong belief in what they're doing and how they're doing it, so that sometimes makes it easier to put your energy into another opportunity."
Another factor: Upside.
"The market likes those explosive upside deals where you can really see a stock take off. With breweries, they're often more of a slow grower deal. There isn't that big pick-up so much."
Also: Russell.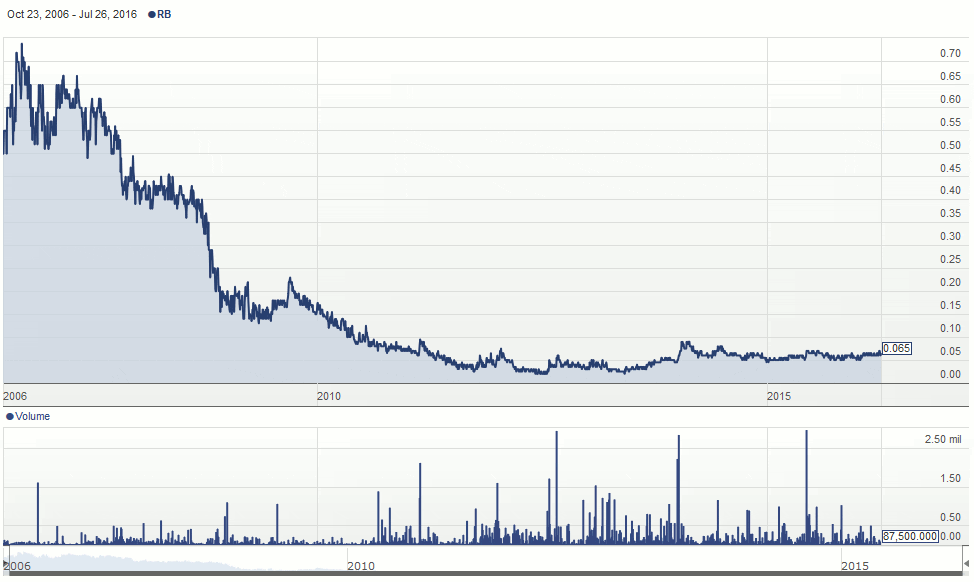 But Russell's crash was back in 2008. If you take it from 2012, it's seen growth. Not enough to inspire a million copycats, but Hani agrees there's room for that to change.
"You're right, we all drink craft beer more now than ever before. Certainly marijuana is going nuts and it's pretty similar in terms of use. Maybe this is something the market needs to look at."
Maybe it is. When that happens, I'm in.
In the meantime, who's up for a Tuesday night growler?
–Chris Parry