It was a late afternoon text message that piqued my interest. 'The Turtle', currently in China, wanted to know if I was interested in some high-stakes Backgammon?
He didn't fancy the smoke-filled gambling dens of Beijing and was happy to comp me a room in a five star hotel and all meals. A quick look at my passport told me I needed to leave the country in the next few weeks anyway, so it was a no-brainer. A week later I was chowing down on roast duck before a 72 hour marathon of rolling dice and calculating odds interspersed by sporadic sleep.
Such is the life of a "Privateer", my preferred nomenclature when my father would ask bluntly "what the hell do you do in that room all day.". (Surely some of you older gold bugs will remember the excellent newsletter that Bill Buckler produced.)
Alas I digress.
Following on from my opening piece on anti-diversification, I wanted to put the theory into practice, so to speak. For me, investing/trading is a game, and money is how we keep score. So while sitting in one of Beijing's less salubrious bars I came up with the following idea. Why not throw together a 'middle of the road' portfolio (that I will call 'The Turtle') and then have it battle some competitors.
Think Wall Street meets Death Race 2000.
Firstly, some rules:
1) A 10K starting kitty. Securities must be able to be purchased by anyone with a pulse and a brokerage account. I use IB, and will assume anything I can fetch using their account is fair game.
2) As per my belief that 'Buy and Hold is dead', I will actively manage the Turtle's competitors. Weekly re-balancing, most probably on Fridays. Stop losses will be used on all positions. You use stops, right?
3) This is first and foremost an educational exercise, but I will attempt to keep it as real as possible. I'll explain all buys and sells and my thought processes including sharing Tarot readings, where appropriate. This includes trying to replicate real word prices and taking liquidity into account. Note that there are no live trades taking place. Let me know if you've got a spare 30K you can throw at me, and I'm more than happy to spice things up.
Introducing the players..
In the red corner, the 'Wealthfront Turtle Fund'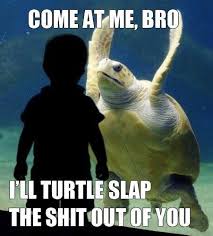 I'm a huge fan of Tim Ferriss and anything 4-Hour related. Not quite a disciple – okay, maybe. I love to listen to his podcasts while pounding the keyboard, and that's how I discovered the folks at Wealthfront. I'll let you check it out for yourself, but was interested in what sort of portfolio they would put me into, based on some questions that were used to establish a 'risk profile.'
Disappointed that I only scored 6.5, as I've been known to hang on to the outside of light aircraft with not much more than a Javelin skydiving rig on my back.
Anyway, here's what they suggested for me

As you can see, they suggested some Vanguard funds, the XLE Energy ETF and some Bonds (*laughs*). Have to give these guys some credibility, this is better than what I would have walked away with if I had paid someone (can anyone say 'Trailing Commissions'). Total cost for this advice was zero. Not often you get something for nothing, eh.
This will become the so-called Model portfolio, the 'Turtle', as I am naming it. Slow and steady portfolio progression.
Enter the challenger, the 'EG Five Arrows Trust'
I wanted a nimble portfolio that could be easily managed once a week, somewhere between stuffing a hamburger down my throat and meeting the guys for poker and cigars. Here's what I've come up with:
GDX (NYSEARCA: GDX), the Market Vectors Gold Miners ETF. The barbarous relic's time has come again, surely! Until I can afford a 400 troy-ounce bar, this will have to suffice.
Laguna Blends (C.LAG) – Like the story and it's my pick of what Chris Parry is holding at Equity Guru. The last time I was in Vancouver, the only place you could buy weed was in Stanley Park. How times have changed!
As a proxy for cash I'll use the iShares 1-3 Year Treasury Bond ETF SHY (NYSEARCA:SHY)
NB: I really wanted some Bitcoin (฿, BTC), just for shits n giggles. I looked at the Bitcoin Investment Trust (OTCMKTS: GBTC) as a proxy, but it didn't pass my due diligence. My concerns seem to be backed up by this article.
Here's how I'm looking..
I'm killing it today! Round one to the good guys. Let's not forget that it's a marathon, not a sprint. Notice anything? The Turtle is bleeding heavily. That's called correlation, folks.
PS: A new player will make an entrance into the arena next week. You'll just have to stay tuned if you want to know more.
–// Craig Amos
Portfolio graphics from https://www.wikinvest.com